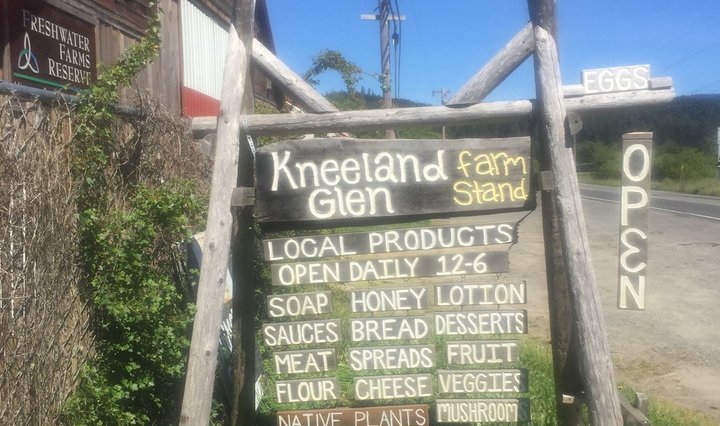 PREVIOUSLY: Kneeland Glen Farm Stand Owner Evicted After Dog-Bite Incident, Repeat Warnings About Bringing Her Dog Onto the Property; Community Organizes Peaceful Protest

Kneeland Glen Farm Stand Owner Receives Help From Local Attorney, Remains on Property Despite Eviction Notice From Northcoast Regional Land Trust
After Months-Long Eviction Battle, Kneeland Glen Farm Stand Owner Ordered to Vacate the Property By January
###
A statement from Kneeland Glen Farmstand owner Kathy Mullen:
On Oct. 21, while the farmstand was operating, my employees were served papers telling us that we need to vacate the property by December 31.

It had been posted by my landlords the NorthCoast Regional Land Trust. My heart is broken. I would like to run my farmstand and continue to serve my community as I have since 2009.

Around late May of this year at the demand of the land trust, I re-homed my little mixed Corgi dog Tootsie. Although Tootsie's allowing to be at my farmstand everyday had been written by the land trust into my lease. As Tootsie began to age, I recognized she exhibited behaviors that were not acceptable. I took full responsibility for Tootsie's actions and for the delay it took me in recognizing that my 14-year-old dog with cancer had become a problem.

Five months ago, I removed her from the property forever. She has not returned and will not return. I heard nothing thereafter from the land trust regarding Tootsie. I believed the matter had been resolved.

After that, I also checked with the county to inquire about whether my farmstand was compliant with existing county land-use ordinances. I was told through my attorney Neal Latt that my operation was a "legal nonconforming use." This was conveyed to the land trust.

I also reached out through a friend to the California Coastal Commission to inquire whether there was any enforcement action opened that concerned my stand. I was told that there wasn't. It was also made clear with respect to my stand that the Coastal Commissions concerns pertained to the counties land-use ordinances for the property.

Accordingly, when the county told me that I was a "legal nonconforming Use" it was obvious that my operation of the farmstand was grandfathered in, that it was a non-issue from a regulatory standpoint.

The land trust has always known that I sold handmade goods from other small local producers at my stand in addition to what I produced on my husbands family's ranch in Kneeland. In fact, Executive Director Dan Ehresman would frequently buy such products from the farmstand. It was never a problem before and if Dan or the land trust mistakenly wrote its permit application to the Coastal Commission in such a way that did not acknowledge that I was grandfathered in as legal nonconforming use, I am committed to working with them and the coastal commission to address this if it becomes an issue.

My farmstand supports many small producers and I do not ask for a profit from sales of their products in my store. When you buy a loaf of homemade bread, local meat, eggs or other fruits and veggies at my stand and not grown by me, please know that money from these sales goes to the small makers and producers.

Occasionally one of them slips me a $20 to put towards the rent, but that is it. If the land trust succeeds in driving me out, this community should know that the legal nonconforming use will be lost forever.

My stand is an integral part of this community and I am simply asking the land trust to maintain the relationship in service to this community.

I am calling on the community to assist me. I will not leave without a fight.