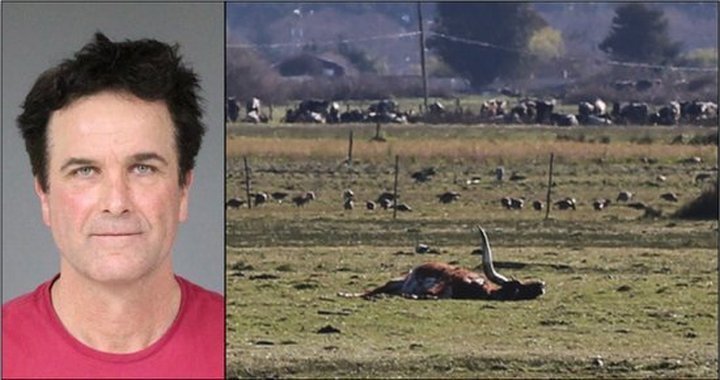 Arcata rancher Ray Christie's new attorney is in the same dilemma as his last one: a jury trial looming and little time to build an effective defense.
Today attorney Rick Richmond, from the Los Angeles firm Larson LLP, asked Judge Christopher Wilson for a continuance in Christie's second trial on felony animal cruelty charges "to allow us to properly prepare for trial."
Richmond said there is a large amount of evidence to review, including the lengthy transcript from Christie's first trial.
That trial ended nearly two years ago with the jury deadlocked 11-1 for guilt on the felony charges.
The Larson firm was hired on Aug. 23 , six weeks before trial is set to begin, after Christie first fired lawyer John Cogorno and then co-counsel Ken Bareilles. Bareilles had said he needed until January to be prepared for trial.
Deputy District Attorney Steven Steward, objecting to the motion to continue, said Christie "hired new counsel at the last minute before trial."
"This trial should proceed on the date set," Steward said.
Richmond responded that a brief delay won't cause any harm.
"Nothing bad is going to happen to the prosecution," he said.
He said he made the decision to ask for a continuance "based on how the first trial went and the post-trial proceedings."
"There's no question that we need more time, Your Honor," he told Wilson.
The first trial did not go well for Christie, and the post-trial proceedings consisted mainly of Cogorno filing many motions that failed. His motion for new trial is still pending.
Wilson did not rule on Richmond's motion to continue today, deferring it to the trial confirmation hearing on Sept. 20. But he indicated it shouldn't be that difficult for Richmond to get up to speed.
"This is not a particularly complex case," he said. "It's a relatively straightforward case."
The judge also mentioned Christie hiring new counsel "on the eve of trial," but told Richmond that "ethically, you don't substitute into a case you're not prepared to handle."
Like Cogorno before him, Richmond said he doesn't know whether he also should be ready to defend Christie on misdemeanor charges (dumping cattle carcasses too close to state waters.) The first jury could not reach verdicts on about a half-dozen of the 35 dumping charges.
The prosecution has said repeatedly that Christie will be tried only on the felonies, but this continues to be an issue.
Outside the courtroom, Richmond said his firm "will be prepared for trial when the judge wants us to be prepared."
Asked whether he's optimistic about the final outcome, Richmond said yes.
"I feel very good about the case," he said, adding that all four attorneys from his firm will be involved.