One click, one vote! That's the longstanding rule here. When it comes to picking the most important Humboldt County stories of the year, we use The Only Metric That Matters™ — Lost Coast Outpost readership numbers.
And you know what? You guys didn't do so badly this year. You can mark 2022 as the year when your tastes expanded well beyond the usual favorites — epic fails, beheadings, cute animals that have somehow been wronged — to all sorts of unexpected matters. Electoral politics! Building codes! Philanthropy! Anthony Kiedis!
That's 2022 in the books, folks! Print this page out and emboss it onto titanium and launch it into space so the aliens will someday pick up on the groove we were laying down.
Without further ado … your Top 25 Stories of the Year!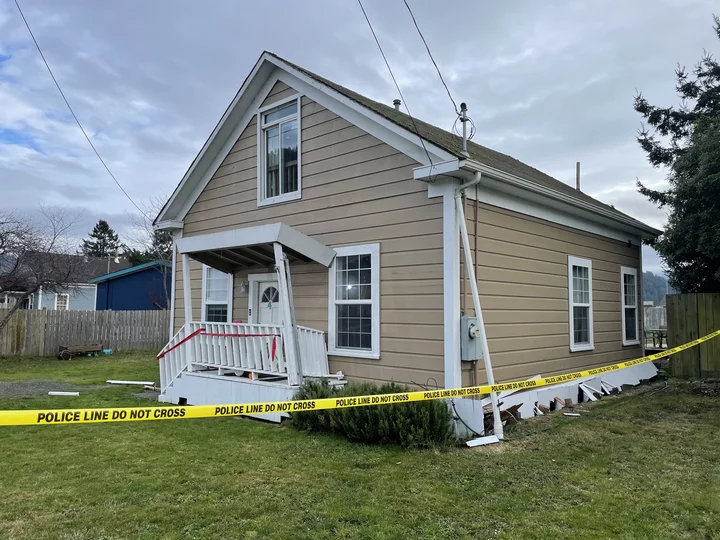 1. (UPDATING) Power Out Across the County Tuesday Morning, Schools Closed, Fernbridge Currently Closed Following Early Morning Quake
It may not have been "the big one," but local earthquake guru Lori Dengler says that the Dec. 20 middle-of-the-night shaker was the most dramatic one most of us are likely to feel in our lifetimes. (Its suddenness — all that energy released at once — was more important than its magnitude, Dengler writes in the T-S.
For some reason Rio Dell took most of the damage, and that town is still piecing itself back together. But there were other casualties of the quake — most notably Eureka's colorful but decrepit Lloyd Building, which has been shaky for a while now and will torn down very soon. Fernbridge was closed for a while, but engineers deemed it safe.
(Can anyone tell me why people have started calling the place "Rio Del" in the wake of the quake? See that Times-Standard story above, which is far from the only example I've seen. I know it's low on the list at the moment, but maybe emergency personnel will eventually find time to tack that extra "L" back on.)
2. Red Hot Chili Peppers Interrupt Tour to Play Free Closed Concert in Hoopa Wednesday
The world went gaga for this cool and fun story, and the Chili Peppers went gaga for Hoopa. Flea in particular seems to be a Warrior for life.
3. OBITUARY: Hunter Nathaniel Lewis, 2000-2021
Lewis was the young man who went missing at sea while arranging an elaborate treasure hunt for his friends and family during last year's Christmas break. His story was all over the internet, and this obituary introduced many people to his remarkable life.
The Outpost's Stephanie McGeary caught up with Lewis' father earlier this month, if you missed that.
4. COVID REPORT: Second Death in as Many Days, Plus Two More Hospitalizations and 24 New Cases Confirmed
One of those days when Google News decided that this was the most important COVID information in the world.
5. Saturday Morning Tsunami Advisory in Effect for Parts of U.S. West Coast Following South Pacific Eruption
An underwater volcano in Tonga sent a tsunami our way. It was tiny, but it was a tsunami.
6. Possibly the Largest Cruise Ship to Ever Dock in Humboldt Bay Will Arrive Next Week, Offloading Hundreds of Tourists Into Humboldt County
That was a big ship! Festivities ensued.
7. 15-Year-Old Arcata Resident Arrested For Attempted Homicide; Two Others Arrested on Lesser Charges
Kids packing loads of fentanyl and weed shot at people in Arcata, went on the lam, were found.
8. ELECTION NIGHT FINAL! Dillingham, Eads, Madrone, Stillman With Big Leads; Fourth District Supervisor Race Teetering on Runoff for Arroyo; Reports From Campaign Parties and More!
Pretty exciting election season all the way around, probably fueled by Auditor-Controller drama and (of course) the races for supervisor. The November sequel to this election night post didn't rate near so high.
9. 'It's Gonna Look Like a Ghost Town': Garberville Business Owners Sound the Alarm as Weed Industry Tanks
It's been drip-drip-drip ever since decriminalization, but this year the wholesale cannabis price fell through the floor and the entire SoHum economy is in a very bad way. On this occasion, locals came to the Board of Supervisors to tell everyone about it and to plead for resources.
10. GROWING OLD UNGRACEFULLY: RIP, Christine McVie
Again: In a week of worldwide McVie mourning, the Goog decided that Barry's eulogy was a can't-miss.
11. Jacoby Creek Students Taken for Medical Attention After Third-Grader Inadvertently Shares Weed Gummies
Nightmare for parents, or nightmare parents? Why not both? Keep your weed gummies safe and secure, people.
12. Two Killed on Highway 101 in SoHum After Vehicle Swerves Into Group of Oncoming Motorcycles
13. Arcata Mother Struck By Vehicle While Pushing Infant in Stroller Across Designated Crosswalk, Dies in Hospital, APD Says
Two of the many instances of senseless, stupid vehicular tragedy this year.
14. Largest One-Time Seizure in Humboldt Drug Task Force History: 30 Pounds of Meth, 5.5 Pounds of Cocaine, 3 Pounds of Heroin, 2 Pounds of Fentanyl, 50 Pounds of Weed
Size matters.
15. Donna Wright, Greater Eureka Chamber of Commerce President and CEO, Has Died
A shocking, sudden loss for the Eureka business community. Donna Wright was a hardworking and beloved Australia native who loved Humboldt. Humboldt loved her.
16. 'It Was the Hardest Thing I've Ever Had to Do': Singing Trees Owner Closes the Beloved Recovery Center After 31 Years Of Serving the Community
Singing Trees played a huge role in treatment for addiction, and so many people had such very fond and grateful memories of it. It's hard to imagine how we'll fill the space it has left.
17. OBITUARY: Annabelle June Snell, 2020-2022
Heartbreaker.
18. HCSO: Two Killed, Two Injured in Pine Hill Shooting Early This Morning; Suspect Still at Large
19. (PHOTOS/VIDEO) Your 2022 Kinetic Grand Championship Yearbook
Kinetics came back! You still liked them!
20. Local Couple Donates $2 Million to Cal Poly Humboldt
Friend o' the LoCO Jerry Rohde — the county's wonderful historian — is an even bigger friend o' Cal Poly Humboldt! Humboldt is very lucky to have Jerry and Gisele for lots of reasons, including this one.
21. Fortuna Teacher Arrested for Alleged Sexual Battery on a Minor
The charges were later expanded to include more potential victims. The case is still working its way through court.
22. (VIDEO) Humboldt Looks Pretty Good in 'The Sky is Everywhere' Trailer
It did look good! Your reporter is still waiting for that movie to stream somewhere other than Apple+, though.
23. Former Fiscal Manager for Wiyot Tribe and North Coast Co-op Sentenced to Federal Prison for Bank Fraud
Years of thievery finally landed one crooked bookkeeper in the big house.
24. A Tour Through the Half-Built Dream Mansion of Travis Schneider, Who Remains Hopeful Amid Mounting Permit Problems

This gigantic Indianola home under construction came to everyone's attention when former planning commissioner Alan Bongio got very, very angry and not a little racist about regulatory hold-ups to its completion. That had its own repercussions: Bongio was removed as planning commission chair, lost his seat on the board of the Humboldt Community Services District and later resigned from the commission altogether.
In the meanwhile, everyone said: What's this house, now? And it turned out that it was built (half-built) out of compliance with all sorts of environmental laws and issued permits. Finally, business owner Travis Schneider took the Outpost on a tour of his 20,000 square-foot dream house, which is no closer to completion, and likely much less close than before.
25. HARD TRUTHS: Everyone Please Stop Spreading the Lying Lie That Ferndale's The Palace Bar is the Westernmost Bar in the Continental United States
Everyone in Ferndale read this 10 times. The level of denial around this issue continues to astound.