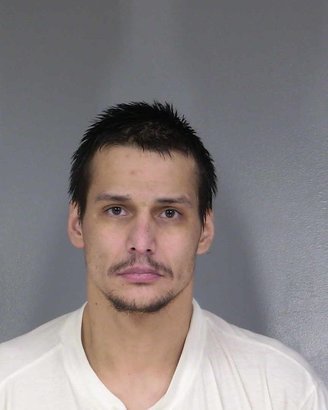 A prison parolee who was shot as he allegedly tried to run down police officers pleaded not guilty today to two counts of attempted murder and one count of assault with a deadly weapon.

Little Eagle Moon, 29, of Hoopa appeared in Judge Christopher Wilson's courtroom with his left forearm and right hand bandaged. He was struck twice on the afternoon of Dec. 30 when Eureka Police Detective Joseph Couch fired six rifle shots at his vehicle.
According to EPD, Moon was first ramming police vehicles with his car, then driving toward officers. The criminal complaint names the victims as Deputy S. Stallworth and Agent M. Tomlin.
Officers were there to arrest Moon, who has a long criminal history, on a slew of outstanding warrants.
Wilson appointed the Conflict Counsel's Office to represent Moon, and Deputy Conflict Counsel Meagan O'Connell entered not guilty pleas on his behalf.
"Is that your plea, not guilty?" the judge asked. "Yes, Sir."
After speaking privately with O'Connell, Moon agreed to enter a general time waiver, meaning he gave up his right to a preliminary hearing within 10 days and a parole hearing within 15 days.
The state has filed a petition to revoke his parole. Moon's next court date will be Feb. 24, when a date for the preliminary hearing may be set.
Police said after Moon was shot he drove away from the scene at Third and T streets in Eureka, causing a traffic collision at Fifth and V streets. He reportedly then fled on foot but was found hiding in some brush.
Moon was hospitalized for his wounds for several days before being booked into Humboldt County Correctional Facility. Two passengers in Moon's car were not injured.
Moon is on a parole hold with no bail. Wilson set bail in the attempted murder case at $1.5 million, and bail for his other cases ranged from $50,000 to $110,000.
###
PREVIOUSLY: