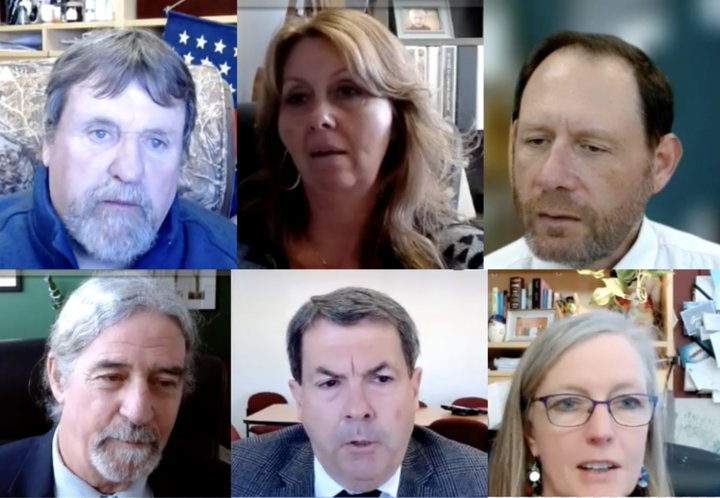 ###
More than half a decade after California voters legalized recreational cannabis, the seven members of the Humboldt County Planning Commission felt like maybe it was time to tinker with the rules of the experiment.
"That's what this is," Planning Commission Chair Alan Bongio said in a phone interview Thursday — an experiment in taxing and regulating the plant that made Humboldt County famous and filled its hills with clandestine crops. "We were the first county to come up with an ordinance."
That would be the Commercial Medical Marijuana Land Use Ordinance (CMMLUO), passed in September 2016, shortly before the statewide legalization vote. It's now commonly referred to as "Ordinance 1.0," and county staff estimates that there are somewhere around 1,500 or 1,600 applicants countywide who've been approved under these rules or, in many cases, are still trying to obtain their permits.
After many public hearings, a lawsuit and much deliberation, the Humboldt County Board of Supervisors passed a new set of rules — the Commercial Cannabis Land Use Ordinance, aka Ordinance 2.0 — in May of 2018. But for the hundreds of people who were already in the application process, Ordinance 1.0 continues to serve as the rulebook.
That fact has become increasingly controversial — at least from the perspective of the Planning Commission, which acted on close to 150 cannabis permits last year. With the state in a serious drought, many local residents have questioned the commission's frequent permitting of new wells, worried about the cumulative impact on local creeks and rivers.
People have also voiced concerns about the use of generators — their greenhouse gas emissions, the noise, the potential for spills and the added traffic of fuel deliveries. Others complain about the impact to local roads and a county policy that allows applicants to self-attest as to whether the road to their project site meets the county's Category 4 standards.
"I just felt that we were getting a lot of pushback, meeting after meeting after meeting," Bongio said. "And we were having the same conversation meeting after meeting after meeting."
And so last month, Bongio submitted a letter to the Board of Supervisors on behalf of the Planning Commission, asking for guidance in addressing those three main areas of concern — generators, water and roads.
On Tuesday, the board discussed the letter, and while the conversation lasted more than three hours, it was apparent from early on that the board was divided.
Third District Supervisor Mike Wilson expressed a willingness to consider some new guidelines that might address the issues at hand. Fifth District Supervisor Steve Madrone advocated personal responsibility and growing cannabis outdoors, rather than under generator-powered lighting. Like Wilson, he said he was open to adjusting the rules, if only to cut down on the number of projects getting appealed to the Board of Supervisors after a ruling from the Planning Commission.
But the rest of the board argued that it would be unfair — especially in light of the dramatic recent declines in the industry — to "move the goalposts" or change the rules "midstream."
Second District Supervisor Michelle Bushnell was the most adamant in her opposition giving the Planning Commission new guidelines.
"To change that process for somebody who's been following the rules that were set forth by this county, it's hard," she said during the meeting. "And these are people's lives. They've been struggling for four years, five years now to come into compliance under [Ordinance] 1.0."
Generators
Following the advice of Planning and Building Director John Ford, the board tackled the three issues one at a time, starting with generators. Wilson said he's long been opposed to generators except for emergencies. Using them consistently shows that whatever system you're operating, it's not sustainable in terms of the environment and safety, he argued.
"I would be — and I may be in the minority — in favor of new ordinance language about transitioning away from that," Wilson said. "It's just not a good direction for us as a county."
Bushnell noted that Ordinance 2.0 placed restrictions on generator use (whereas the version 1.0 only set limits on the noise they produce), so the issue has been addressed. And she complained that many of the appeals the board has heard were over conditions that the Planning Commission added to the project — conditions that go beyond the rules laid down in the ordinances.
"Right now, with not much money in that industry, to change the goalposts … I don't think it is fair to them," she said, "unless we're going to pay for them to upgrade."
Virginia Bass, the board chair and Fourth District supervisor, agreed, saying that changing the rules midstream causes her heartburn.
Madrone said that the Planning Commission has been adding conditions as a response to community feedback, though he acknowledged that appeals on such projects have started to become routine. But he pushed back on Bushnell's call to leave the rules alone.
"The fact is that things change," he said. "We learn and we have to adapt." Madrone said he would "absolutely support" a policy that regulates generator use for any project that's not already permitted.
Rex Bohn, the First District supervisor, sided with Bushnell.
"I can't be in favor of changing rules that are already in place," he said.
Roads
Without reaching a consensus, the board moved on to the topic of road conditions. Bob Bronkall, deputy director at the Department of Public Works, explained that staff came up the idea of self-attestation for road conditions in response to complaints from applicants that projects and improvements were too costly. The county decided to let applicants measure the width of their access roads, "and if it's meeting the criteria of a category 4 road, they're good to go," Bronkall said.
Madrone said he's seen a lot of problems with that system. "I don't think the self-attestation process is working," he said, and then he made another plug for sun-grown weed, saying an outdoor crop requires fewer vehicle trips.
Bushnell asked Ford to confirm that virtually every applicant has been required to make some kind of road improvements. (He did.) And she compared the road regulations under the county's cannabis policies to the more lenient requirements of timber harvest plans.
Wilson said this issue wasn't as big of a deal to him as the other two. Madrone, meanwhile, said roads have been a big part of his career and he believes many of the access roads for cannabis projects lack sufficient engineering. Sediment from road runoff is killing salmon in our streams, he said.
Water
Ford noted that well usage has become "extremely controversial" at Planning Commission hearings.
"It was initially thought that wells were a great source of water rather than forbearance or diversions," he said. "A lot of people did invest in wells. But with the drought, certain members of the public began to express concerns. … So the Planning Commission began to question whether it is appropriate to add storage and require forbearance" as conditions to project approval, even with a well as the water source.
In response to these concerns, staff has already begun developing criteria — both short-term and long-term — for a well-approval process that takes greater measures to protect the groundwater.
"If we're finding that it's declining, forbearance or storage may be required … ," Ford said. "But we are not there yet."
Wilson observed that this endeavor — already underway — appears to be an adaptation, a change to the rules set forth in Ordinance 1.0, his implication being that his colleagues' objections to "moving the goalposts" are already moot. He again argued that making such changes in light of new information or shifted priorities is entirely appropriate.
"We are finding that our landscapes are remote and hard to manage with regard to these resources that are becoming more scarce and more impactful," he said. The county permitting process, whether it's before the Planning Commission or the Board of Supervisors, "is where we make a determination as to whether or not there's significance to the health and wellbeing of our community and the environment on an individual project basis — because we have discretion to do so," Wilson said.
Public comment
Nearly everyone who spoke during the public comment period was either a cultivator or a consultant, and they were almost universally opposed to the prospect of new rules or guidelines.
Thomas Mulder, a planning commissioner who insisted he doesn't have a conflict of interest because he doesn't take his allotted stipend, said that thousands of hours went into creating ordinances 1.0 and 2.0, and they should be left alone. He called efforts to tweak the rules an "emotional attack at a dwindling population of legacy cultivators," suggesting, "maybe the plan is to make them go extinct."
Natalynne DeLapp, executive director of the cannabis industry group Humboldt County Growers Alliance (HCGA), spoke on behalf of the organization's 275 licensed and permitted members. She said that at Planning Commission hearings, the rules governing roads, generators and water are applied inconsistently. Costly and often hard-to-book services are getting tacked on as conditions of approval at Planning Commission hearings. She said she was encouraged by the board majority's talk of not moving the goalposts.
Selena Rowan, owner of Midnight Gardens in Benbow, said she lives and works on her small outdoor farm and is afraid of making any alterations lest the rules be changed under her feet.
The lone voice on the other side of the argument came from longtime SoHum resident Bonnie Blackberry, who said she's one of the people who's been regularly voicing concerns at Planning Commission hearings, and she knows plenty of others who feel the same way but are intimidated by the prospect of speaking publicly.
As for moving the goalposts, Blackberry said, "Well, climate change and this drought [are] moving the goalposts." It would be irresponsible not keep doing business as usual, she argued, adding, "Do you really want [Humboldt County] to be the generator-grown brand?"
When the matter came back to the board, Bohn said that with just 472 acres of permitted marijuana being grown countywide it's silly to blame the industry for all the world's environmental woes. He also argued that further restrictions could dissuade people from becoming compliant.
"If you guys want to restrict the hell out of 'em, think about what we're doing," he said. "We're gonna drive 'em back underground in a heartbeat."
Wilson acknowledged that the testimony the board heard from industry insiders was "sobering," though he said the cumulative impacts of the industry are serious, too.
"We're all trying to move to a better place in terms of how we manage not just cannabis but everything we do," he said, and he went on to advocate for establishing some thresholds that might apply to all land use decisions, though by this point in the discussion Wilson clearly knew he was in the minority.
Ultimately, the board agreed to have staff draft a letter back to the Planning Commission that will instruct that body to list specific findings whenever it adds conditions of approval to a project. That way, the Board of Supervisors knows the commission's reasons for requiring something that might be beyond the scope of Ordinance 1.0 or 2.0.
The letter will come back to the board at a future meeting — likely on the consent calendar — for approval.
Bongio said that letter won't tell the commission anything it doesn't already know. "They said that if we can give the justification we can make additional requirements. We've always known that, and we've done that if something doesn't seem right," he said.
And so the commission's request for more guidance probably won't amount to much. "I don't think much is going to change," Bongio said, "but at least they had the opportunity to have the discussion."