Thursday, Jan. 22, 2015's Chowdown
Chrissamighty, is it Thursday already? Time feels broken this week. Here are your night's best potential distractions while we try and fix this:
Humboldt Brews is hosting arguably the highest profile Thursday musical option. High-voiced folk singer Willie Watson offers some mean clawhammer banjo playing, which you can sample in the clip for his song "Mexican Cowboy" above.
In a savvy marketing move, North Coast Repertory Theatre is billing their staging of Shakespeare's Macbeth as "The Original Game of Thrones."

Hey! You love that show! Opening gala (with champagne!) tonight.

We forgot to mention yesterday that, through March 1st, The Morris Graves Museum of Art will act as an IRL Buzzfeed during its Awkward Family Photos show. Over 200 regrettable images! Scope some perms!
—Andrew Goff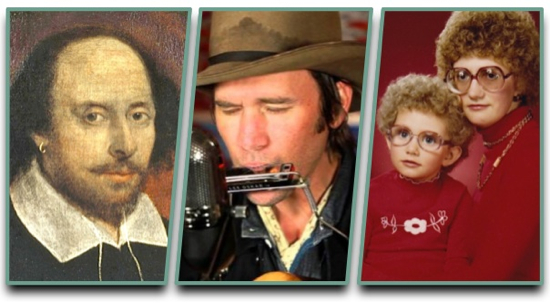 Events
Restaurants
Eureka
Arcata
Eel River Valley
Trinidad
Blue Lake
Movie Showtimes
Broadway Cinema
AMERICAN SNIPER: 12:00, 3:00, 5:05, 6:05, 8:10, 9:10
BLACKHAT: 2:15, 5:25, 8:35
HOBBIT: THE BATTLE OF THE FIVE ARMIES 2D: 2:00, 5:20, 8:40
HUNGER GAMES: MOCKINGJAY PART 1: 1:30, 6:50
INTO THE WOODS: 12:05, 3:05, 6:00, 8:55
NIGHT AT THE MUSEUM: SECRET OF THE TOMB: 12:10, 2:40
PADDINGTON: 12:20, 2:50, 5:30, 8:00
SELMA: 11:55, 2:55, 5:55, 9:00
STRANGE MAGIC: 7:00
TAKEN 3: 1:15, 4:00, 6:45, 9:30
UNBROKEN: 11:50, 2:45, 5:45, 8:50
WEDDING RINGER: 1:45, 4:20, 7:00, 9:35
WILD: 1:05, 3:50, 9:25
WOMAN IN BLACK 2: ANGEL OF DEATH: 4:25, 9:40
Mill Creek Cinema
AMERICAN SNIPER: 3:00, 6:00, 9:00
BLACKHAT: 5:30, 8:35
HOBBIT: THE BATTLE OF THE FIVE ARMIES 2D: 5:45
IMITATION GAME: 2:40, 5:25, 9:25
INTO THE WOODS: 2:55, 5:50, 8:45
PADDINGTON: 4:40, 7:05, 8:10
STRANGE MAGIC: 7:00
TAKEN 3: 3:45, 9:10
UNBROKEN: 2:50, 8:50
WEDDING RINGER: 4:20, 6:50, 9:20
Minor Theatre
FOXCATCHER: 5:25, 8:30
IMITATION GAME: 3:15, 6:00, 8:45
INHERENT VICE: 4:45, 8:10