SATURDAY LOWDOWN: Free Music All Day in Sunny Blue Lake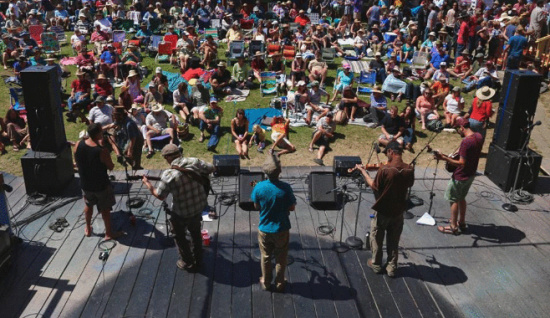 Folk yeah! The Humboldt Folklife Festival reaches its grand finale Saturday with the All-Day Free Festival in downtown Blue Lake. The day features two stages of music as well as food, craft and vendor booths and numerous musical workshops (so you can play the event next year).
Click on over to the Humboldt Folklife Society's site for more, but the Lowdown is gonna do you the solid of listing today's music schedule below:
Amphitheatre Stage:
7 p.m.: Absynth Quartet
6 p.m.: The Trouble
5 p.m.: Safari Boots
4 p.m.: La Patina Band
3 p.m.: Way Out West
2 p.m.: The Bret Harte Breakers
1 p.m.: Belles of the Levee
12 p.m.: Summer McCall and Rosalind Parducci
11 a.m.: The Ladybirds
Street Stage:
6:45 p.m.: The Mad River Rounders
5:45 p.m.: Vanishing Pints
4:45 p.m.: The Spindrifters
2:45 p.m.: Beatles Singalong
1:45 p.m.: Aaron Thomas
12:45 p.m.: The Chimney Swifts
11:45 a.m.: Melanie Barnett and Company
10:45 a.m.: Kray Van Kirk
More summer-y Saturday joy in your Lowdown listings below.
Events
Movie Showtimes
Broadway Cinema
BABY DRIVER: 1:05, 3:50, 6:40, 9:30
BIG SICK: 12:50, 3:40, 6:30, 9:20
CARS 3 2D: 11:45, 5:35
DESPICABLE ME 3 2D: 12:15, 1:00, 2:35, 4:55, 6:35, 7:20, 9:35
GUARDIANS OF THE GALAXY VOL. 2 2D: 3:25, 8:50
HERO: 1:35, 4:00, 6:25, 8:55
SPIDER-MAN: HOMECOMING 2D: 11:45, 1:45, 2:50, 5:55, 8:00, 9:00
SPIDER-MAN: HOMECOMING 3D: 4:50
TRANSFORMERS: THE LAST KNIGHT 2D: 2:15, 8:05
WAR FOR THE PLANET OF THE APES 2D: 11:50, 2:55, 4:25, 6:00, 9:05
WAR FOR THE PLANET OF THE APES 3D: 1:15, 7:40
WISH UPON: 12:10, 2:30, 4:50, 7:10, 9:30
WONDER WOMAN 2D: 11:50, 2:55, 6:05, 9:10
Mill Creek Cinema
BABY DRIVER: 1:15, 4:00, 6:45, 9:30
BIG SICK: 12:50, 3:40, 6:30, 9:20
DESPICABLE ME 3 2D: 1:00, 3:20, 5:40, 8:00
SPIDER-MAN: HOMECOMING 2D: 11:50, 2:45, 5:50, 8:55
SPIDER-MAN: HOMECOMING 3D: 9:15
TRANSFORMERS: THE LAST KNIGHT 2D: 11:45, 6:05
WAR FOR THE PLANET OF THE APES 2D: 11:45, 3:00, 5:55, 9:05
WAR FOR THE PLANET OF THE APES 3D: 2:50
WISH UPON: 12:10, 2:30, 4:50, 7:10, 9:30
WONDER WOMAN 2D: 11:50, 2:55, 6:00, 9:05
Minor Theatre
BABY DRIVER: 5:15, 10:00
BEATRIZ AT DINNER: 2:30, 7:50
SPIDER-MAN HOMECOMING: 1:30, 4:30, 7:30, 10:30
WAR FOR THE PLANET OF THE APES: 3:00, 6:30, 9:45