Lowdown! for Thursday, Nov. 17
SPONSORED BY

---
Henderson Center Can't Wait/Won't Wait For Christmas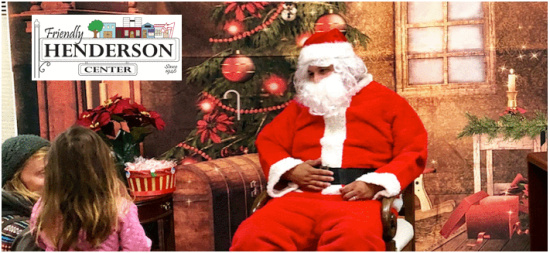 Ho! If you're looking to get ahead on your holiday shopping obligations, note that the fine merchants of Eureka's Henderson Center are again blatantly jumping the gun and trotting out a Santa-enhanced experience this Thursday evening — a week before even Thanksgiving. Bold!
Yes, the Friendly Henderson Center Holiday Open House returns this eve from 5 to 8 p.m. with holiday-themed sales, treats, music and more sure to satiate diehard Christmas fanatics. Click here to get a sense of what you can expect or, if you're just not ready for Christmas yet, scroll your Lowdown below for non-jolly affairs.
---
Top Events!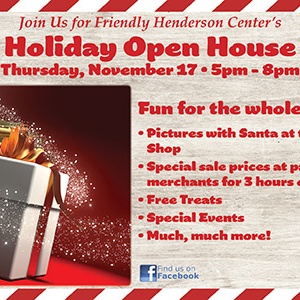 Annual Holiday Open House in Friendly Henderson Center
Henderson Center / 5-8 p.m.
This long-standing tradition provides a gathering place for the community to meet and enjoy special treats like cookies and hot chocolate, some entertainment and 3 hour only shopping specials at participating businesses!
Web site /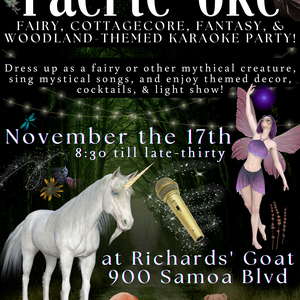 Thee Goat's Faerie-oke Party
The Miniplex at Richards' Goat Tavern / 8:30 p.m. / Free / 21+
Practice those Kate Bush, Bjork, and Fleetwood Mac songs, and get out your butterfly wings, unicorn horns, troll wigs, and fox tails - it's time to sing faerie-oke! Cottagecore cocktails and Orange Cookie Tea? Yes, please. Themed decor, fun fun fun, and no judgement, so let your fae flag fly.
Web site /
All Events!
Movie Showtimes
Broadway Cinema
A PRIVATE MOVIE SCREENING: 12:00, 3:45, 7:30
BLACK ADAM: 12:45, 3:50, 7:15
BLACK PANTHER: WAKANDA FOREVER 2D: 11:25, 12:00, 12:35, 1:45, 2:20, 2:55, 3:30, 4:05, 5:15, 5:50, 6:25, 7:00, 7:35, 8:45
BLACK PANTHER: WAKANDA FOREVER 3D: 1:10, 4:40, 8:10
LYLE, LYLE, CROCODILE: 12:20, 3:05, 6:00
ONE PIECE FILM RED (DUBBED): 11:45, 5:25
ONE PIECE FILM RED (SUBTITLED): 2:30, 8:20
PREY FOR THE DEVIL: 5:35
SMILE: 12:05, 2:50, 8:35
TERRIFIER 2: 8:30
TICKET TO PARADISE: 11:35, 2:10, 4:50, 7:25
Mill Creek Cinema
BLACK ADAM: 3:50, 7:20
BLACK PANTHER: WAKANDA FOREVER 2D: 3:30, 4:10, 4:50, 5:30, 7:00, 7:40, 8:20
BLACK PANTHER: WAKANDA FOREVER 3D: 6:10
LYLE, LYLE, CROCODILE: 5:20
SMILE: 8:00
TICKET TO PARADISE: 5:00, 7:30