Lowdown! for Wednesday, Nov. 30
SPONSORED BY

Top Events!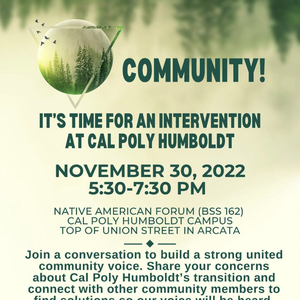 Cal Poly Humboldt Intervention
HSU Native Forum / 5:30-7:30 p.m.
California Faculty Association (CFA), UAW 4122, True North Organizing Network, and the Students for Quality of Education, (SQE) have jointly organized a community event so we can give voice to our challenges, concerns, and also reasons for optimism.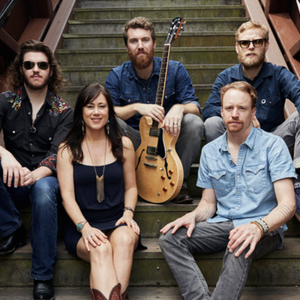 Midnight North
Humboldt Brews / 8-11:30 p.m. / $18 / 21+
Fronted by Grahame Lesh (of Phil Lesh & Friends) & Elliott Peck, Midnight North is touring in support of their 2021 album "There's Always a Story" from Americana Vibes.
Web site /
All Events!
Movie Showtimes
Broadway Cinema
A PRIVATE MOVIE SCREENING: 12:00, 3:45, 7:30
BLACK ADAM: 11:50, 2:50
BLACK PANTHER: WAKANDA FOREVER 2D: 12:30, 1:40, 4:00, 5:10, 7:30, 8:40
BLACK PANTHER: WAKANDA FOREVER 3D: 6:20
BONES AND ALL: 1:10, 4:30, 8:00
DEVOTION: 12:10, 3:40, 7:10
SHE SAID: 12:50, 3:50, 6:50
SMILE: 8:10
SPIRITED: 3:00, 8:30
STRANGE WORLD 2D: 11:30, 12:40, 2:00, 3:20, 4:40, 7:20
STRANGE WORLD 3D: 5:40
THE CHOSEN SEASON 3: EPISODES 1 & 2: 12:00, 3:30, 7:00
THE MENU: 11:40, 2:20, 4:50, 7:50
TICKET TO PARADISE: 12:20, 6:00
Mill Creek Cinema
BLACK ADAM: 7:50
BLACK PANTHER: WAKANDA FOREVER 2D: 4:00, 6:30, 7:30
BONES AND ALL: 4:20, 7:40
DEVOTION: 3:50, 7:10
LYLE, LYLE, CROCODILE: 3:30
STRANGE WORLD 2D: 3:40, 4:50, 7:20
THE CHOSEN SEASON 3: EPISODES 1 & 2: 7:00
THE MENU: 5:20, 8:00
TICKET TO PARADISE: 5:10