(This post is updating with the latest info at the top. To read chronologically, start at the bottom. You can also watch the livestream via the Senate webpage – scroll down to "Joint Committee on Fisheries & Aquaculture")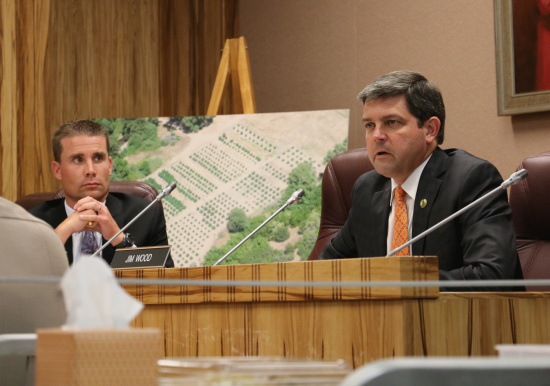 Senator Mike McGuire, left, and Assemblymember Jim Wood. By Jennifer Savage.
###
McGuire closes the hearing by saying, "The longer we wait, the worse of an impact we're going to see related to our environment and our communities" and pitching his medical marijuana legislation. "We need one bill," he says. "That would be the easiest to follow for the state and best when it comes to a regulatory framework."
On the issue of drought, "I don't want to make any assumptions, but I believe in climate change. It's time for us to be able to change. We'll need to work together to get through this crisis related to fisheries."
###
Assemblymember Wood offers his final thoughts: Without a sound structure around what is legal for medical marijuana, we will see an explosion of industry well beyond what we see now… There are definitely people who are trying to do the right thing. The basis of the Watershed Enforcement Team is around helping people do the right thing.
As you look at regulation, policies and taxation, all the things that come with legitimizing business in California, you have to be careful. An industry that's been in the shadows and then is hit with a heavy regulatory burden may go further underground… It's amazing we've gone so far and let this go so long that now we're faced with almost a hard deadline as we go forward.
Woods notes that he and McGuire are two freshman legislators and calls the marijuana-related issues "deeply personal to both of us." He calls for a structure to be created in order to protect the environment, make sure people are able to go out and feel safe on public lands. "For the first time, multiple bills [aimed at regulating medical marijuana] in multiple houses are going forward and that gives me tremendous hope."
###
Sandwich break!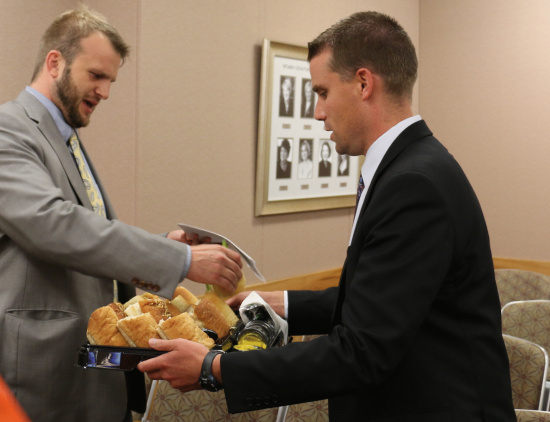 Emerald Growers Association Executive Director Hezekiah Allen gets in on the sandwich action, provided by Senator McGuire. By Jennifer Savage.
###
McGuire notes that multiple economies have been built on illegal grows, they bring in tens of millions of dollars, the reason we have squishy numbers is we're unregulated. "This is insane. This state would never allow any other industry to go so long. I don't understand why there isn't an outcry."
He says constituents in Trinity County told his staff that large criminal growers actually shut down county roads, would not allow neighbors to return – "and they're armed. Why are we allowing this in California?"
McGuire says he hopes this will be the year the legislature has the backbone to pass comprehensive medical marijuana legislation – "too many people died over expansion of this industry."
###
Allen begins by saying he believes partnerships are essential to solving these problems and providing some background regarding his and his family's involvement in growing marijuana. "I've had trouble with law enforcement," he says. "I've had friends killed" and in jail. This is impacting everyone, farmers included.
He decries the continuation of drug war, calling the Island Mountain raids a case in point, referring to the busts as having taken place on "small farms" whose proprietors have now had their "livelihoods devasted." Pointing to the well-publicized photo of a Humboldt County sheriff standing on top of a giant water bladder, Allen says, "I'm thrilled to see [that level of storage] – that's the solution."
Enforcement/raids won't work, he says. Showing up with guns? "We run, we hide." Growers are scared. Let us work with consultants and technical support agencies. Watershed Enforcement Teams will work. Inspectors, licenses, distinguishing between criminal and unregulated, improving access to support programs, outreach and education will work. This is commercial agriculture, regulate it, please. We would rather pay taxes than fines. "We're farmers, not criminals."
###
McGuire introduces and takes a moment to thank Emerald Growers Association Executive Director Hezekiah Allen's contributions, saying Allen has been "neck deep" in the politics and agreeing with Allen's longstanding assertion that a majority of growers want to be able to comply with state rules and regulations."
###
Allman continues to say this new abuse of land is a thumbing of the nose at law and society, if want to make difference, this is the turning point. He ends asking for laws to be made clear and consistent, saying Prop. 215 has created a huge gray area that law enforcement has to interpret.
###
Mendocino County Sheriff Tom Allman says, "Wildlife, water and weed is what we're seeing in Mendocino County." He reminisces about growing up in Garberville, notes little did they know people moving in were actually setting up responsible marijuana grows. "Old hippies are not the problem." Twenty-year-olds using Prop. 215 to make a million dollars in a year are. He thought he'd seen the worst, but last week's Island Mountain bust was "in your face… not cartels, [but] rich white people grows making millions."
###
Friends of the Eel River Executive Director Scott Greacen thanks Senator McGuire and Assemblymember Wood for leading efforts to address a really difficult problem. "We're going to need more of that." It's well established that the commercial marijuana industry is overwhelming critical watersheds and driving fish extinct.
Fish were pushed to brink by the impacts of logging and road building, but it's the impacts of marijuana pushing them over the edge. He likens diversion and sedimentation to heart attack and cancer – a double blow that makes recovery nearly impossible.
Regarding water permits, Greacen references when Rio Dell lost its junior water rights in 2014 while thousands of illegal diversions existed above the town. There's been only 420 water rights sought in all of history, Greacen says, but we're looking at 3,000 to 5,000 diversions in the Eel River basin.
We need clear rules, he says, and the North Coast environmental community strongly supports legal grows up to 2,000 square feet for the average household. Unfortunately CCVH is looking to legalize larger grows, and if that happens then, those grows should be cited on land suited for and zoned appropriately.
CCVH's reaction to the Island Mountain bust shows they view those involved not as criminals but as constituents.
We need enforcement resources and, Greacen emphasizes, nothing on the table right now provides that backstop. "We don't have it yet, and we must have it if we are to protect our public trust resources."
Finally, he says, as difficult as it is to rein in what's currently illegal, it will be even more difficult to pull back improperly granted rights once given.
###
California Department of Fish and Wildlife Lieutenant DeWayne Little recapped the ways in which the department has witnessed steady progression in the size and number of marijuana grows over the past several years.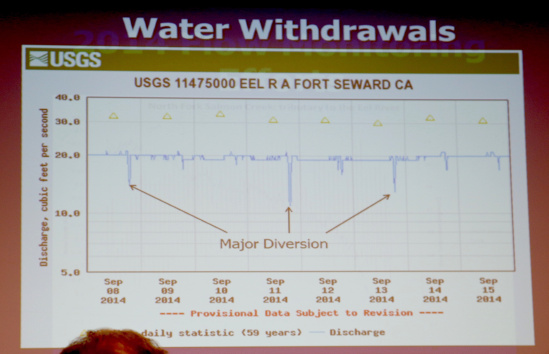 These include high density habitat fragmentation throughout Northern California. Natural resources impacts associated include water diversion, pollutants (sediment, petroleum products, fertilizers and pesticides), no best management practices, no riparian or stream protections.
In June, 2015 several major rivers are at or near historic lows including the Van Duzen, Eel River, Redwood Creek and Trinity. What is contributing? Larger grows than ever; diversions and dry streams; new and poorly constructed ponds; grow site development including the moving of streams; improper road construction – all displayed through a series of horrifying slides.
###
Golden Gate Salmon Association Executive Director John McManus provides an overview of what's happening in the Sacramento Valley, a critical area for the majority of Pacific Northwest salmon – and what's happening is not good. In 2014, out of 195 million fall-run eggs laid, only 3.5 million hatched (about two percent) and many of those later died in dried up tributaries. Warm water from Shasta could cause the 2014 salmon disaster to repeat this year.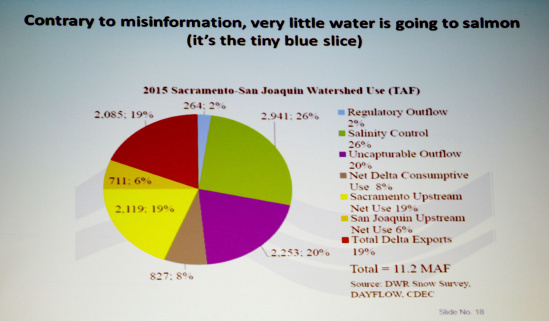 This massive loss of fish hurts both coastal and inland communities. Also, let's clear up any misperception of how much money is currently going to help protect the salmon fishery, McManus says.
###
State Water Control Board Executive Director Thomas Howard talks about cannabis activities the board partners on with DFW, specifically regulatory programs, targeted enforcement, and outreach and education. "We've been discussing this with just about everyone imaginable," he says. Development of regulations have been drafted for the North Coast and are expected to be adopted next month. The permitting program will require cannabis cultivators to enroll, comply with management practices to protect water quality and pay a fee. Watersheds identified as ones needing established public trust flows include the Scott and the South Fork of the Eel.
###
Bonham continues. California Department of Fish & Wildlife had 24,000 contacts in the past year related to grows, mostly on the North Coast, have spent at least 20,000 hours doing law enforcement, seen dozens of watersheds drying up. He praises legislative leadership for allowing the department to focus on where the greatest impacts are hitting the most vulnerable places.
"What's the future?" he says. "I'm torn. On the one hand I'm obligated to be open and transparent and honest, and I see a potential commercial fishery disaster" in the next few years. "By the same token," he says, "these species are some of most resilient on the planet."
###
California Fish & Wildlife Director Chuck Bonham expounds on the variety of California's flora and fauna: over 6,000 species. "We lead the nation in biodiversity," he says. "Unfortunately, we also lead the nation in loss of biodiversity." The main takeaway, he continues, "I don't think it's a dramatization to say I feel an existential crisis. Literally. This experience has me searching for the meaning of life." Department staff have been searching their souls, he says. This crisis has "forced a huge examination of mortality… But I don't think this existential crisis means you have to lose faith… maybe this whole experience a little like the famous question posed in Hamlet… And our department has decided 'to be.'"
That said, he continues to report on the dramatic loss of salmon in the Russian River (90 percent of returning to the tributaries) and – "At same time, just when you think it can't get worse, it does" – the Sacramento (95 percent).
So what are is the department doing? In the last two years the department has dropped many other things they "should be focused on" to dedicate efforts to preserving diversity.
###
Secretary of Natural Resources John Laird talks about the drought: Last year the state and feds had zero allocation for the 25 million Californians who depend on water, snowpack measured on April 1 was five percent of normal, right now Sierra snowpack is zero percent of normal. We have to live with the impacts, which mixes with the issues being talked about in this hearing. If this drought last as long as Australia's, then we're not halfway through it yet – it could get very very bad, which demands the strong response that has been taken.
###
Assemblymember Jim Wood calls the hearing "a learning experience an opportunity to air some of the issues of concern." He assures the audience that elected representatives realize the drought and illegal grows are not only issues affecting fisheries and aquaculture, that there are other significant challenges, but adds that regarding today, "Seeing is believing, and what you're going to see and hear ought to be shocking to you… We have a lot of work to do."
###
McGuire represents 40 percent of California's coast and his district is home to most remaining healthy salmon populations, all of which are facing crisis. He says the majority of growers want regulation, but a minority disregards the environment for personal profit. "We must take action to protect the few remaining stocks of salmon left," he says. River water made warm by illegal diversions is bad for fish. McGuire references past disastrous fish kills, "We cannot allow this to happen again."
###
McGuire welcomes the room of about 50 attendees to the 42nd annual fisheries forum. For the past four decades, this forum has convened to examine the $7 billion commercial and $2 billion recreational fisheries. California is reeling from a historic drought, our once robust fisheries are struggling to survive, our iconic fish have gone from abundance to scarcity in a single lifetime.
Making things worse, he says, one of state's largest crops has undergone explosive growth since Prop 215 passed in 1996. It has been left virtually unregulated for two decades and is contributing to rivers being sucked dry by illegal water diversions.
UPDATE, 10:04 a.m.: Waiting for things to start. PowerPoint presentations are being tech-checked. Introductions are being made. Hands are being shaken. Kit-Kats and cookies have been provided.
(NOTE: Blogging to begin at 10 a.m. right here; background and details below.)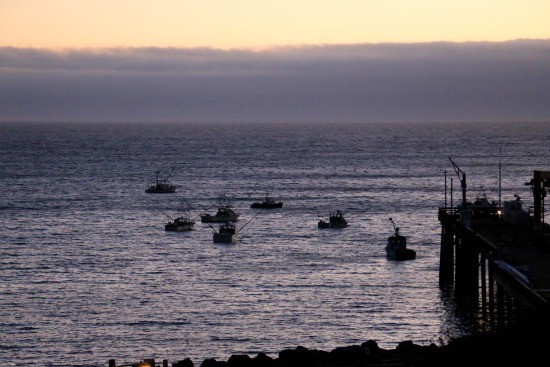 Fishing boats at Mendocino County's Point Arena. By Jennifer Savage.
"In our fourth year of this historic drought, we have to find ways to protect our fisheries from the impacts of the driest years on record, and the devastating impacts of rogue marijuana grows. The combination of the drought and rogue grows have resulted in unprecedented damage to our state's watersheds, they have put endangered species on the brink and are hammering away at our coastal and port economy." – North Coast Senator Mike McGuire
With that in mind, Senator McGuire, chairman of the Joint Committee on Fisheries and Aquaculture, hosts today's "Fish, Flows and Marijuana Grows" hearing to examine the impacts of the historic drought and marijuana grows on the state's fisheries and natural resources.
The hearing begins at 10 a.m. in Room 2040 at the State Capitol in Sacramento. You can watch and listen to the livestream via the Senate's website, but for those who can't spend the workday glued to televised government, Your Week in Ocean columnist (and Northcoast Environmental Center Coastal Programs Director) yours truly has braved the 108-degree heat in order to live-blog the hearing highlights for all those interested in the subject matter.
The hearing brings together fishery experts, state agency leaders, commercial and recreational fishing representatives, river advocates and cannabis industry proponents:
John Laird – Secretary, Natural Resources Agency
Charlton Bonham – Director, California Department of Fish and Wildlife
Thomas Howard – Executive Director, State Water Resources Control Board
John McManus – Executive Director, Golden Gate Salmon Association
Tim Sloane – Director of Programs, Pacific Coast Federation of Fishermen's Association
DeWayne Little – Lieutenant, California Department of Fish and Wildlife
Scott Greacen – Executive Director, Friends of the Eel River
Tom Allman – Sheriff, Mendocino County
Lawrence Dwight – Rancher, California Cattlemen's Association
Hezekiah Allen – Executive Director, Emerald Growers Association
Sitting on the Joint Committee on Fisheries and Aquaculture with Chair McGuire are: Vice Chair Assemblymember Jim Wood, Senator Jerry Hill, Senator Jim Nielsen, Senator Fran Pavley, Assemblymember Katcho Achadjian, Assemblymember Philip Ting and Assemblymember Das Williams.
PREVIOUSLY
ELSEWHERE