Despite strong objections from his attorney, Gary Lee Bullock's history of drug abuse was described to jurors today. This was a blow to the defense, which has been trying to build the case that Bullock was insane when he tortured and murdered Father Eric Freed on Jan. 1, 2014.
This morning, Bullock's stepfather, John Bruno, took the stand and said that when he saw Bullock hours after the murder, "He was definitely not sane. Definitely not sane."
However, that brief shining moment for the defense quickly grew tarnished under cross-examination as Bruno talked about his family's numerous attempts to get Bullock to quit using drugs and described Bullock's behavior while high as "completely whacked" and "not himself."
By the time the defense rested its case late this afternoon, Bullock's long history of drug-fueled troubles had been laid bare.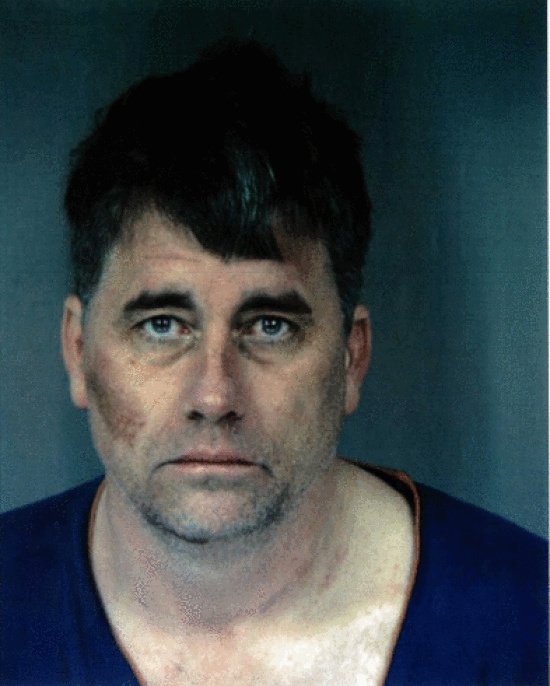 The day's testimony began with Eureka Police Officer Corey Crnich and private security guard Tim Clark describing the interactions they each had with Bullock on church property the night of the murder. Crnich said Bullock had acted fairly reasonably, if a bit confused, and he explained that he'd given Bullock directions to the Eureka Rescue Mission.
Before Crnich was dismissed from the witness stand, Judge John Feeney offered jurors a chance to ask their own questions, and one juror submitted this one to the bailiff: Why did you [Officer Crnich] not offer Bullock a ride to the Rescue Mission, rather than sending him off on foot? Crnich responded that it was around 2 a.m. New Year's Eve, a very busy time for officers, and Bullock seemed to understand where he was ostensibly heading.
Next up on the stand, security guard Clark recalled spotting Bullock at the rectory door from a nearby car lot and responding to the church. But he quickly left the scene and called the Eureka Police Department after hearing a "howling" noise that he thought was coming from a man.
He saw Bullock again later that night standing by the rectory's exterior bathroom doors next to a pile of debris he'd formed into the shape of a capital letter A. Though Bullock seemed "delusional" and maybe under the influence of drugs or alcohol, Clark said he didn't call the police a second time because he assumed Bullock was homeless and harmless. That decision came back to haunt him. Clark is a member of the congregation at St. Bernard Catholic Parish, and Freed was his priest.
Luke Brownfield, a deputy public defender formerly employed with the Humboldt County District Attorney's Office, testified that as a DA investigator he'd responded to the property of John and Carol Bruno, Bullock's stepfather and mother, on the day after the murder. There officers had found Freed's stolen car covered in branches and, nearby, some sticks that seemed to have been arranged in the shape of capital "A"s.
The bulk of the day's testimony — and by far the most significant — came from John Bruno, who said he considers Bullock his own son. When he and Carol Bruno got together, he said, Bullock was just 7 or 8 years old, and he lived at home until he was in his early 20s.
On the morning of New Year's Day, just hours after Freed's murder, Bruno and his wife were upstairs at their Southern Humboldt home watching the Rose Parade when Bullock suddenly and silently appeared in the doorway. "He looked pretty torn up," Bruno said. "He didn't look good at all. … He just kind of looked at us [and then] went downstairs and left."
Bruno threw on some slippers and found Bullock behind the house "waiving his arms" and "talking stuff, like Biblical things — just being weird," he said. "It wasn't like Gary." Bruno went on to describe Bullock's strange behavior, which included waving a metal tent pole over his head, claiming to be the archangel Michael and saying he was in touch with the spirits and could cure his mother's Lyme disease.
After disappearing for several hours Bullock showed up at the house again, "flailing his arms over his head," Bruno said. His shirt was off and he had three bungee cords wrapped around each arm and another around his neck, Bruno testified, adding that Bullock claimed each cord had its own symbolism, with the pink one around his neck offering a "direct connection to a higher consciousness."
John and Carol Bruno tried to calm him down, but Bullock "was just way out there," John Bruno said. Eventually Bullock settled down somewhat, and when the Humboldt County Sheriff's Office called the following day to say Bullock was wanted for murder, Bruno drove him down the mountain in his truck to surrender to the officers, yelling along the way, "What did you do?!" Bruno said.
Things grew testy in the courtroom when it came time for cross-examination. Prosecutor Andrew Isaac repeatedly pursued lines of questioning that prompted swift objections from Bullock's attorney, Kaleb Cockrum. Most of these questions had to do with Bullock's history of drug use.
The two attorneys could not be more different in appearance and style. Isaac, with his close-cropped silver hair and perfectly tied bow ties, is flinty and terse in the courtroom. His demeanor is that of a man who doesn't suffer fools gladly and considers most people foolish. Cockrum, in contrast, cuts a cherubic figure and exudes a calm — if sometimes pained — deliberateness while questioning witnesses or lodging objections.
Both men have been incisive and professional throughout the trial, but as matters came to a head in the courtroom this afternoon they each dug in their heels. Several times the two attorneys butted heads and then asked to approach the bench to confer with Judge Feeney. There were probably more objections lodged today than in the rest of the trial combined.
The first spat concerned the admissibility of a prior Bullock drug arrest in Texas, along with his longer track record of drug abuse. The jurors and witnesses were ushered out of the courtroom so the attorneys could hash out the issue with Judge Feeney. Isaac argued that Bullock's history was relevant since he was trying to claim insanity when in fact his behavior had been drug-fueled and erratic for quite a while. Cockrum, meanwhile, argued that Isaac merely wanted to introduce that history as a means of character impeachment.
Feeney ultimately sided with Isaac and ruled that Bullock's drug and psychiatric history are relevant to the case.
The jury remained out in the corridors while John Bruno was brought back in for a so-called 402 hearing, which was used to determine what Bruno knew about Bullock's drug use and what could be admitted as evidence. Bruno said Bullock's family had long been concerned about his drug use and had "a few confrontations with him," including one less than two months before the Freed murder where Bruno asked Bullock, "When is this [behavior] gonna stop?"
The jury was brought back in after a lunch break, and Isaac pursued the same line of questions with Bruno. Isaac kept alluding to a Bullock arrest on Nov. 2013. Then, as with the current case, Bullock was released from jail in the middle of the night, though after the November arrest Bullock's mom had come to his aid, talking to him on the phone and ultimately calling up a Eureka motel and paying for a room with her credit card.
Cockrum strenuously objected to questions about these phone calls, arguing that John Bruno's accounts would be hearsay. This time Feeney sided with the defense and ordered Isaac to move on.
Isaac proceeded to question Bruno about the roughly 70 hours of recorded conversations he and his wife had had with Bullock in jail. Did he remember Bullock talking about taking PCP? Isaac asked. Did he remember Bullock saying it was his own fault for taking it? Did he remember Bullock wanting to claim he was incompetent to stand trial and saying such a claim would save his ass? Did he remember Bullock saying drugs made him evil?
To each question Bruno said he couldn't really recall.
Bruno was the final witness for the defense, and after this thorough back-and-forth interrogation the defense rested its case.
However, the day wasn't over. Judge Feeney called for a 20-minute break, which wound up dragging on for nearly an hour. After the jurors and public were finally let back into the courtroom, Isaac was allowed to present a rebuttal case. He called his colleague, DA Investigator John Burke, to the stand and proceeded to play four snippets of recorded jail conversations in which Bullock spoke to his mother, his stepfather or both.
In the first recording Bullock could be heard telling John and Carol Bruno that when you take PCP, "that's what happens: you freak out." He said a man named Dylan gave him the drug and "It put me in jail." He admitted it was his own fault for taking it but then, sounding dejected, said he didn't really care. "It is what it is," he said, adding that he won't get out of jail anytime soon.
The second call played in the courtroom was a conversation between Bullock and John Bruno, with Bullock lamenting, "This is fucked up here. I mean, I just, I lost everything." Bruno's voice came in saying Bullock had made a choice to go down a road, and that he'd chosen himself over —
"Everything," Bullock cut in.
"Everything," Bruno agreed.
In the third conversation Bullock spoke with his mom, telling her that if he could get evaluated by a psychiatrist from outside the jail system it would save his ass.
And in the final recorded conversation, Bullock could be heard telling John Bruno that drugs changed him and made him evil.
Court will not be in session for the remainder of the week. John Burke is scheduled to return to the stand Monday morning, though his testimony is expected to wrap up before noon. Isaac and Cockrum will then likely present their closing arguments to the jury.
PREVIOUSLY: