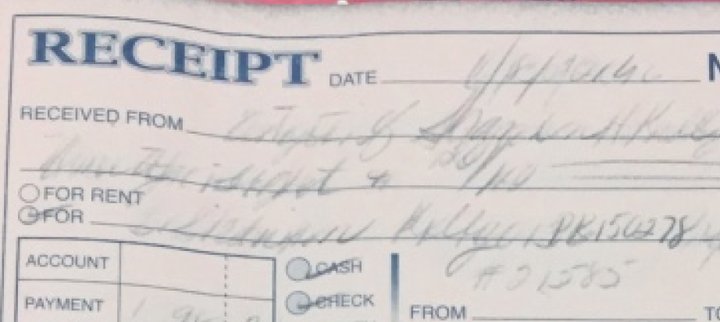 As the California Department of Justice continues its investigation into Humboldt County's Public Administrator Bureau (a division of the Sheriff's Office), the Outpost has examined more than a thousand hand-written receipts for items sold in estate sales handled by that bureau. Those records show that the practice of selling items from the recently deceased to deputies of the Humboldt County Sheriff's Office (and the independent County Coroner/Public Administrator's Office before they consolidated) dates as least as far back as early 2013.

As we reported last month, all such sales are deemed a crime punishable by a $1,000 fine, up to a year in the county jail or both. The Public Administrator is entrusted with serving as the executor of estates for people who die without any heirs or without relatives who are willing and able to handle the estates themselves.
Since the Outpost first reported on this controversy, a number of people have come forward with stories about how the Public Administrator Bureau handled — or mishandled — the estates of their own friends and family. Some said deputies promised to notify them before selling certain belongings but then failed to do so. One woman said she was accused by county employees of stealing a car for which she had a valid bill of sale, handwritten by the man she'd cared for during his final months of life.
The Outpost also learned that the Public Administrator Bureau likely hasn't been following another law, California Probate Code section 7605, which requires all public administrators in the state to meet continuing education requirements established by a nonprofit oversight organization called the California State Association of Public Administrators, Public Guardians, and Public Conservators (PA/PG/PC).
Sheriff William Honsal told the Outpost that until the current fiscal year, "no one at the Sheriff's Office (or the previous Coroner's office) was ever certified through the PAPGPC group."
First, let's look at the receipts. It's hard to say whether the Department of Justice will see in them an honest attempt to be above-board or a failure to follow the law.

On one hand, they record hundreds and hundreds of individual transactions. Handwritten in bound books of three-part receipts, the records shown to the Outpost include just the bottom, pink-colored copy of the original receipts, which are supposed to include every financial transaction from estates being handled by the Public Administrator Bureau.
Poring over them you'll find records of even the smallest of transactions. For example, there's a receipt for the one-dollar sale of a single photograph. There are also receipts for cash found on the bodies of the deceased and in their homes, in amounts both large and small. And while we found dozens of sales to deputies (or their wives) the vast majority of items appear to have been sold to people not employed by the Public Administrators Bureau or the Sheriff's Office.

On the other hand, most of the receipts are written in a cursive that's difficult, sometimes impossible to decipher. And many receipts have incomplete information. For example, some include the name of the purchaser and the dollar amount received but don't list the items purchased. Some receipts for vehicle sales list the make but not the model. "2001 Honda," one reads. Another just says "automobile."
Without a more detailed record it would be impossible to know whether good were sold at or near market value.
There are also receipts that don't list the name of the estate the items belonged to, and others that don't include the full name of the purchaser. On a receipt for the sale of a saw, lawnmower and weed whacker, for example, the "received from" field just has the initials "T.E." Another records the sale of a VCR and remote for $10 to, simply, "Leonard." Someone named Mark bought a painting for $20, and a man named Joe paid two dollars for a chair. Neither receipt includes a last name.
The Sheriff's Office has brought in its own investigator, Deputy Fred Flores, to examine the Public Administrator Bureau's policies and procedures. The Outpost reached out to him for help solving some of these clerical mysteries and he sounded equally flummoxed.
"You can see the challenges, and I don't have answers for you," he said via email. Flores added that he's searching for "indicators which tie the information together."
And then, of course, there are the sales to deputies, which were scattered throughout the receipts all the way back to early 2013 (the farthest we've looked so far). Such sales may have been occurring long before then.
Back in July, a local woman named Susan Nolan wrote to us about the estate of her friend Roseann Carcello, who died in 2011.
"She owned a number of fine musical instruments, collectible books and records, lots of expensive clothes," Nolan said in an email. "Her car was a 1995 Toyota 4WD pickup, straight body, very clean, very low miles."
The Coroner/Public Administrator's Office, which was an independent office until early 2015, handled the estate.
"The deputy coroner, Roy Horton, said he would notify us when her things were offered at auction … but we never heard from him," Nolan wrote. "It turns out the books were sold at the office for $1 each, a tiny fraction of their value, to the delight of local booksellers and scouts."
Nolan suspects the Toyota pickup was also sold in a "sweetheart deal," possibly to a deputy.
Sheriff William Honsal told the Outpost he couldn't respond to questions about specific estates until after the investigations are complete.
The Outpost hasn't reviewed records as far back as 2011. But in the ones we have seen, Horton, the deputy coroner who Nolan says handled this particular estate, made at least one purchase in violation of the law. A receipt from April 24, 2014, records the sale of something recorded as "witness fur" to Horton for $275.
His wife, meanwhile, has been the county's most prolific shopper of estates handled by the Public Administrator Bureau. Since early 2013, Renee Babros-Horton has purchased dozens of items from these estates, including the 2001 Honda mentioned above, a moped, a computer, a rifle, various household decorations, silverware, coins and at least four TVs. Each of the receipts lists her only as "Renee Babros."
A man named Richard Bush also contacted the Outpost to tell us about how the county handled the estate of his cousin, Dewey Vrzina, who died last September. Vrzina collected guns, one of which was an old .22-caliber rifle that once belonged to Bush's grandfather. Bush said that after Vrzina's death he spoke with Deputy Coroner/Public Administrator Charles van Buskirk.

"I told him I was interested in those guns, that one was my grandfather's," Bush said. "He said he could probably set them aside. I never heard from him again."
Bush later learned that the guns were sold to Anglin Second Hand, like many other items liquidated by the Public Administrator Bureau. The whole collection was sold for $845, and Bush said he once saw a gun store owner offer $1,000 for just one of Vrzina's firearms.
Bush and his wife have tried to follow up with Dennis Reinholtsen, the local attorney who represents the Public Administrator's Bureau in estate matters. But they've been unable to reach him. Bush's wife, Karen, said her husband "has been calling and calling" Reinholtsen's office.
"I can't get him to answer," Bush said. "The attorney will not call me back."
The Outpost also tried to reach Reinholtsen. Messages left with his office staff were not returned.
Incidentally, two of the four TVs purchased by Renee Babros-Horton came from the Vrzina estate.
Van Buskirk's wife, Heidi, also purchased items from estates while her husband was employed by the coroner/public administrator's office. According to receipts we found, in April 2014 she paid $220 for a telescoping table from the estate of a man named Paul Ideker, and three months later she paid $50 for a weed whacker and something else (it was illegible on the receipt) from the estate of a man named Alan Malfatti.
Some other sales:
In July 2014, David "DJ" Parris, son of former elected County Coroner David Parris, bought three motorcycles (two Hondas and a Kawasaki KDX) from the estate of Robert Fehrs for $2,800.
In September 2014, a senior legal office assistant working in the coroner's office, Judy Price, bought a 1991 Ford Ranger from the estate of Marc McCallister for $500. As previously reported, Price later bought a Ford F150 from the estate of Thomas Balchik for $4,500.
In August 2015 (after the consolidation of the Coroner/Public Administrator's Office with the Sheriff's Office), Sheriff's Deputy Jamie Barney bought some sort of Toyota (the receipt doesn't specify) from the estate of Robert Hinks for $2,334.
A few days later, Sheriff's Deputy Roy Reynolds bought a trailer from the Hinks estate for $300.
Another case involved the estate of a man named Charles Titlow, who died on Aug. 6, 2015, at the age of 95. His caretaker had been a local woman named Ryanne Wheeler, who told the Outpost that about a year before Titlow died he tried to give her his 2007 Ford Taurus. She insisted on paying for the car, and in October 2014 she purchased a $1,000 money order from the Post Office for that purpose.
But she failed to register it, even after Titlow's death. She told the Outpost that she was "incredibly busy" during that time and never got around to going to the DMV. The Public Administrator Bureau wound up serving as the executor of Titlow's estate, with former county coroner/current Eureka Mayor Frank Jager in charge.
Here's what happened next, according to a 2015 incident report from the California Highway Patrol. Unable to locate the 2007 Ford Taurus, which was still registered in Titlow's name, Jager reported it stolen. His brother, Adam Jager, was a captain with the CHP at the time and asked a subordinate officer, Matt Harvey, to take the stolen vehicle report, which he did on Sept. 9, 2015.
Aware that Wheeler had been Titlow's caretaker, Harvey drove to her house on Sept. 16 and found the Taurus parked in the driveway. Wheeler presented officers with the car's certificate of title, which had "Titlow's apparent signature releasing interest in the vehicle" and Wheeler's information written in the "Application for Transfer by New Owner" section, according to Harvey's incident report. However, there was no date on the document.
She also gave officers a handwritten bill of sale signed ("apparently") by herself and Titlow, and a receipt for the $1,000 money order with "Charles Titlow" written in the "Pay to" section and a note reading, "Paid in full for a purchase of Ford Focus."
But Frank Jager was skeptical. According to Harvey's report, Jager "questioned whether Titlow's signature was original or forged."
Wheeler and her boyfriend, Ben Wright, were both arrested — Wheeler for vehicle theft and Wright, who had allegedly tried to back out of the driveway before spotting the CHP vehicle, for possession of a stolen vehicle. The Taurus was released to Jager on the scene.
Charges were never filed against Wheeler or Wright, and Wheeler said she never got the car back.
"The whole thing was so creepy and weird," she said. "They came to my home and took me. It was terrifying."
She said CHP officials offered her the opportunity to buy the car back or take a refund for the amount she paid, but she chose to do neither. She's been suspicious about the Public Administrator's handling of Titlow's estate ever since.
"I'd be curious to know if they actually took the estate completely or if they found heirs," she said. "I know he had heirs."
Among the receipts we inspected there were several from Titlow's estate, but we didn't find one for his Ford Taurus.
# # #
One of the most important questions in the state's investigation of our county's Public Administrator Bureau may well be whether employees knew about the state law prohibiting sales to their own deputies. That particular government code has been on the books for at least 50 years, and likely a lot longer, but Sheriff Honsal, who is also the coroner and public administrator, said it wasn't "discovered" by anyone in his office until the Outpost began making inquiries.
Scarlet Hughes, the executive director of the PA/PG/PC, said that's exactly the kind of information public administrators learn about through the training, certification and oversight her organization provides.
The PA/PG/PC also offers "best practices" training for a variety of obligations that fall to public administrators, including auctioning valuables and finding the market value for used automobiles. The best practice for that latter task is to utilize multiple online websites that value cars, such as Edmunds.com or Kelley Blue Book's kbb.com.
When the Outpost interviewed Chief Deputy Coroner/Public Administrator Ernie Stewart back in June, here's how he described his method for selling vehicles:
Sometimes Craigslist. Sometimes, when you've been doing this job for a while, you get to know certain people are car buffs or a car club, so you pick up a phone and call: 'Hey, I've got a car you guys might want to come and look at.' Sometimes it's word-of-mouth.
He also said that while his office generates some income for the county's general fund — getting a one-to-four-percent handling fee from estate proceeds — the vast majority of the money winds up going to the state, which he finds frustrating.

"It drives me crazy to send money to the state that I know they're just gonna waste anyway," he said.
Hughes said that since 2010, state law has required the public administrator in each of the state's 58 counties to be certified through the PA/PG/PC. "We recommend that any staff who perform the duties of the public administrator also be certified," she said.
Sheriff Honsal said that until a couple months ago no one in his office was certified. This past spring, Stewart was contacted by the organization. "The Sheriff's Office put plans in place to become members at the start of the fiscal year," Honsal told the Outpost in an email.
Honsal said he, Stewart and all deputy coroners are now members of the organization, and all deputies with public administrator responsibilities will be required to follow suit. "In the next two years all personnel listed have to attend the PA/PG/PC state certified training," Honsal said. Three more deputies will be sent for training this fall.
PREVIOUSLY