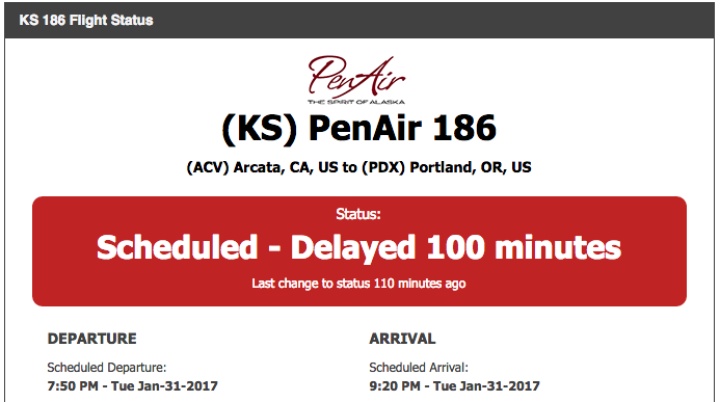 Anyone who's lived here long knows to expect delays at our local airport. It just comes with the territory — or, more accurately, the climate.
Now known as the California Redwood Coast — Humboldt County Airport (code: ACV), the local air terminal was built by the U.S. Navy during World War II specifically because of the foggy conditions on that bluff north of McKinleyville, conditions which resemble those in London.
But even by the lax standards of "Humboldt Time," flights through Alaska-based Peninsula Airways, Inc. — aka PenAir — have been downright unreliable. According to data collected by the flight-tracking website FlightStats.com, PenAir arrivals and departures through ACV have an average delay of nearly an hour.
Let's take a closer look: Over the past two months, the 7:15 a.m. flight from ACV to Portland has an average delay of 42 minutes, and only 57 percent of those daily flights have left on time. FlightStats gives this flight a rating of 0.5 out of five stars and a ranking of "very poor."
The later flight to Portland out of ACV, which is supposed to leave at 11:45 a.m., does even worse. Over the past two months it has been delayed by an hour and two minutes, on average, with only 54 percent of flights leaving on time. This, too, earns a "very poor" rating, with a flat zero out of five stars.
"Statistically," FlightStats notes, "when taking into consideration sample size, standard deviation, and mean, this flight has delay performance characteristics better than 0% of other flights." In other words, it's the worst. Literally.
Things aren't much better on the way back from the City of Roses. PenAir arrivals from Portland have averaged about 55 minutes late, with just over half of them showing up on time.
PenAir added a third flight to and from Portland earlier this month. With only a few days under their belt it's probably not fair to issue a judgment on those flights just yet, but so far they're performing about as poorly as other PenAir flights.
Earlier today the Outpost spoke with Missy Roberts, PenAir's vice president of sales and marketing, who offered some explanations and a double-dose of good news for local travelers.
As for the delays, Roberts noted that Humboldt County is a brand new market for the airline. (They just began service through here last April, and it was perhaps an omen when the first return flight had to turn around and return to Portland, where it was delayed by several hours.) Roberts said it always takes a bit to become familiar with a new market, get to know the clientele and get oriented.
"As we've been analyzing [the Humboldt situation] we realize we need to tighten things up so we can improve reliability in terms of both delays and completion ratios," Roberts said. "We've taken some major steps to rectify [the problems]."
The company's maintenance base has been located in the quaint little city of Aurora, Ore. (pop. 939), about 25 miles south of Portland, which means that every time a plane required a general maintenance check — pretty much every day — it had to be flown to the airstrip there, Roberts said. And any time the planes require maintenance, that, too, has been happening in Aurora, resulting in more delays.
But now PenAir has moved its maintenance hub to a hangar at PDX, and the company is in the process of moving parts and equipment there, too. "That gives our maintenance department the ability to do checks and repairs in more timely fashion," Roberts said.
The second major change the airline has made is eliminating some "overnights" in Humboldt and Redding, meaning those PenAir planes aren't sitting on the tarmac at local airports; they're up in Portland, instead. That gives maintenance staff up there the opportunity to perform maintenance in the evenings instead of the middle of the day, a change that should reduce delays.
"We've done a number of minor tweaks like that," Roberts said.
Some of those changes took effect on Jan. 9 while the rest will take effect tomorrow, Feb. 1, she added.
"It's not something where you're going to see a huge change overnight," Roberts noted, "but people should see improvements over the next three to four weeks."
PREVIOUSLY: