LIVELY HEARING, DAY 1: 'Let's Load Him in the Back of My Truck': Neighbor Describes Discovering Shelter Cove Murder Suspect Eric Lively Attempting to Move Victim
# # #
A co-worker of murder suspect Eric Jason Lively told police that Lively repeatedly said he had the desire to kill his neighbors in Shelter Cove.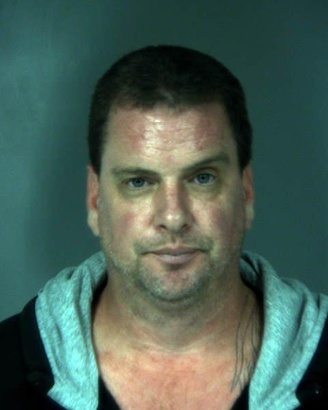 Lively, accused of running over and killing his neighbor Jesse Simpson on May 3, reportedly stated on that day and the two previous days that he wanted to kill his neighbors.
Lively, 45, had been working with a construction crew for about six weeks before the fatal collision. One of his co-workers, Jordan Miclette, told sheriff's Investigator Todd Fulton that on May 1, Lively stated he was tired of his neighbors stealing his stuff and he wanted to kill them.
Fulton, testifying this morning during Lively's preliminary hearing, said Miclette told him the subject came up again on May 2.
"Mr. Lively said his neighbors were out to get him and that he wanted to kill his neighbors," Fulton said under questioning by Deputy District Attorney Adrian Kamada.
The investigator testified that on May 3, the day Simpson was killed, Lively arrived at the construction site and the crew "kind of gave him the cold shoulder." Someone suggested that if he had something to do somewhere else, he should do it.
"Like go kill my neighbor?" he reportedly responded.
Lively, sitting in the courtroom next to his attorney Russ Clanton, shook his head in apparent disbelief.
Clanton asked Fulton whether he had confirmed the statements with other co-workers, and he said he had not. He said he has been "playing phone tag" with Lively's boss.
The hearing was cut short this morning over the issue of whether Judge Timothy Cissna will allow in evidence of Lively's arrest in 2013. In that incident, he reportedly used the same Toyota Tacoma truck to hit a man in Shelter Cove.
The District Attorney's Office never filed charges, apparently because it was decided the incident was "mutual combat." But Kamada argued it was a very similar scenario and should be considered.
Clanton, on the other hand, said the witnesses in the first case are completely unreliable. Cissna made a tentative ruling to allow the evidence in, and tomorrow the deputy who handled the 2013 incident is expected to testify. Clanton can call opposing witnesses, though he told the judge that chances are "slim to none" that he can have them in court in the morning. He said the people in question no longer live in the area.
Today, in addition to the statements from Lively's co-worker, incriminating evidence was presented from Lively's 16-year-old daughter. Speaking with Fulton a few hours after Simpson was hit, she said her father had come home from work that day "ranting about how Jesse robbed him."
"She said she didn't think that had happened," Fulton testified, and he said "Yeah, it did." Shortly afterward Lively left in his Toyota Tacoma pickup truck. When he returned the front driver's side of the vehicle was badly damaged.
Lively's daughter told Fulton her father asked her not to call the police. He gave her some cash, a gold necklace and other items of value and told her to take them to the home of a friend of theirs.
Lively had no shirt on and had blood on his hands and bare chest, his daughter told the investigator.
The California Highway Patrol determined Lively intentionally hit Simpson, who was using a weed-whacker on a lawn at the corner of Debbie Lane and Eileen Road in Shelter Cove. Lively told officers he and Simpson made eye contact, then Lively "peeled out," ran the stop sign on Eileen Road and hit Simpson.
But Lively has also said he never intended to run over the man, and that Simpson jumped out in front of him with his weed-whacker.
The bent and bloody weed-whacker was still harnessed to Simpson when he was found.
One neighbor, Robert Juan, told law enforcement that when he arrived on the scene, Lively was on his hands and knees near where medics were working on Simpson. Juan said Lively yelled "I didn't do it on purpose. It was an accident. It was an accident."
Lively appeared to be crying during that testimony.
Juan also heard Lively make a couple of contradictory statements: that after the crash he had dragged Simpson out of the road so he wouldn't be run over (again), but also that Simpson wasn't that badly hurt and was walking.
Sheriff's Investigator Jennifer Turner, who attended the 42-year-old Simpson's autopsy, said it was determined he died from "multiple" impact injuries.
Turner testified that Simpson had a badly fractured left leg, cuts and abrasions all over his body, tears in his large intestines and colon and "a pretty substantial brain injury."
Testimony is expected to continue tomorrow morning.
PREVIOUSLY: