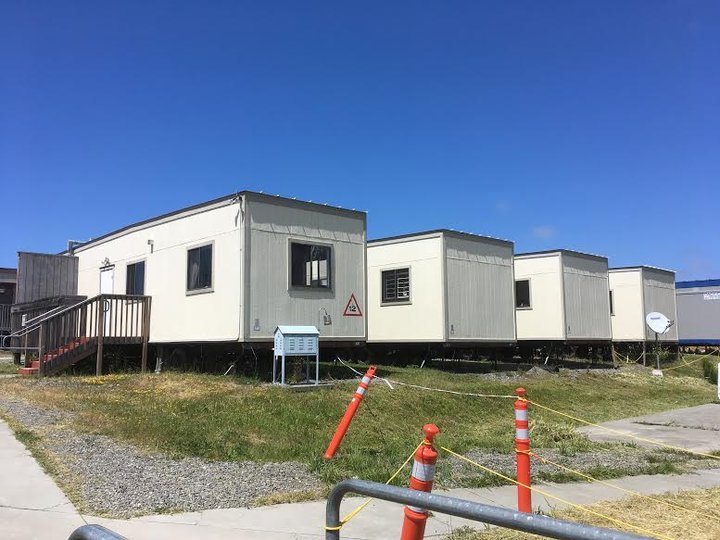 UPDATE, Wednesday 11:50 a.m.:
PG&E Spokesperson Deanna Contreras followed up today with the following details:
There are actually seven trailers being offered to the Betty Kwan Chinn Homeless Foundation, not 12 as Bohn stated yesterday. However, one of those seven trailers measures 72 feet by 60 feet — the size of six trailers put together. Contreras said it will be up to Chinn how she'd like to divide and remodel them.
The trailers are currently being used as administration offices out at the Humboldt Bay power plant in King Salmon, Contreras said. They're worth about $35,000, not counting the costs of transporting them to a new location, an expense PG&E will cover if the deal does indeed go through.
"At PG&E we strongly believe in giving back to the communities we live in and serve," Contreras said, noting that the company has been active in Humboldt County for more than 100 years.
If the deal goes through as proposed, the trailers would be donated to Chinn's nonprofit sometime next month, Contreras said.
# # #
Original post:
This modular office trailer we found online matches the dimensions of some reportedly offered to Betty Chinn by Pacific Gas and Electric.
Some of Humboldt County's homeless population may soon find housing in the form of donated modular trailers — courtesy of Pacific Gas and Electric — that have been converted into duplex units complete with plumbing, electricity, insulation and double-pane windows.
It's just an idea at this point, not a done deal, according to a PG&E spokesperson. But the Humboldt County Board of Supervisors today unanimously agreed to have staff pursue the trailer-housing concept with other local stakeholders, including PG&E, the Betty Kwan Chinn Homeless Foundation and the City of Eureka.
First District Supervisor Rex Bohn told the Outpost after the meeting that PG&E recently approached Chinn with an offer to donate 12 "modular housing units," which until now have been used as office trailers.
"They're high-end modular units, much like you see lasting 20-to-30 years in our schools," Bohn said.
The proposal resembles last year's shipping container housing project, the result of an unlikely collaboration between the Betty Kwan Chinn Homeless Foundation and the Humboldt Coalition for Property Rights, aka HumCPR.
That project, dubbed the Greater Eureka Community Outreach Program, proved contentious among owners of businesses near the container village site, a Mercer Fraser parking lot west of Old Town Eureka. The "Blue Angel Village," as it came to be called, provided housing for people displaced by the wholesale eviction of homeless encampments in the Palco Marsh.
The container village was later moved to a city-owned parking lot near the intersection of Washington and Koster streets, where it remains.
No location has been found — or even publicly proposed — for the latest modular housing containers, though Bohn said stakeholders have a couple of locations in mind. He declined to identify those locations specifically, though he said they should be "close to utilities." He also said the county plans to "let the neighbors in on the project at the beginning."
At today's supervisors' meeting, Third District Supervisor Mike Wilson asked whether the units might be utilized in communities besides Eureka. Bohn told the Outpost that's indeed a possibility — locating them in McKinleyville or Southern Humboldt, perhaps.
Eight of the 12 units measure 12-feet-by-60-feet, and the other four measure 12-by-40, Bohn said. Splitting them into duplexes would yield 24 new housing units. (Check our math on that.)
"They're extremely well-built," Bohn said. "They're as good a modular as one could buy."
Bohn said he hopes the units can be converted, sited and ready to house people by next spring — but, again, this is by no means a done deal.