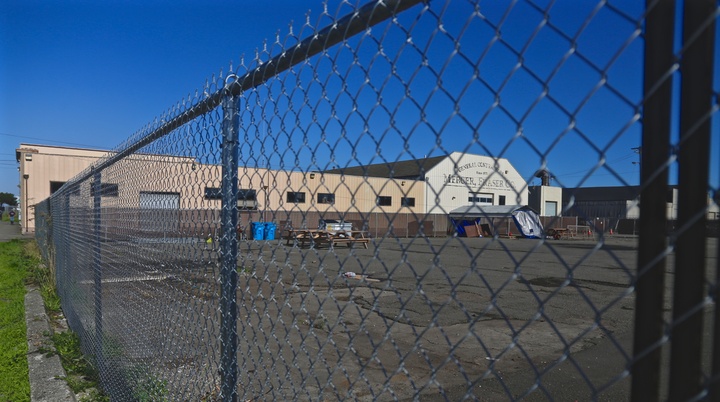 Six months later. Gone.
After a busy few days, the Greater Eureka Community Outreach Project's shipping container village, which has occupied a slab of concrete at the corner of Third and Commercial streets in Eureka, has been almost completely relocated to a city-owned parking lot near the intersection of Washington and Koster streets.
Yesterday Betty Chinn, the project's most visible driving force, oversaw moving day operations as forklifts loaded the multiunit shipping container homes onto flatbed trucks to transport them to their new, more secluded home.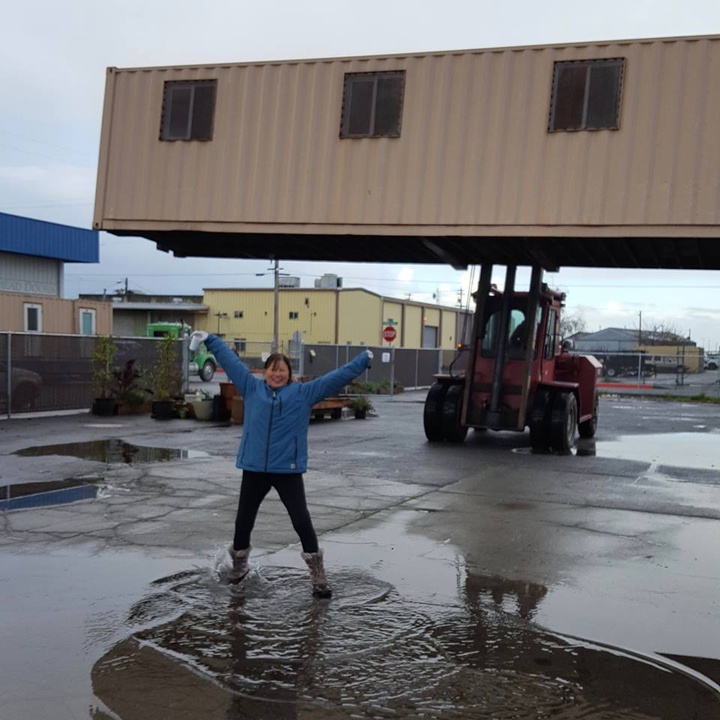 "It's such a wonderful feeling," Chinn said. "This is so amazing! It was very emotional yesterday with the move [thinking about] how much this has affected people's lives in the last six months."
It was back in April when the Eureka City Council decided to lease Mercer-Fraser's lot in Old Town for the later-dubbed "Blue Angel Village." Then, in September, the council unanimously approved GECOP's new location and provided $75,000 to help fund the project going forward. GECOP had been hoping to secure a a location on Marina Way near the Wharfinger Building but ran into opposition from the California Coastal Commission. Nevertheless, Chinn was absolutely giddy about the new location when the Outpost met her there on Thursday.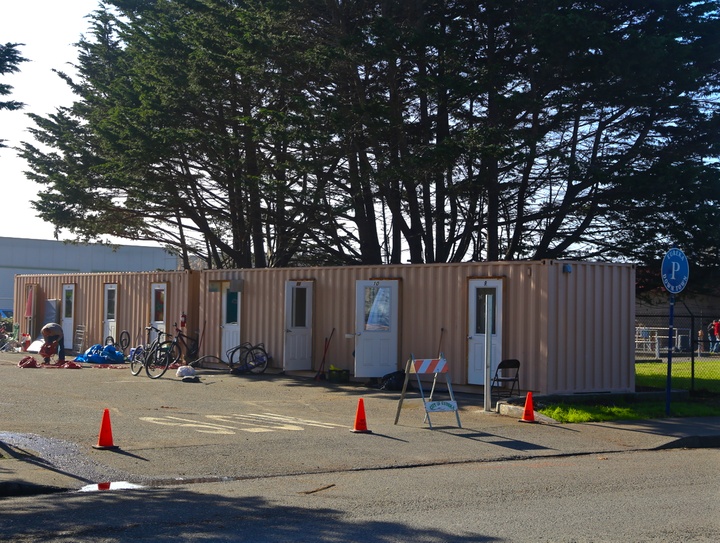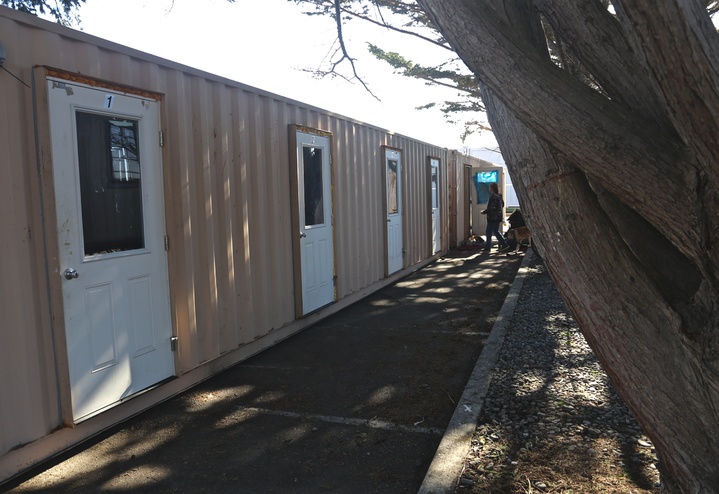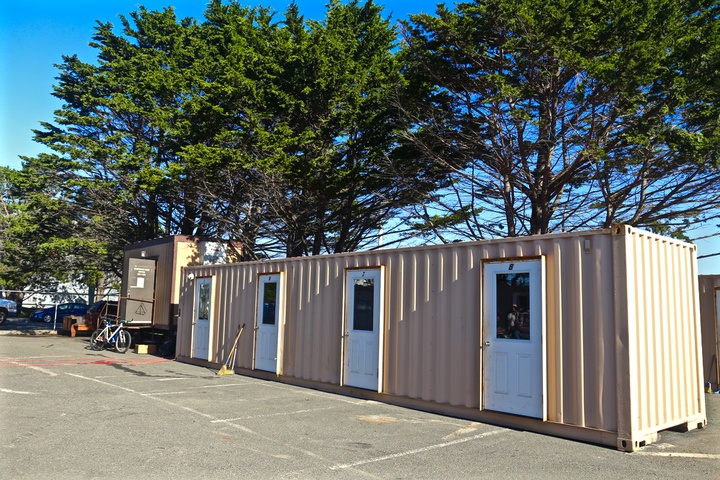 "Look! Trees!" she proclaimed pointing excitedly to the evergreens encasing the village. While Chinn spoke to us a woman called out to her from the street.
"Is this going to be a permanent place for these people?" she asked.
"One year," Chinn replied referencing the planned tenure of the shipping container village in this location.
"Thank God. I wish they'd had something like this when I was homeless."
Around half of the units are able to house residents who have already re-situated themselves. Chinn says the rest will likely fill up tomorrow. Some of the newer residents were among those forced to abruptly vacate the temporary campsite on Waterfront Drive. Chinn said she plans to spend extra time on site at the new location in the coming days to help the residents get adjusted — she slept in her Blue Angels truck there last night.
In case you are curious about the scope of the assistance GECOP has attempted to provide, below are a few internally produced statistics taken from GECOP's six-month progress report:
Of the 106 individuals who have accessed services through GECOP…

40 of them, or 38%, have acquired housing and are no longer living on the streets.
43 of them, or 41%, have found employment.
28 or 26% have exited the program voluntarily.
35 or 33%, have gotten an identification card, a birth certificate, a social security card, or some combination of the three.
64 or 60% received medical care from doctors, dentists, physical therapists, and other specialized health care professionals.
28 or 26% entered into to drug or alcohol abuse programs.
35 or 33% have begun or re-established mental health services.
19 clients were asked to leave GECOP for rules violations
Looking forward to at least another year of the shipping container experiment, Chinn told us she's pleased with the progress she's seen from people who've utilized the program, but she can only do so much for them.
"We are here to support them and guide them," Chinn said. "We cannot change their lives if they don't want to [change]."
PREVIOUSLY: