Murder suspect Eric Lively's ex-girlfriend testified today that he was an abusive man who constantly accused her of robbery, infidelity and drug use and who threatened more than once to kill his neighbors.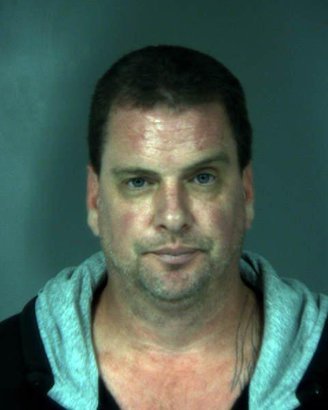 Crystal Worthy, the last witness for the prosecution, said she moved out of Lively's house in April, a few weeks before he ran over and killed his neighbor Jesse Simpson. In the last six months before she left, Worthy said, Lively accused her on an almost daily basis of having sex with Jesse Simpson and his brother Thomas. He also believed she was part of a "tweaker network" that was stealing from his house.
Lively's house overlooked Thomas Simpson's backyard, and Worthy recalled Lively often going out on his second-floor deck and screaming threats such as "I'm going to kill you tweakers."
The typical response, she said, was "Fuck you, Eric; what's your problem?"
Once, Worthy testified under questioning by Deputy District Attorney Adrian Kamada, Lively left the house with a baseball bat and a knife and "drove the neighborhood." She said he told her "'If I come back with blood on my hands you'd better have my back.'"
Another time, she recalled, he said "'Somebody's going to die for this shit, and if I have blood on my hands you'd better have my back.'"
On May 3, Lively did come home with Jesse Simpson's blood on his hands. Worthy had moved out, but Lively's teen-age daughter saw him with blood on his hands, clothing and the front of his wrecked pickup truck. It had just struck Simpson in the intersection of Debbie Lane and Eileen Road in Shelter Cove.
The prosecution says the death was first-degree murder, while the defense says Simpson jumped out in front of Lively's truck while striking at it with a weed-whacker.
Worthy testified today that she had been in and off-and-on relationship with Lively for years. They have a 7-year-old son together. And in 2014 the couple also took in Lively's three other children when their mother died.
After Worthy left in April, Lively sent her texts calling her a whore, calling her home a "hooker palace," telling her to quit going to the beach and getting "gang-fucked" and asking her to "Please die soon."
During cross-examination by defense attorney Russ Clanton, Worthy said she is a methamphetamine addict who quit using meth in 2013, except for a three-day relapse in July 2016. She said she immediately sought treatment and hasn't used since.
Clanton looked incredulous. He suggested her meth addiction was a major problem in she and Lively's relationship, and that he had come home to find her doing drugs with other people. He also asked whether she had ever confessed to Lively that she had been unfaithful to him.
Worthy laughed and said "Absolutely not. Eric made all that up."
Worthy and Lively were in a dispute over custody of their son, and Clanton said that was because Lively didn't want his children "being around your meth use."
"Again, a lie," Worthy said.
With Lively out of the picture, Clanton remarked, she would have full custody of their son.
"My son loves his father very much and misses him," Worthy said. "He's angry that he's in jail."
Asked the same question again, she acknowledged that without Lively around she would have full custody of their son.
Clanton also questioned her about whether she knew Jesse Simpson and Thomas Simpson to be "tweakers." She was not allowed to answer that question because of an objection by the prosecutor. During Clanton's opening statement to the jury, he said Jesse Simpson had a high level of methamphetamine in his system when he was hit.
As to the long-time hostile relationship between Lively and Jesse Simpson, Worthy confirmed there were problems.
"Difficulties? Yeah. There were confrontations, initiated and provoked by Eric."
She said she never saw the two in a physical fight, but she once saw Lively after they had been fighting.
Kamada rested his case today, and Clanton is expected to begin calling defense witnesses tomorrow. Judging by what he said during his opening statement, two of the witnesses will be a traffic expert and someone who will testify to the amount of meth in Simpson's body.
PREVIOUSLY: