The Carr Fire as mapped yesterday.
The Carr Fire has once again nearly doubled in size, growing to 80,906 acres overnight.
"Firefighters worked aggressively through the evening to build containment lines around the Carr Fire," Calfire reports. "Red Flag Warning and heat advisory are in effect for the area. The winds, high temperatures and dry vegetation still have the potential to fuel fire growth. Fire Spread has been active in all directions and has made significant runs."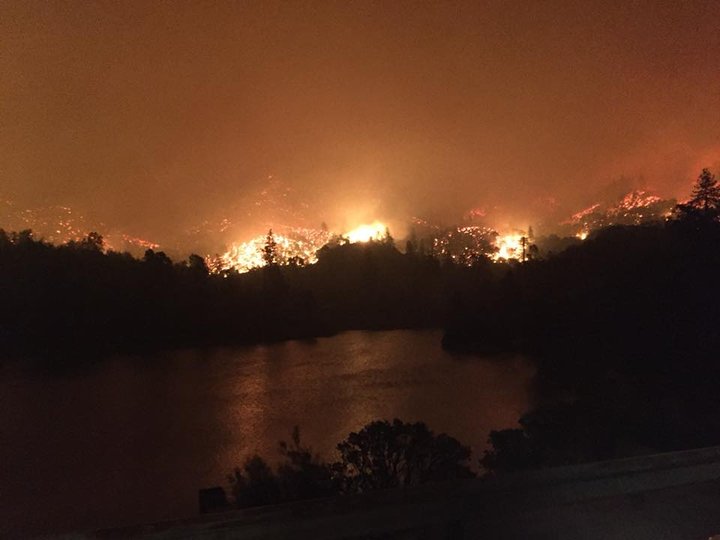 New mandatory evacuations have been ordered as the fire continues to spread.
Mandatory Evacuation Orders:
Community of French Gulch
SR 299 west of Trinity
Mountain Rd to the base of Buckhorn Summit
Whiskey Creek Rd to include the boat launch/day use areas
South along Swasey Dr from SR299 to Placer Rd
West along Placer Rd from Swasey Dr to Prospect Dr
North from Prospect Dr to encompass Middle Park Ranch Land Area
West of Overhill Dr and North of SR 299
North of SR 299 and West of Spinmaker Rd to the end of Harlan Dr
Keswick Dam East to Counter Lane, North to quartz Hill Rd
North of Sacramento River to Keswick Dam Rd, West of Market Street and Lake Blvd to Keswick Dam
North at Lake Blvd and Oasis Rd to Pine Grove Ave and Walker Mine Rd west of Cascade Rd/ I-5
Pine Grove Ave North on Lake Blvd to Shasta Dam incorporating Summit City, North Belt Line and Flannigan Rd
Intersection of Placer Rd and Buenaventura Blvd west to Thompson Lane
Buenaventura Blvd from Placer Rd to Westside Rd
Westside Rd to Keyon Drive incorporating Country Heights and West Redding neighborhood
Buenaventura Blvd to SR 299 to Placer Rd
Placer Road from Buenaventura Blvd to Cloverdale Rd
Cloverdale Rd from Placer Rd to Clear Creek Rd
Clear Creek Rd West from Cloverdale Rd to Honey Bee Rd
Shasta Dam Visitor Center All of Shasta Dam Blvd
All of Shasta Lake City
Placer Rd from the Clear Creek Bridge to Clear Creek Rd
Placer Rd at Platina Rd to Buell Rd which includes South Fork Rd, Zogg Mine Road, Jenny Bird Lane, Horse Canyon Rd and all residents West of Platina Rd between Placer Rd and Buell Rd
All areas on South Fork Road from Zogg Mine Rd to South Fork Road to include the areas of Bender Rd, Serenity Dr and Serenit Way
#CarrFire [update] off Hwy 299 and Carr Powerhouse Rd, Whiskeytown (Shasta County) is now 80,906 acres and 5% contained. NEW MANDATORY EVACUATION ORDERS IN PLACE. Unified Command: @CALFIRESHU and Whiskeytown National Park. https://t.co/QmhauhZj9m pic.twitter.com/RSwzyvF0jY

— CAL FIRE (@CAL_FIRE) July 28, 2018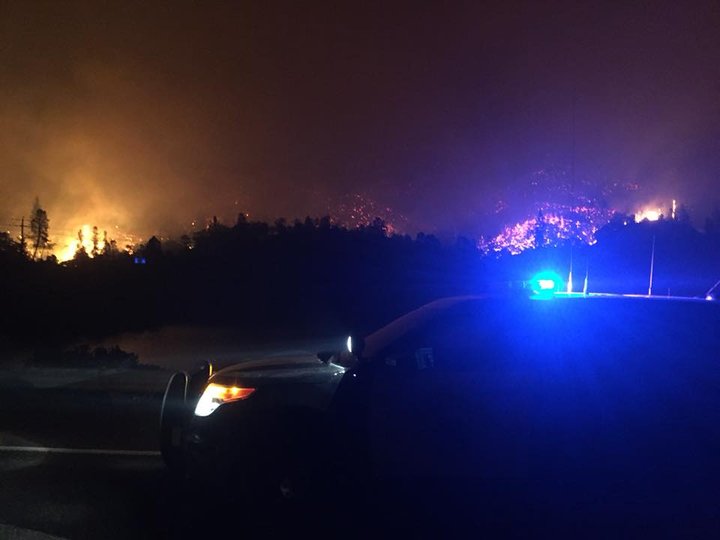 Road Closures:
Ashby Road & Lake Blvd
Beltline at Oasis
Benton & Quartz Hill Road
Buckhorn Summit at SR 299 (Eastbound)
Buenaventura at Keswick
Buenventura & Hwy 299
Caterpillar at Market
Clear Creek Road & Cloverdale Lane Hwy 299 at Buckhorn Summit
Elk Dr at Carnelian
Eureka Way at Court Street
Gas Point at Clear Creek Rd
Iron Mountain Rd at SR 299
Keswick Dam Boulevard at Keswick Dam Facility
Keswick Dam Road & Quartz Hill Road
Lake at Keswick
Lake at Oasis
Lake at Quartz Hill
Lower Springs Rd at Swasey Drive
Market at Lake
North Market South of Lake
North Point at Redwood
Oasis Road & Lake Blvd
Placer at Buenaventura
Placer at Mule Town
Planting Road & Gas Point Road
Railroad at Buenaventura
Ridge Lane at SR 299
Riviera at Howard
SR 299 from Buenaventura Boulevard to Buckhorn Summit
SR-273 at Bonnyville
SR-273 at Branstetter
SR-273 at Breslauer
SR-273 at Clear Creek
SR-273 at Kenyon
SR-273 at Westside Rd
Sway Drive & Placer Road
Texas Springs at Placer
Texas Springs Road & Honeybee Road
Governor Jerry Brown has declared a State of Emergency in the area on Thursday, allowing for 3,410 firefighters, 328 engines, 62 water tenders, 17 helicopters, 67 hand crews, 62 dozers and numerous firefighting air tankers from all over the state to battle the blaze.
Two firefighters have been killed during the blaze, and an untold number of people have been injured.
500 Structures have been destroyed and another 4,978 are still threatened.
The fire is 5 percent contained.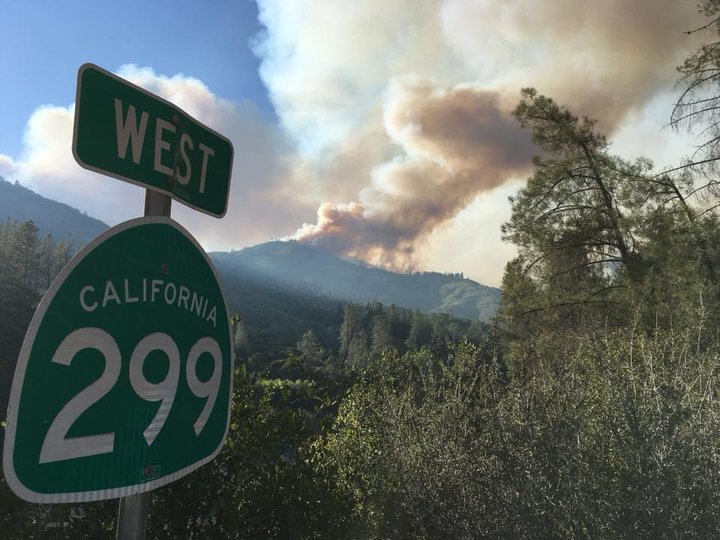 ###
PREVOIUSLY: