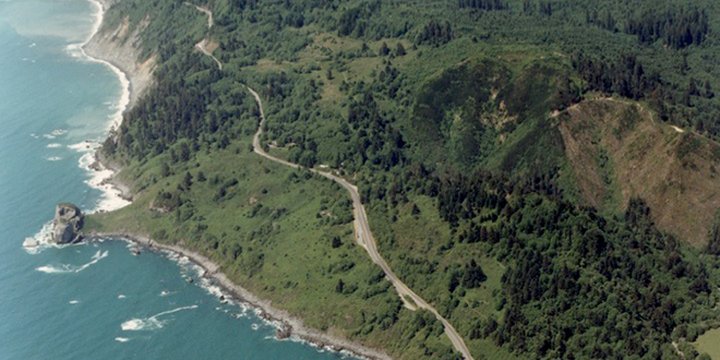 According to Sen. Mike McGuire, the California Transportation has committed an additional $5 million to the effort to bypass Last Chance Grade — the failing stretch of Highway 101 about 10 miles south of Crescent City.
It's a drop in the bucket — the bypass will involve the construction of as much as 12 new miles of roadway and new bridges and/or tunnels, with a price tag of up to a billion dollars — but the money will help to complete costly studies that will assist in the preparation of an environmental impact report.
You can read more about the Last Chance Grade project at this link. Be sure to check out the slideshow of proposed alternatives.
From the Office of Sen. Mike McGuire:
Senator McGuire released the following statement in response to the California Transportation Commission's official approval Thursday to allocate an additional $5 million to advance the environmental report focused on finding a permanent, inland route for the Last Chance Grade – bringing the total secured for this project over the past year to $10 million:


"We have been working hard to keep this vital project moving forward and this $5 million will ensure the environmental study is kicked off and advanced. We want to thank the California Transportation Commission for approving the funding – it's critical to Del Norte's livelihood and the public's safety," Senator Mike McGuire said. "While there is a lot more work to be done to find a permanent solution for the Last Chance Grade, this is an important next step."


This week's $5 million allocation is in addition to $5 million that was approved last spring for geotechnical evaluations on Last Chance Grade. Senator McGuire, Assemblymember Wood and Congressman Huffman have been fighting for these funds for the past few years. The $10 million total includes geotechnical studies, which will be completed by this fall and seismic studies, which will be completed by the fall of 2019.
###
PREVIOUSLY
###