Double-murder suspect Ulisses Rodriguez, charged with killing two Southern Humboldt residents and setting fire to their bodies, is scheduled for a jury trial beginning on Christmas Eve.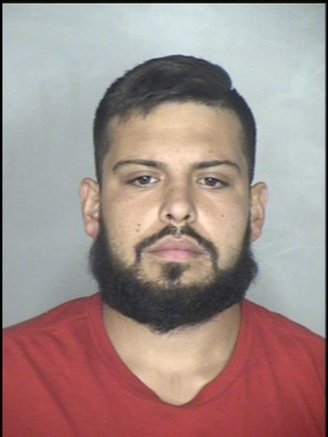 This morning, visiting Judge Bruce Watson scheduled a Dec. 24 jury trial for the 24-year-old Chico man charged with shooting Tiffany Ellebrecht and Jeremy Kuemmel to death on Aug. 14 at a marijuana grow site.
According to testimony during a preliminary hearing, Rodriguez believed some of his plants had been stolen.
Rodriguez is also accused of threatening to kill another marijuana worker if he didn't help him deal with the couple's bodies. That witness testified he wrapped chains around the bodies and saw Rodriguez hook the chain to a vehicle. Rodriguez ordered him to go buy gasoline and come back, the man said, but he didn't return.
Kuemmel's car was found on fire several hours later, with the bodies in the back of the vehicle. A car matching the description of Rodriguez's vehicle was seen speeding away from the scene of the alleged arson. He was arrested in Chico a couple of days later and remains in Humboldt County Correctional Facility on bail of $4 million.
###
Unless an appellate court grants him a new trial, convicted murderer Jon David Goldberg will serve about 13 years of a term of 15 years to life before he can even be considered for parole.
Today Judge Christopher Wilson said the county Probation Department calculated Goldberg's has spent 760 days before he has served 15 years.
With his credits calculated, Goldberg should be on a bus for state prison within days.
A jury convicted Goldberg of second-degree murder for killing Smith, who he considered a good friend, after learning Smith was having an affair with his wife. The verdict was temporarily in question after the defense filed a motion but struct the special allegation that Goldberg personnaly used a firearm, an offense that would have added 25 years to life to the sentence for murder.
Deputy Public Defender Casey Russo has said he will file a motion of "intent to appeal" the judge's ruling denying the new trial. From there, the matter will be taken up by an appellate lawyer.
Russo contends there was clear evidence of jury misconduct, given that the jury foreman wrongly discussed Goldberg's possible sentence during deliberations. Jurors are explicitly instructed not to discuss a defendant's possible punishment.
The erroneous information the foreman provided, Russo said, likely persuaded on juror to choose a verdict of murder.
"As far as I could surmise from (Cribbs') ruling," Russo said in an email, "Judge Cribbs simply did not find it credible that any juror would be influenced by the extraneous sentencing information that was unquestionably discussed by the foreperson during deliberations. We obviously disagree with the ruling. We believe that the sentencing discussion poisoned the well, and that the evidence presented at the hearing on the motion for new trial clearly established that the sentencing discussion did likely influence at least one juror to change his/her vote from manslaughter to second-degree murder."
But Deputy Luke Bernthal, who prosecuted Goldberg at trial, defended Cribbs' ruling as "based on well-established legal principles after hearing testimony from jurors in the case."
"We are confident," Bernthal said in an email, "that his decision was correct, and that the hearing on this issue was conducted in a way that was fair to all parties, including the jurors themselves, who have a right to confidentiality."
Eleven of the 12 jurors were questioned one by one over a two-day span last month. One of those interviewed was the jury foreman. The questioning was done in a closed courtroom over Russo's objection.
PREVIOUSLY:

###
Criminal proceedings have been reinstated against Hector Godoy-Standley, one of five defendants in a murder and carjacking near Manila, after Judge Dale Reinholtsen ruled Godoy-Standley is mentally competent to stand trial.

Today Judge Wilson scheduled a Feb. 25 jury trial for Godoy-Standley, 23. He has spent nearly two years as either a Humboldt County Correctional Facility inmate or a patient at Napa State Hospital as the issue of his mental competency was debated. Doctors at Napa disagreed with a local psychiatrist's finding that Godoy-Standley is developmentally disabled and unable to assist his attorney in a rational defense. After a two-day competency hearing challenging the state's finding, Reinholtsen recently issued a ruling that Godoy-Standley is competent.
Godoy-Standley was allegedly driving the car used in the December 2016 carjacking that left 20-year-old Tyson Eduardo Claros dead from multiple gunshot wounds. Although co-defendant Brandon James Mitchell is accused of being the shooter, Godoy-Standley and three others involved in the carjacking were also charged with murder.
One of those defendants, Catherine "Catie" Fode, has already pleaded guilty to voluntary manslaughter and agreed to testify against Godoy-Standley, her former boyfriend; Mitchell, the father of her young daughter; Tamara Nicole Thomson, a close friend of Fode's; and Cesar Valenzuela Campos, Thomson's then-boyfriend.
Whether Thomson, Valenzuela-Campos and Godoy-Standley will actually be tried for murder is in question. Recent state law has restricted the state's so-called felony murder rule, which allowed accomplices to be charged with murder even though they didn't participate in the actual killing.
At a recent hearing Deputy Public Defender Casey Russo, representing Valenzuela-Campos, said he and Deputy District Attorney Carolyn Schaffer are negotiating a possible settlement in Valenzuela-Campos' case. He had been scheduled for trial this month.
At this point Thomson and Mitchell are still scheduled to be tried together in March.