A jail inmate who has known Cory Jordan Fisher Sr. since they were roommates in a group home took the witness stand today to say Fisher sexually assaulted him in his cell in summer of 2017.

Inmate Two, or James Doe Two as he was called in court, is the second inmate to testify that Fisher, while working as a correctional officer, grabbed his penis. When he objected, Inmate Two testified, Fisher pulled his Taser and told him to calm down or he would report him for an assault on jail staff.
Inmate Two, 30, said he met Fisher in a group home in Eureka when he was 15 and Fisher was 16. Fisher ended up being Inmate Two's housing officer during July and August of 2017.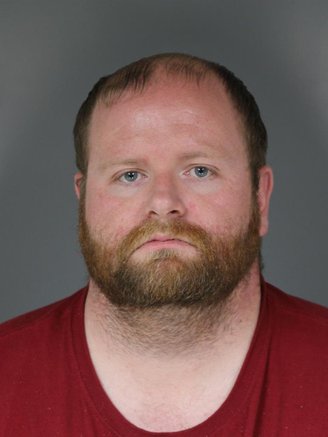 "He woke me up every morning for 60 days, in one way or another," Inmate Two testified under questioning by Deputy District Attorney Stacey Eads. He said there were "three days in a row when I was woken up abnormally by Fisher."
He clarified that the usual way for an officer to wake prisoners is to call out their name. If they don't wake up, the officer might tap their bunk. If that doesn't work the officer may touch their toe, though "I don't think they're supposed to do that."
One day Fisher woke him up by touching his thigh, Inmate Two said. The next day he touched his thigh and "cupped" his butt cheek. On the third morning, Inmate Two woke up with an erection and "Fisher was stroking me."
He recalled jumping up and exclaiming "What the fuck?"
Fisher responded, he said, by stepping back and pulling out his Taser, telling him if he didn't calm down "I'm going to say you assaulted me and ruin any chance you have of getting a better deal (in his criminal case)."
Later that day Fisher returned to his cell. While not exactly apologizing, he explained he was going through a rough time. He was getting a divorce and quitting his jail job to attend truck-driving school.
Inmate Two said he believed that, because inmates had seen Fisher talking on his cellphone "hysterically bawling."
"Did you feel sorry for him?" Eads asked.
"Yeah. It's hard to see a grown man in uniform bawling his eyes out."
Inmate Two said if he hadn't known Fisher so long, he probably would have "wigged out" the first two times he was awakened by Fisher touching him. As it was, he decided not to report the touching incidents.
"I wasn't going to do anything about it," Inmate Two said. "It didn't seem that serious."
Even after it became known Fisher had been arrested on charges of child molestation, he had no plans to report the assault. He never would have, he said, but he was called in by an investigator looking into Fisher's behavior in the jail.
Later, he filed a civil suit and received a settlement of $25,000 from the county. He used it pay restitution fines and his civil attorney. He still has about $8,000 "on my books" at the jail.
Inmate Two also described other "creepy and inappropriate" actions by Fisher.
"Being strip-searched butt-naked. Looking at my genitals and smirking. Several times he made comments to me about my genitalia."
He started to say something about Fisher's behavior in the group home but was stopped.
Inmate Two said he received no benefits for testifying today, but thought it was important to support the three alleged child molestation victims and their mother.
"I'm here for myself and I'm here for those kids and that woman," he said. "It needs to be said."
As with Inmate Three who testified previously, Inmate Two has a long criminal history. He's been convicted of burglary, robbery, drug possession, assault, and being a felon in possession of a firearm. At the time Fisher allegedly assaulted him, he was housed in Administrative Segregation.
"I have problems getting along with other inmates," he explained.
One inmate he did get along with was Matthew Fockaert, who was returned to Humboldt from state prison to testify in Fisher's trial. Fockaert testified he was housed in the next cell over when he overheard a disturbance in Inmate Two's cell during summer of 2017.
"I heard a confrontation between (Inmate Two) and Officer Fisher that sounded somewhat heated," Fockaert said. "Threats were made."
Later he became cellmates with Inmate Two, whom he has known since they attended Winship Junior High together. He said Inmate Two eventually confided in him about what Fisher did.
"He told me that Officer Fisher had come into his cell while he was asleep and reached into his jumpsuit and touched his penis."
Fockaert has a slew of criminal convictions and is serving a prison sentence for attempted murder.
Testimony was expected to continue tomorrow morning before Judge Timothy Canning.
###
PREVIOUSLY: