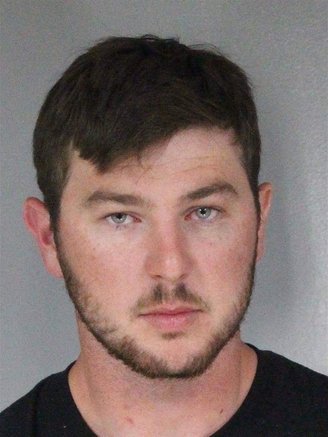 The Oct. 29 preliminary hearing for vehicular manslaughter suspect Ryder Dale Stapp has been continued, with no new date selected until at least next month.
Defense attorney Neal Sanders, representing the 25-year-old Fields Landing man, said today a date may be set at Stapp's next hearing on Nov. 6.
Stapp is accused of crashing his pickup truck through the bedroom wall of a Humboldt Hill home, killing Robert "Bob" Beland as he slept. He allegedly was driving at speeds of up to 100 mph and with a blood alcohol level nearly three times the legal limit.
Stapp was arrested at the scene of the June 28 crash but posted $175,000 bail a few hours later. He remains out of custody and was not present today for his "intervention" hearing, at which attorneys discuss cases in a closed courtroom.
Sanders said he has not yet received police reports on the wreck, which is being investigated by the California Highway Patrol. Stapp is charged with gross vehicular manslaughter while intoxicated, felony drunken driving and hit-and-run, along with several related special allegations. He could be sentenced to state prison for 16 years if convicted of all charges.
He has previous convictions for speeding and hit-and-run property damage and was driving on a suspended license on June 28.
PREVIOUSLY: