According to Robert Norris, all was fine and dandy the night Jason Todd Garrett had his throat cut and then got shot in the head by an AK-47 assault rifle.
Norris, an obviously reluctant witness for the prosecution, testified Thursday during the preliminary hearing for murder suspect Ryan Anthony Tanner. He was at Tanner's house for several hours with Tanner, Garrett and Christopher Champagne. This was after Tanner allegedly slit Garrett's throat and Champagne wrapped the wound with cloth and duct tape.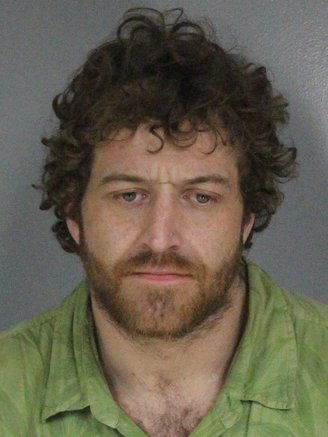 Norris, under questioning by Deputy District Attorney Jessica Acosta, said he saw no wound and saw no blood. Champagne had testified earlier in the hearing that the cut was so deep he could see Garrett's Adam's apple hanging out.
Norris insisted everyone was behaving normally, and the only thing Garrett was upset about was some kind of trouble with his friend Natalie Pierce. He and Pierce had been hanging out together in her van. The vehicle has been variously described as a van, a truck, a bread truck and an ice cream truck.
"He was griping about the girl in the truck," Norris said. "He was upset about the lady not helping him with the truck."
According to Champagne, Pierce and Garrett were stranded in the back woods because the truck's tires were flat. Champagne said Tanner set the vehicle on fire and kidnapped Garrett. Pierce had run away. Norris had been living and working at Tanner's place for about three weeks. He denied he'd been hired as a marijuana trimmer, saying he was just there to clean up around the house so Tanner "wouldn't get an abatement letter."
About 40 minutes after Tanner, Champagne and Garrett arrived that night, Norris said, Champagne and Tanner left for a couple of hours. Norris said Tanner told him "Keep an eye on that guy," referring to Garrett.
"I didn't take him seriously," Norris said. "We were in the middle of nowhere in the middle of the night. Where would (Garrett) go?"
He and Garrett ate some oatmeal and watched a movie, Norris testified. He lay down on the living room couch, and Garrett was on a mattress in the corner.
About midnight Tanner and Champagne returned, with Tanner announcing they were going to take Garrett to "the end of the road," meaning where the dirt road ended and pavement began.
"(Garrett) said 'Great! Right on!' Norris recalled. "That's where he wanted to go." All this time Garrett was accompanied by his dog, Leonard.
Prosecutor Acosta asked whether Garrett had also said he didn't want to be there. Norris said no.
According to Champagne, Garrett was driven to another residence, where Tanner forced him into a bathtub and shot him, killing both Garrett and the dog. Champagne said Garrett and Leonard were buried under a water tank on Tanner's property.
But Norris said that the following morning, he saw Leonard "pop up" from the bed of Tanner's truck. Norris left the property when he realized Tanner and Champagne were gone and he was locked out of the house.
"I figured I wasn't going to get paid so I walked out," Norris said.
With Leonard following him, Norris walked and hitch-hiked to Redway. He stayed for a few days with a friend, Angie. Eventually someone who wanted a dog came and got Leonard. Norris denied a series of statements he allegedly made to law enforcement and to people in Redway. One example: Garrett had an ice pick sticking out of his neck.
"I never said that."
He also denied telling anyone that when Tanner left with Garrett, he turned to drive up the hill, not down to the end of the road.
And he said it wasn't true that he heard Garrett mumbling under his breath to the dog, saying "Someone will come and everything will be all right."
At one point, Acosta asked "Mr. Norris, are you afraid of Ryan Tanner?"
"No."
Both Acosta and co-prosecutor Whitney Timm asked it be noted for the court record that Norris nodded to Tanner while entering the courtroom.
Testimony was expected to continue this morning before Judge John Feeney, who will eventually rule on whether enough evidence has been presented to order a jury trial for Tanner.
###