A prison parolee arrested with triple-murder suspect Mauricio Sanchez-Johnson was arraigned this afternoon on charges of failure to register as a sex offender.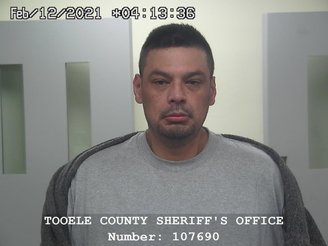 Earlier today, 46-year-old Von Eric Keener was sentenced to 180 days in jail after admitting to absconding from parole and removing his GPS tracking device. He was in Sanchez-Johnson's vehicle when they were pulled over and arrested in Utah. Keener was extradited to Humboldt County on March 11.
This afternoon Keener made a second Zoom appearance to have Judge Larry Killoran advise him he is charged with two counts of failure to register as a sex offender. He also faces special allegations that he has numerous felony convictions.
According to the complaint filed today by the District Attorney's Office, Keener failed to properly register beginning in July 2020.
Keener is the boyfriend of Sanchez-Johnson's mother and was a passenger in Sanchez-Johnson's vehicle when he was pulled over on Feb. 11, one day after Sanchez-Johnson allegedly murdered three people on the Bear River Rancheria. Sanchez-Johnson was heading east on Interstate 80 when he was caught in Tooele County, Utah.
The 19-year-old is accused of killing Nikki Dion Metcalf and Margarett Lee Moon, both 40, along with Moon's 16-year-old daughter Shelly Mae Autumn Moon. All three were shot in the head after Metcalf, Margaret Moon's fiance, reportedly found Sanchez-Johnson in bed with Shelly Moon.
Sanchez-Johnson has been fighting extradition to California, and Gov. Gavin Newsom has been asked to sign a warrant ordering extradition. Sanchez-Johnson's next court appearance is scheduled for April 6.
This morning when Judge Kaleb Cockrum sentenced Keener for parole violation, he was given a total of 80 days credit against the 180-day sentence.
Judge Killoran set bail in the new case at $25,000. Keener's preliminary hearing is set for April 1.
Attorney Joe Judge has been appointed to represent Keener. Judge entered not guilty pleas on his behalf.
###