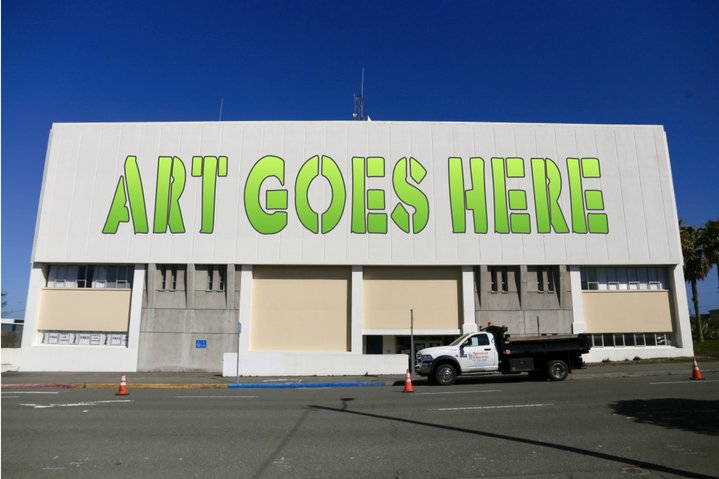 ###
When it comes to government-sanctioned public art in the City of Eureka, "Cat Food" casts a long shadow.
In case you've forgotten that particular controversy, three years ago, the Eureka City Council heard from an indignant local spa owner who was positively livid about the artwork recently painted on the utility box outside her store's picture windows. The offending design? Bright, cartoony food items with cute kitty cat faces.
The city, which had commissioned the piece as part of its burgeoning public art initiative, agreed to arrange for another artist to repaint the offending box — while offering "Cat Food" artist Samantha Moore a different location. Happy ending. But the dustup triggered a heated community debate about public art and its impacts on private commerce. (Of course, public speech can have impacts, too: Internet hordes punished the spa owner's perceived snootiness with a barrage of negative Yelp reviews.)
At Tuesday's Board of Supervisor meeting, the organizers of the 2021 Eureka Street Art Festival approached the board to request permission for a giant mural on the blank western wall of the county courthouse — a truly drab slab of mid-50s concrete.
Presenting the proposal, Jenna Catsos said she and her fellow organizers have had their eye on that "big blank wall" for a while. This summer's event, scheduled for August 7-14, will be the fourth annual weeklong, citywide art fest.
All five supervisors were supportive of the proposal, though First District Supervisor Rex Bohn clearly wanted to avoid a repeat of the "Cat Food" debacle.
"Even though I loved it, I don't think we need cats eating sushi," he quipped when the conversation turned to the mural's subject matter. He suggested "something reflecting [Humboldt County's] natural beauty," like maybe trees, ocean and fish. He also said the bank across the street should be consulted, since the employees there will be looking at it every day. But he's fine with any subject matter, he said, "as long as it's middle-of-the-road."
"I actually like the cats eating sushi, but I'm weird," Fourth District Supervisor Virginia Bass said, later adding that she'd love to see something brighten up this building, which she called "one of the strangest structures."
Third District Supervisor Mike Wilson said he's thoroughly supportive but has no need to offer input on the mural's content. "Quite frankly, I've had no input on what's been happening so far, and it's been great," he said. A bit later, however, he said he'd like to see art that "projects positive rather than darker" energy, though the darker stuff has its place.
Fifth District Supervisor Steve Madrone commended the "fantastic" arts initiative, calling the existing works "magnificent" and saying he loves the variety. He suggested using the local history book "Two Peoples, One Place" as possible inspiration, a guide to honoring the dual local histories of native tribes "but also logging and fishing."
Second District Supervisor Michelle Bushnell said, "[W]hatever we choose should be very neutral in content" because the courthouse is a public building that people use for a wide variety of reasons. She reiterated this point: "I'm really encouraging that it be very neutral in content."
Catsos said the cost of this mural could run as high as $36,000, but the money will come from community fundraising, business sponsors and grants. She added that studies show that public art boosts community pride, making cities more welcoming and walk-friendly while boosting the economy.
While the festival often invites artists from around the globe to participate in the festival, the organizers are hoping to commission a local artist for this particular mural, though it must be someone who has worked on such a large scale before. The county will be asked to leave the mural up for at least five years.
After some debate, Bohn made a motion to appoint a three-person committee comprised of Bass (since the courthouse is in her district) along with an employee from the county's Public Works Department and someone from the County Administrative Office. They'll be tasked with selecting an artist and approving a design.
Allegedly, Humboldt County has more working artists per capita than anywhere else in the state, and while some of you Kahlos and Riveras may have felt your creative juices a-bubbling at the words "very neutral" and "middle of the road," we're guessing you might have some inspiring ideas of your own.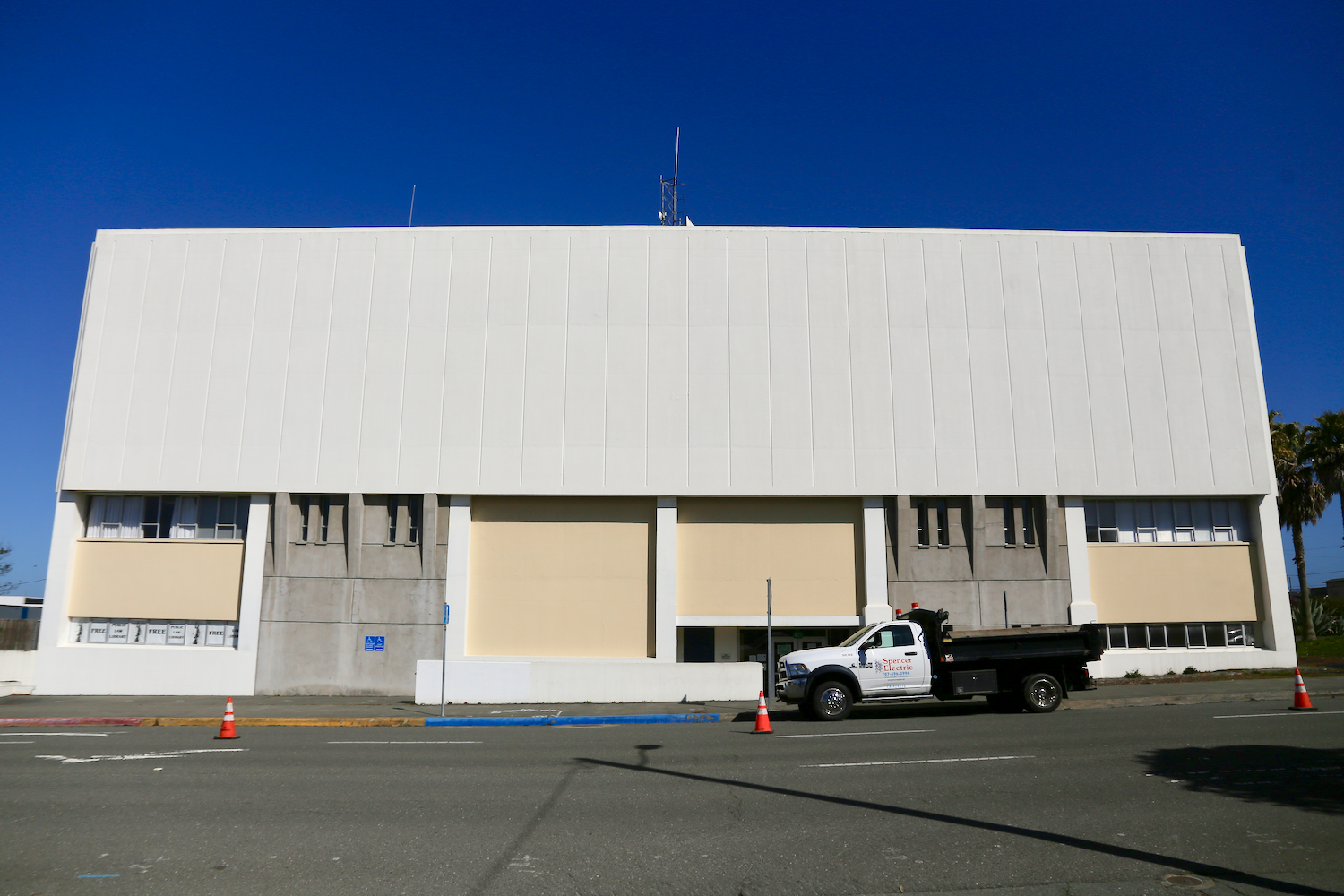 So we're inviting our creative readers to get creative. Grab the photograph above and create your very own mural proposal. Paint it, Photoshop it, hell, steal it from Beeple. (No, don't.) Then upload your masterpiece to our comment section below.
For the record, the theme of this year's Eureka Street Art Festival is "Welcoming and Wayfinding." (Upon learning this fact, Bohn, unimpressed, cracked, "So it's gonna be a mural of a traffic jam?") Use that theme as inspiration, if you like. Oh, and the supervisors really want the mural to be locally relevant, but probably not like this: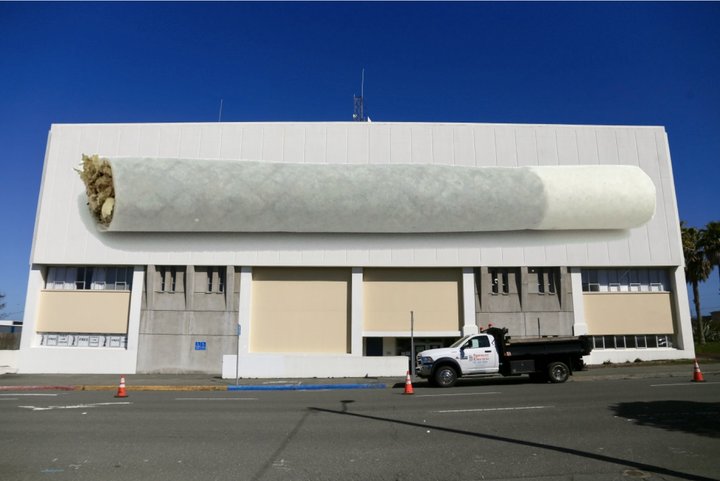 We and Eureka Police Chief Steve Watson know from experience that our readers can do better than that. We can't promise that the county's mural committee will approve or even consider your designs, but maybe, just maybe, a groundswell of public support will once again shape Eureka's public art.
As long as the bank tellers approve.