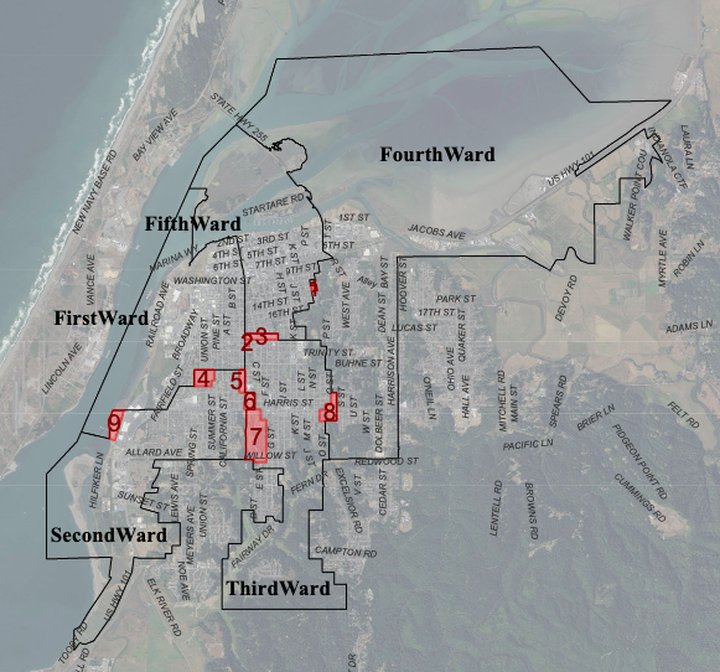 ###
The Eureka City Council will, as always, tackle some exciting and important issues at its next meeting on Tuesday, including — possibly the most exciting topic of all — redistricting the city's voter ward boundaries!

You might already know a bit about this if you attended the Oct. 5 council meeting or participated in LoCO's "Let's Redistrict Eureka!" game. But in case you have no idea what this is all about, here's a quick recap: Based on the most recent Census data, the population in each of the city's five wards has changed pretty drastically since the 2010 Census. That means the city needs to adjust its ward boundaries so they're as balanced as possible, meaning each city council member represents roughly the same number of constituents. A similar process is taking place at county and state levels, as well.

During the Oct. 5 meeting, council directed staff to prepare a map proposing new ward boundaries based on staff recommendations and to submit it along with suggestions from the public. This is where it gets exciting! If you're one of the cool people who did participate in LoCO's redistricting game, then your map might be reviewed by the council on Tuesday. It might even be the one they decide to use! You may recall that back in 2016 it was an anonymous LoCO reader whose map was selected for Eureka's true ward system.

In addition to the map proposed by staff, the council will be reviewing five maps drawn up on LoCO by our wonderful readers. (OK. A few of them might have been drawn by LoCO staff too. I mean, we're talking about ward maps here! Who could resist?)
Assuming the council members like one of these maps, they will select their favorite and direct staff to prepare an ordinance changing the ward boundaries accordingly. That map would come back to the council for a public hearing on Nov. 4.
###

The council will also consider an ordinance that would regulate the transportation of coal over city-owned property. The preliminary draft ordinance states, "It is a nuisance and a violation of this Code to transport, store or handle coal on or over any City-owned property or property held in trust by the City of Eureka for the People of the State of California."

The discussion is in response to recent news that a mysterious corporation is attempting to take over North Coast Railroad Authority's right-of-way between Humboldt Bay and the San Francisco Bay Area in an effort to facilitate large-scale coal exports. The potential scheme has prompted concerns of government officials and environmental groups not only because of the dirty-burning mineral's environmental impacts, but also the threat it poses to plans for the Great Redwood Trail. Sen. Mike McGuire has introduced legislation to derail the potential coal route, and earlier this month the Humboldt County Board of Supervisors passed a resolution opposing coal exports through Humboldt Bay.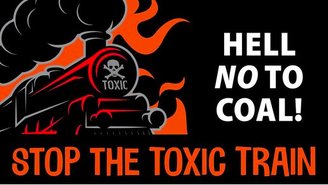 The council will review the draft ordinance on Tuesday and provide comments and feedback on the language. Assuming that the council wants to move forward with the ordinance, it would return for consideration at a future meeting.
###

In addition to those hot-button items, the council will also review and likely adopt the city's Economic Development Strategic Plan Update, which outlines the city's plans to reinforce and revitalize the city's economy for the next several years.

The council will discuss all this and more at its regular meeting — held virtually as usual — on Tuesday, Oct. 19 at 6:00 p.m.

You can view the full agenda and directions on how to participate here.