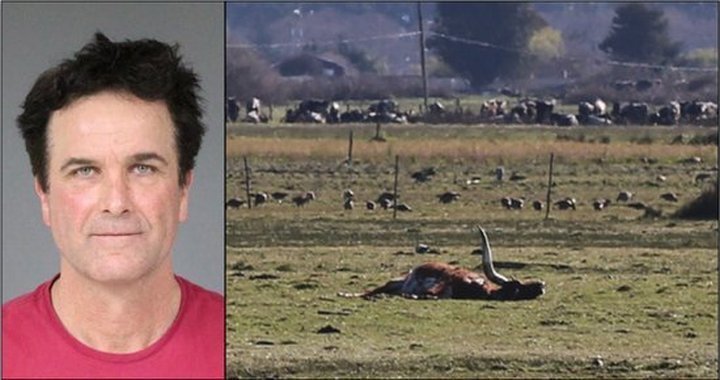 ###
The second trial for Arcata rancher Raymond Frank Christie, charged with four felony counts of animal cruelty, has been scheduled for January.
This morning Judge Christopher Wilson set Jan. 31 for jury trial and Jan. 18 for trial confirmation. On Nov. 15, attorneys will present arguments on what evidence the second jury should be allowed to hear.
Specifically, will jurors learn Christie was convicted of misdemeanor charges of dumping numerous dead cows within 150 feet of state waters? And will it come out that during the first trial, the prosecution said there was evidence Christie switched identification tags to make it appear cows were organic?
Defense attorney Rick Richmond, the Los Angeles-based attorney now representing Christie, told Wilson that evidence is irrelevant to the charges of animal cruelty. Richmond wants an evidentiary hearing, with an expert testifying about the the high mortality rate in even "robust" herds.
Christie's herd was far from robust, as he bought sickly animals at auction and tried to restore their health. Many of the animals didn't survive. Further, there was testimony at the first trial that some cows out on pasture were starving, with no access to food or water.
Judging by comments Wilson made this morning, it appears he doesn't believe the ear tag evidence is strong enough.
"The evidence did not connect the dots between those tags and any kind of nefarious activity," he said.
On the other hand, the piles of carcasses could be considered "part and parcel" of the case, Wilson said.
The first jury convicted Christie of many of the 39 cow-dumping charges, acquitted him on a few and deadlocked on the rest. Jurors also could not reach a verdict on the animal cruelty charges, although the vote was 11-1 for guilt.
Deputy District Attorney Steven Steward will be the trial prosecutor, along with Deputy District Attorney David Moutrie.
Richmond is one of four attorneys with the Larson law firm, all of whom will be involved in Christie's defense. One associate was there with Richmond today. Christie also was in court.
###
PREVIOUSLY: