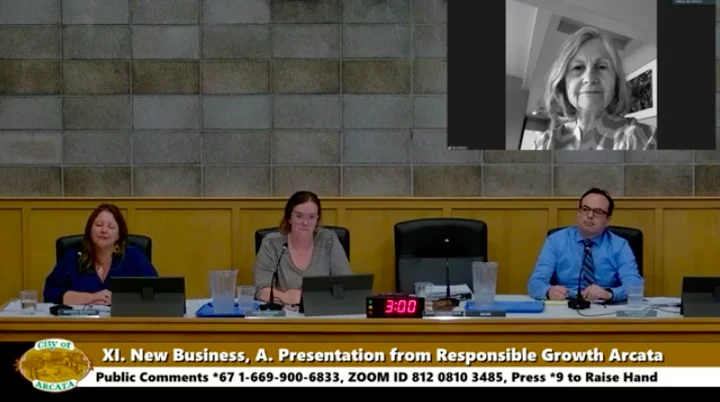 Tensions once again ran high during a long Arcata City Council meeting on Wednesday night, during which Councilmembers Brett Watson and Alex Stillman had a brief quarrel over whether or not Stillman should be allowed to participate in discussions surrounding the Gateway Area Plan.

The argument began during a presentation from community member Scott McBain of the citizen group Responsible Growth Arcata, requesting that the council consider the formation of a Gateway Advisory Committee to help facilitate more community engagement around the adoption of the controversial Gateway Area Plan – a plan to rezone approximately 138 acres of land in and around the Creamery District to facilitate the development of more housing.
Mayor Stacy Atkins-Salazar recused herself from the discussion, as she has from all discussions related to the Gateway Area Plan, due to a Fair Political Practices Commission ruling that determined Atkins-Salazar has a conflict of interest because she owns property within 150 feet of the Gateway Area boundary. Stillman – who was recently elected to the council (again) – also owns at least one property within 150 feet of the Gateway Area and is currently awaiting a ruling from the FPPC about whether or not she has a conflict.
During his presentation, McBain mentioned the issue of councilmember recusal and said that there were only four councilmembers participating in the discussion right now. Shortly after that statement, Councilmember Watson interrupted the presentation.
"I'm just gonna stop you really quick, because of your comment earlier about four of us, "Watson said. "There's just three of us attending this item, right?" (Councilmember Stillman was attending the meeting via Zoom and was not in the council chambers.)
"I believe Alex is still online," City Manager Karen Diemer responded.
"I'm just curious about that," Watson said. "I know her property is 150 away from the boundary. So it seems like based off the FPPC guidance in the past that it would be expected that she would recuse herself. I'm just curious what the logic is right now of her attending."
"I don't see any problems with talking about this," Stillman responded. "I mean, it's the same as, um, you're able to attend all these meetings and you have a harassment issue with the City Council and the City of Arcata. And at this point I'm doing what I'm supposed to be doing and I'm finding out whether I will have a conflict or not. And until then, I'm part of the group, as you are, Brett."
"OK," Watson responded. "I mean, I just think it's not within the FPPC guidelines, which are pretty clear."
"I know what you think and I've read about what you've written online," Stillman said.
Laughing uncomfortably, McBain then continued his presentation, outlining some of the potential objectives of the Gateway Plan Advisory Committee, including researching and conducting community engagement related to the Gateway Area Plan, and meeting with experts to discuss topics like traffic, environmental impacts and form-based codes. Like existing committees or task forces, the group would then make recommendations to the City Council.
McBain said that Responsible Growth Arcata recommended the committee consist of seven to nine community stakeholders who are familiar with the plan, are objective problem solvers and willing to volunteer their time. McBain also said the committee should ideally include one member of the planning commission to serve as a liaison. Some benefits of the committee, McBain said, would include taking some of the workload off of the Council and Planning Commission and helping "implement a more collaborative community engagement strategy."
During the council's discussion following the presentation, Watson again brought up the issue of Stillman's recusal. And things escalated even further.
"As uncomfortable as it might be, we need to discuss Alex not recusing herself," Watson said.
Stillman responded that she thought the council should take public comment first.
"It's in black and white on the FPPC website that it is illegal for her to be a part of this meeting," Watson continued.
"You know, Brett, do you want me to get into your legal issues that you have?" Stillman responded in an angry tone. "I haven't done that publicly. And I'm doing my due diligence. I don't want to discuss it."
The council talked over each other for a moment, before Matthews suggested they move on to council questions and public comment.
Many community members spoke during public comment, most of them in favor of the idea of a committee because they felt it would boost public engagement. But some folks were against the idea, feeling that it would not add anything not provided by existing committees and would drag the planning process longer.
"I think a gateway plan advisory committee will give us the opportunity to not only restore the significantly broken trust and bridge a divide, but also draw in a broader and diverse demographic of voices," community member Patricia Cambianica said to the council.
"This is a body that would have to abide by the Brown Act, would have the same limitations in terms of resources and staff time as all the other existing committees," Colin Fiske of the Coalition for Responsible Transportation Priorities (CRTP) "It's not possible for me to envision how this would add something that isn't already there."
The council was also split on the idea of the committee. While Councilmember Meredith Matthews said she liked the idea of a committee or task force dedicated to the Gateway Area Plan, she was also concerned that it might be duplicative of some of the city committees that already exist.
Councilmember Stillman seemed mostly against the formation of a committee, saying that it might take away from the Planning Commission's job. Stillman suggested that whatever effort would be put into supporting the committee should be put toward supporting the Planning Commission.
Watson, on the other hand, ardently supported the idea of a committee, saying that he felt it would help give the public more of an opportunity to provide input on this large scale plan and would help improve the public's trust of the council.
"I think the truth is the majority of our constituents are terrified that this project is going to ruin the town that they love so much," Watson said. "That's why us maintaining the public trust by forming a group like this and recusing ourselves when we have conflicts is so important to maintain that trust."
Ultimately, the council did not make any decision on whether or not to approve the formation of the committee. The topic will come back as one of the items of discussion during the City Council and Planning Commission joint study session on the Gateway Area Plan on Tuesday, Aug. 23 at 6 p.m.
###
PREVIOUSLY: