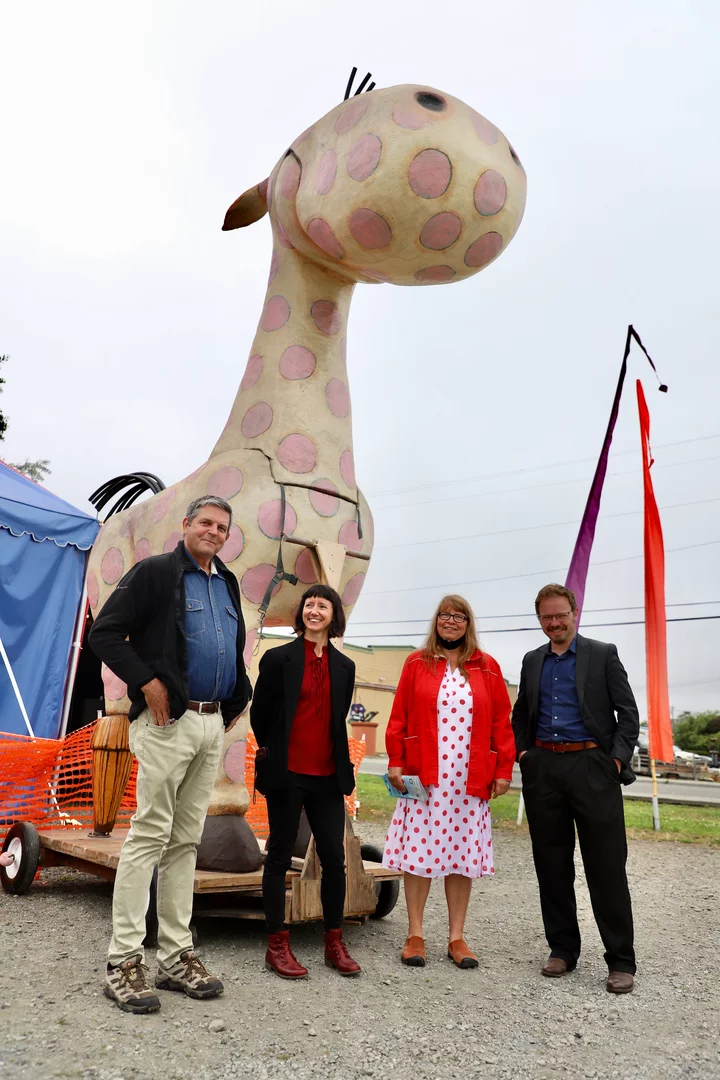 It's been a grueling couple of years for Humboldt's arts-focused organizations, which have had to try and find ways to survive COVID times despite, in some cases, a near total loss in audiences and patrons. Pandemics are not so joyous, it turns out. Still, many cultural institutions were able to stay afloat and intact thanks to the Paycheck Protection Program (PPP) and various grants while they simultaneously attempted to adapt and provide some semblance of sparkle to the dreary new world around them. But even now, with people feeling more comfortable gathering together, local creative types are still trying to figure out how best to pursue their shared mission of creating a vibrant, colorful Humboldt.
With that laudable goal in mind, last week a group of local stakeholders invited Assemblymember Jim Wood to tour a handful of Humboldt's creative spaces and faces to get a better sense of the state of the community's cultural assets with the hopes that it might inspire ways the State could assist them in the future.
The Outpost tagged along and snapped a few photos of the artsy caravan.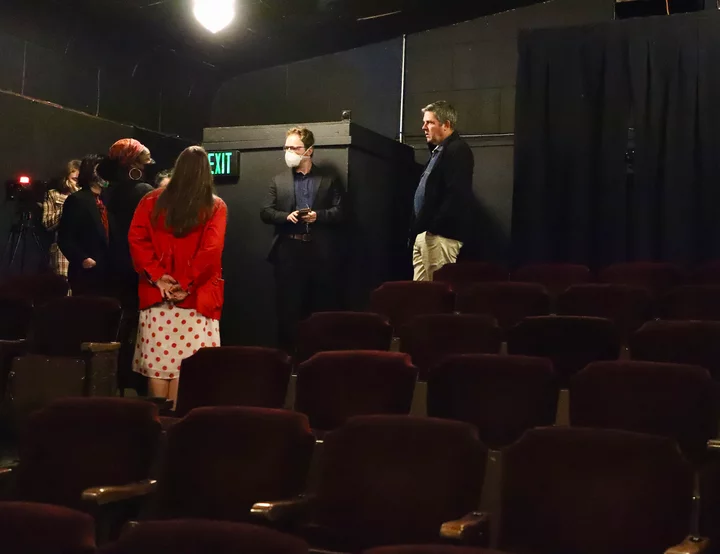 The journey began in Eureka. Standing in the back of North Coast Repertory Theatre's intimate performance space, Calder Johnson, NCRT's managing artistic director, characterized his pandemic experience as a time of constant adaptation as he and his team attempted to come to terms with the loss of so many shows.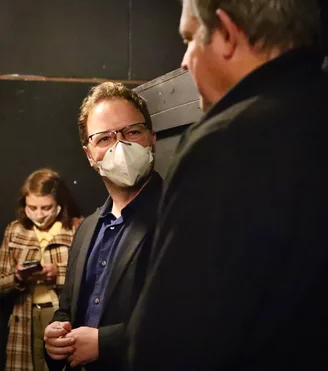 "We really just flatlined," Johnson said. "We were pretty much shuttered for the past two years with just a few exceptions."
To keep the theater in play while there were no plays, Johnson offered his space as a film studio to other local creators. But even if he was able to find ways to stay busy, he estimated that NCRT has incurred a 40 percent price increase in operating expenses. The path forward for theaters like his appears rocky.
"Government support really is needed because the struggle is statewide. I'm in touch with a lot of different theaters. The San Diego Repertory Theatre just indefinitely shuttered last month and laid off 23 people. They just said, we can't do it anymore. So it's going to be a long fight for us."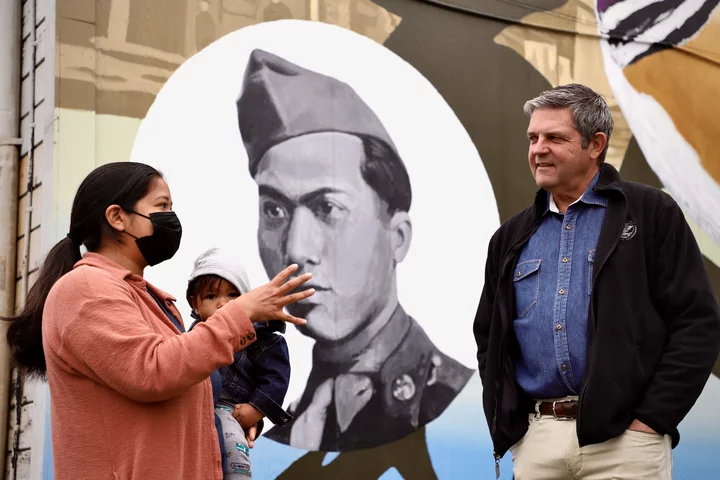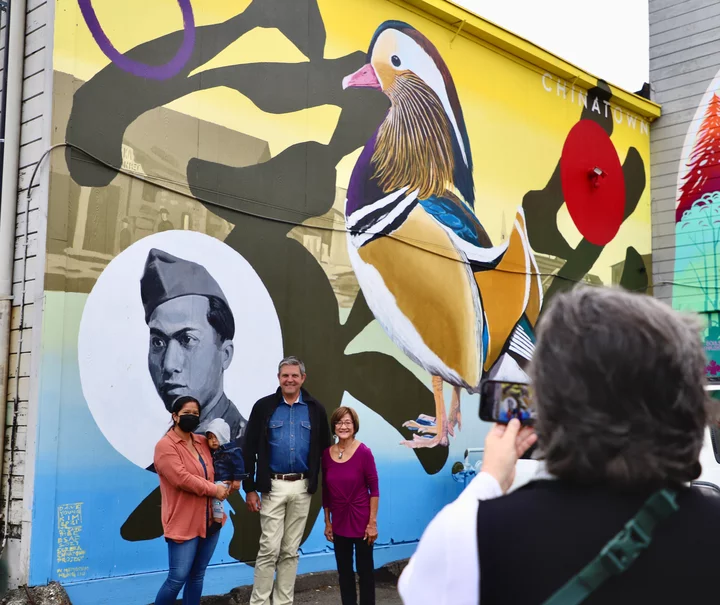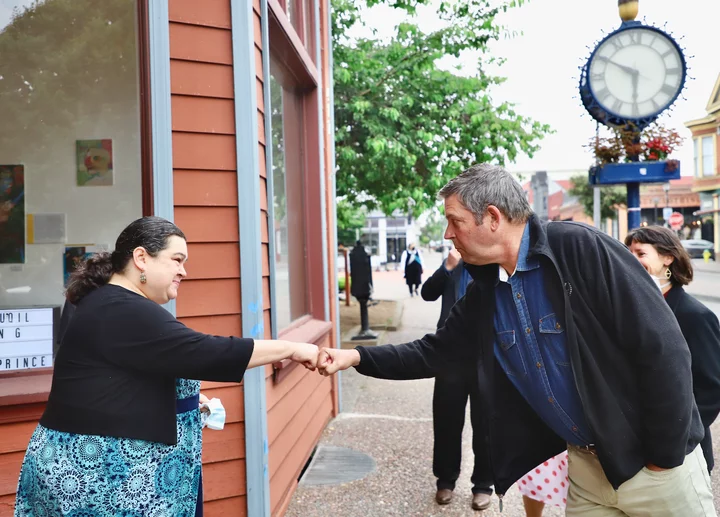 Others have used the pandemic as a time of incubation. In December of 2020 the Wiyot Tribe finalized the deal that would allow them to develop a cultural center in the heart of Old Town — in the Second Street space that used to be home to Restoration Hardware. After a year and a half pulling the pieces together, Marnie Atkins, the center's manager, says the tribe is "on the cusp" of opening its labor of love to the public, but acknowledged the setbacks to the visiting assemblymember.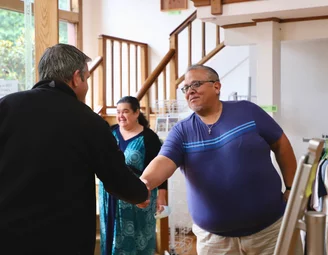 "I don't know if you know, but the middle of a pandemic is the absolute best time to do construction," Atkins joked to Wood before sharing a bit of the vision behind the tribe's project.
"So this is the Da Gou Rou Louwi' Cultural Center," Atkins said. "That name in our language means 'The ongoing return of all.' And when we were brainstorming ideas for this space we asked, what does this mean to us? And it's about reclaiming and revitalizing our traditional ways of life, our ceremonial practices, our language, the health and well-being of our tribal community. These are our ancestral lands. So hopefully this will be a place for folks to come and learn about our culture."
When it's up and running, the center will provide information about Wiyot life, as well as display numerous Wiyot cultural items. One prominent fixture will be a pole sculpture by Wiyot artist Rick Bartow, subject of the film The Bartow Project, which had a premiere at the center earlier this year.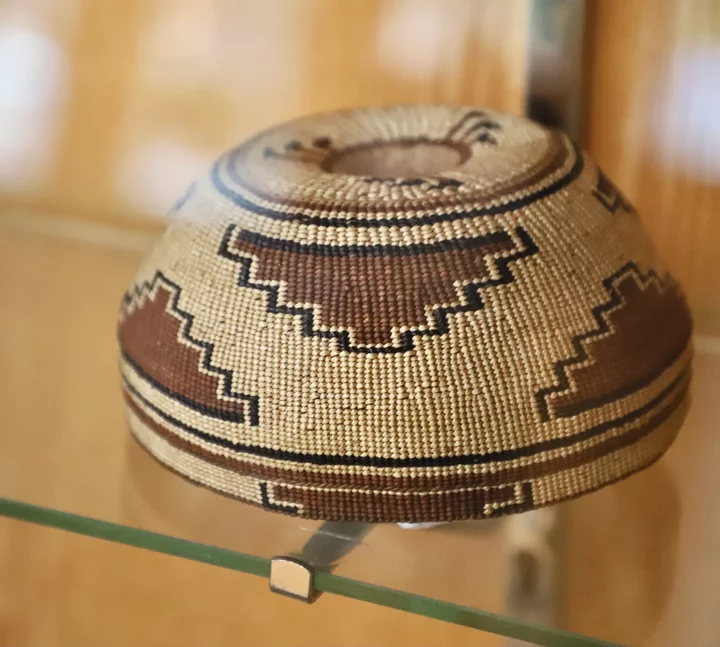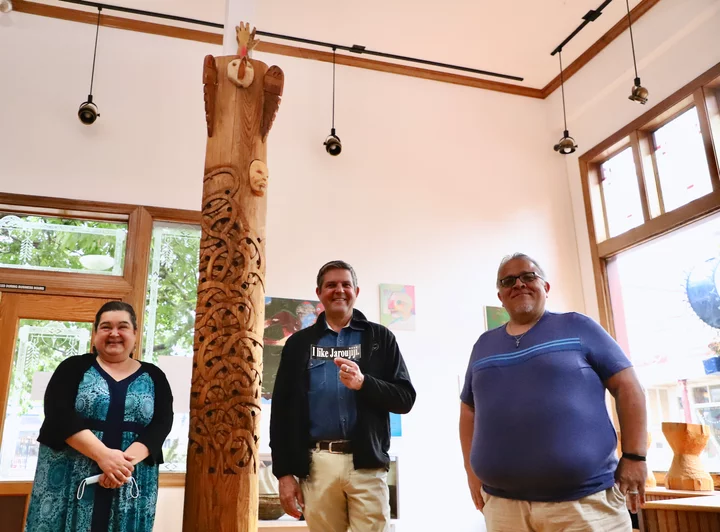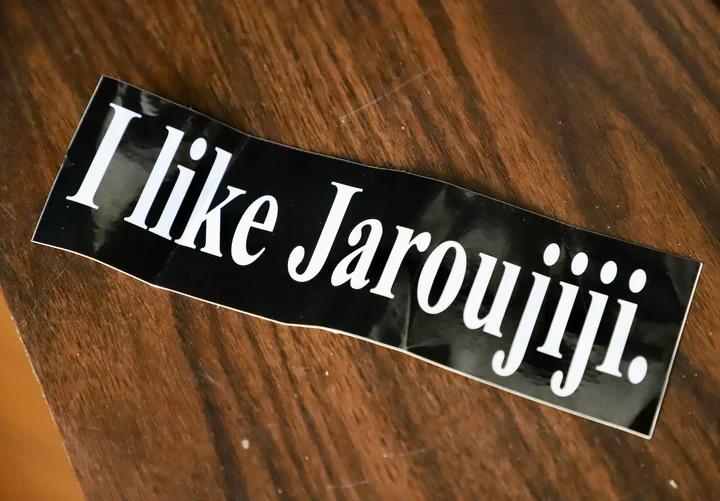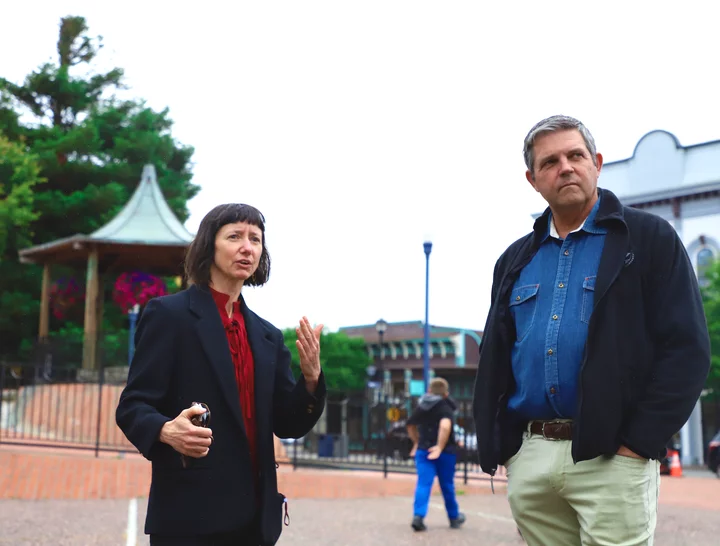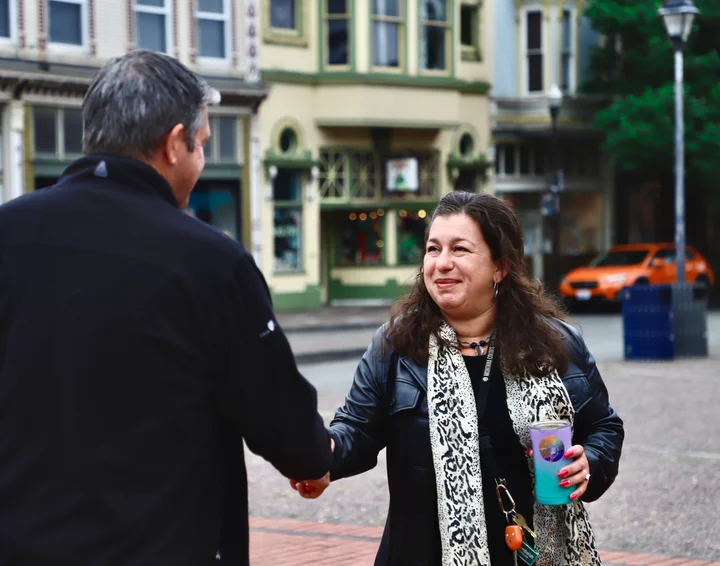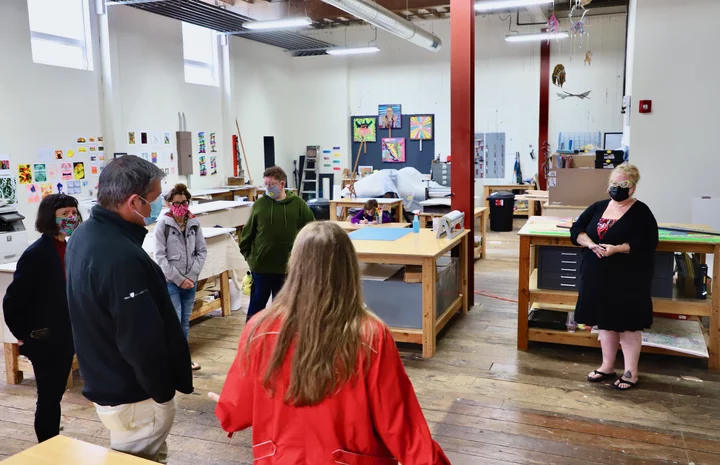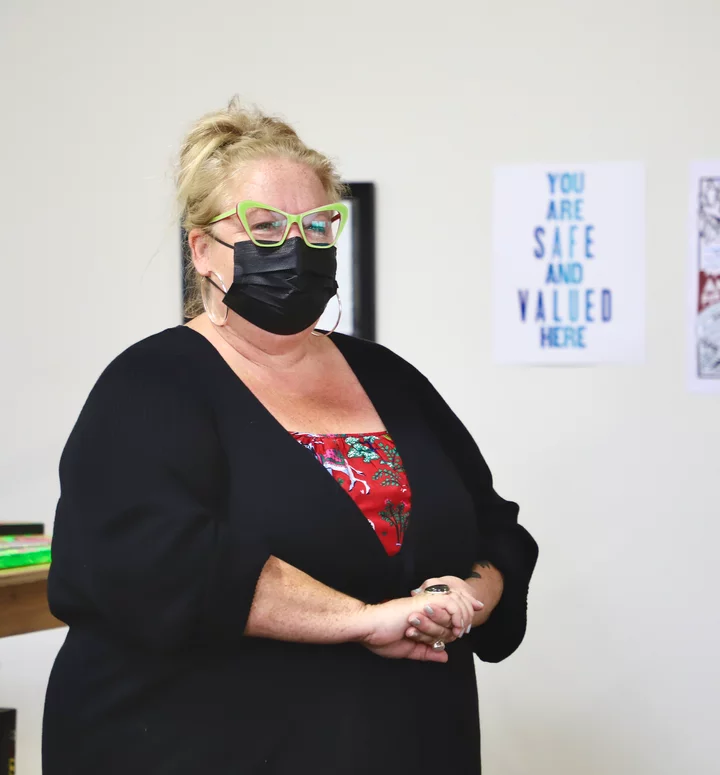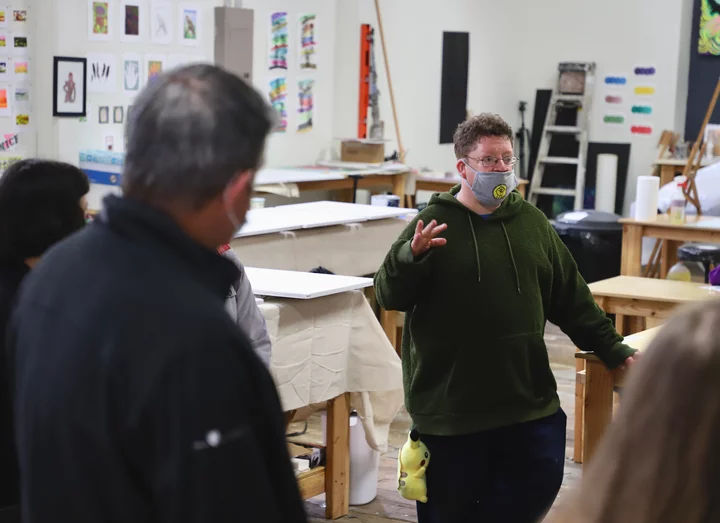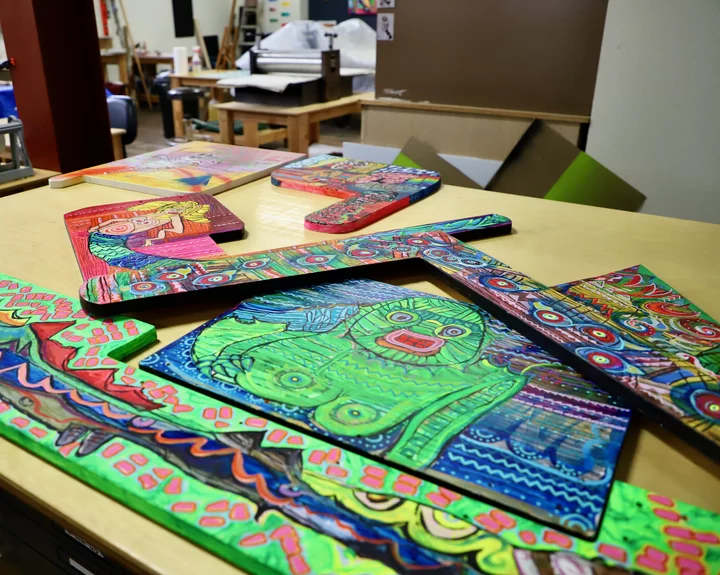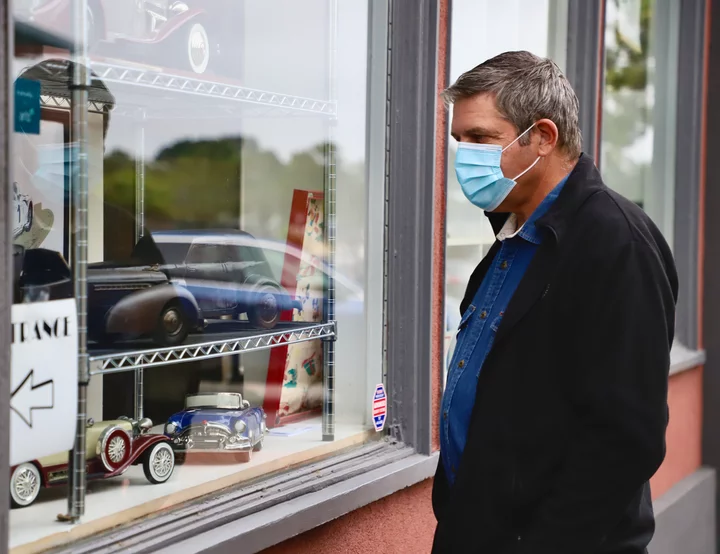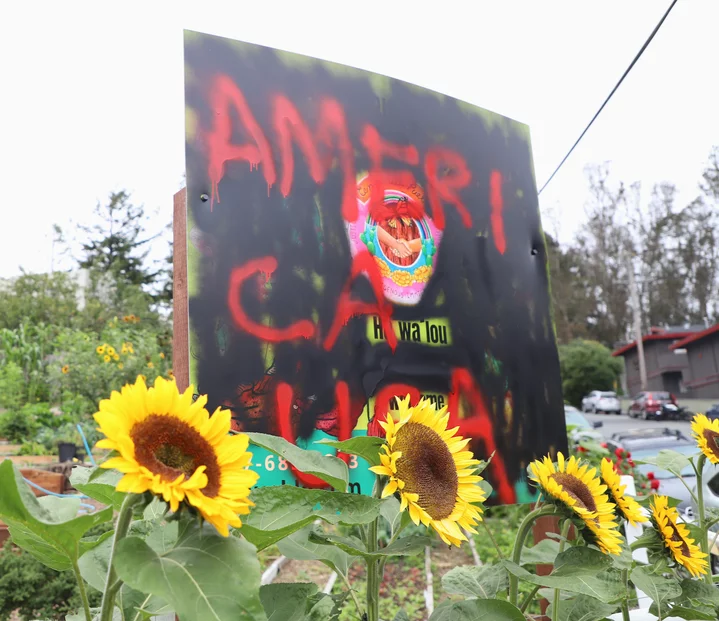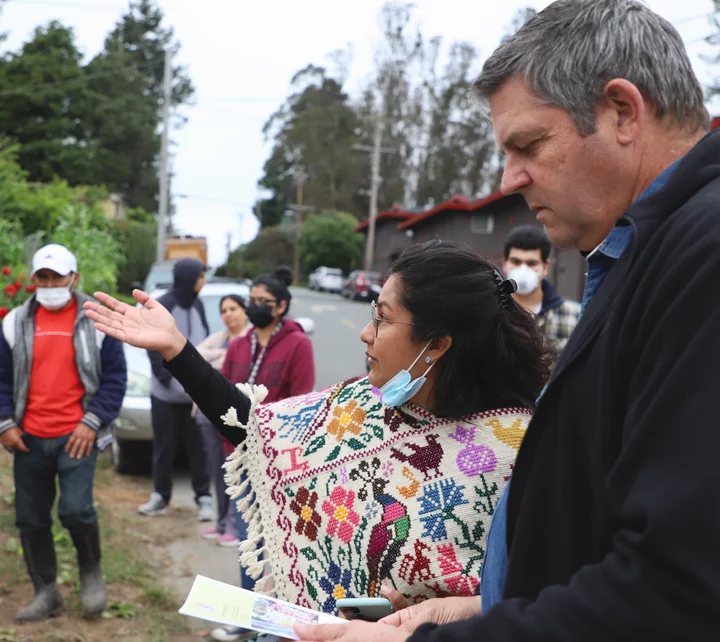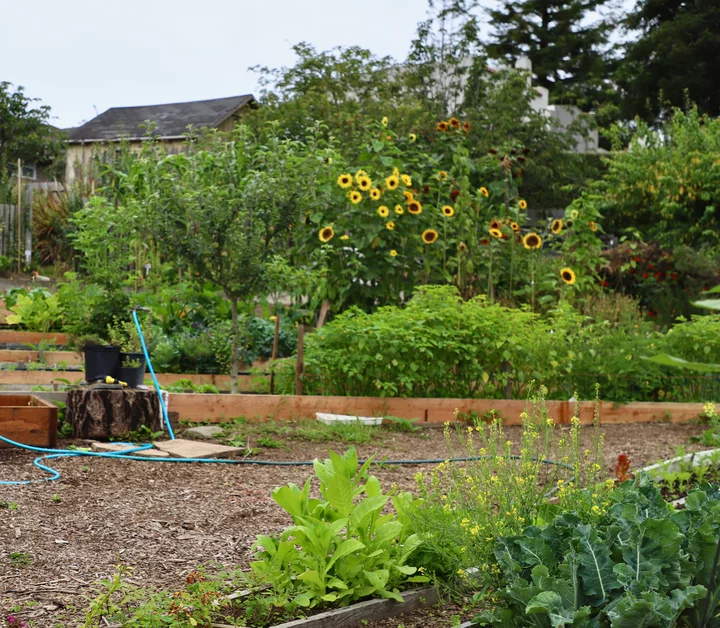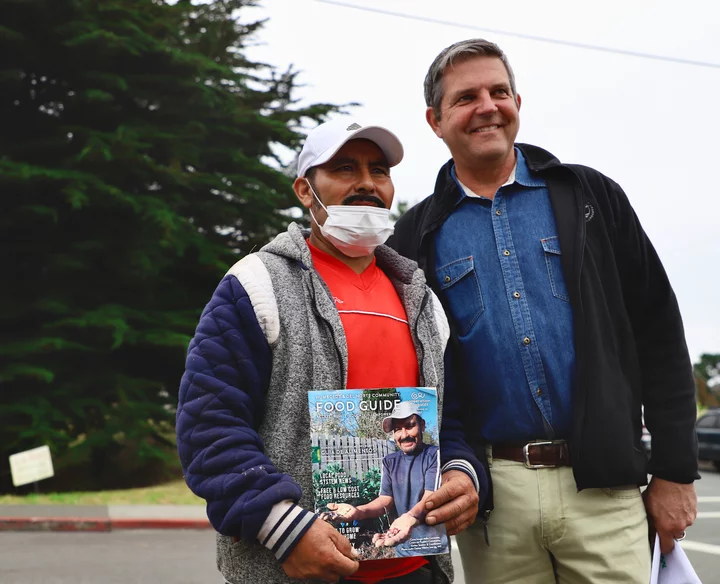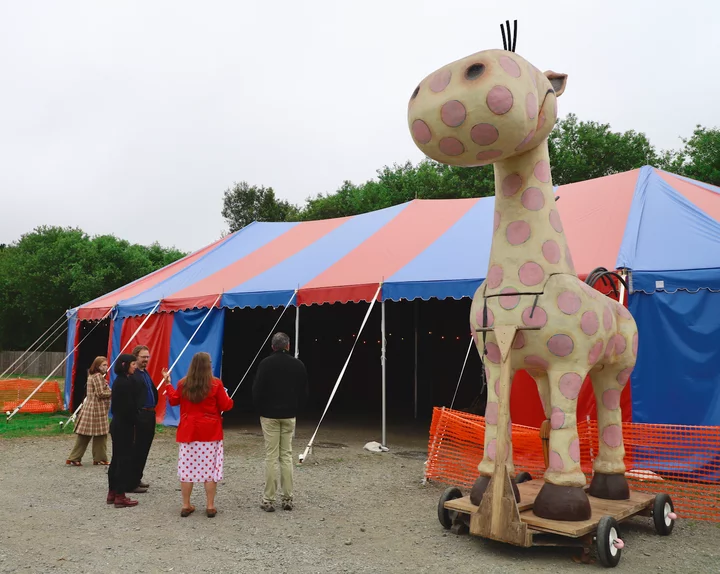 Wood's jam-packed tour ended in Arcata's Creamery District, a source of seemingly ever-expanding community vibrancy. Similar to NCRT's struggle, the Arcata Playhouse was forced to endure the loss of live performances and scrambled to figure out how to continue to provide joy to its community.
"We went from $160,000 of earned income to $9,000," said Playhouse executive director Jacqueline Dandeneau. "It was a massive loss."
But, as the thinking goes, constraints breed innovation. During the pandemic, Playhouse Arts hustled and launched online community radio station Humboldt Hot Air and acquired its "Wonder Wagon," a towable trailer which was hauled around the county to help facilitate arts projects for kids at local schools. Dandeneau sought to highlight the interconnectedness of Humboldt's arts community by showing off the red-and-blue, 80'-by-40' big top circus tent the Playhouse was able to acquire through grant funding. The tent is made available to other area organizations that might be inspired to find a need to utilize its cover.
"The cooperation that happened during the pandemic between [local arts] organizations is really exciting," Dandeneau said, before urging the assemblymember to consider ways the State might be able to increase funding for arts programs.
Having taken in a lot over the previous two hours, Wood, for his part, said he was impressed by the day's presentation. "I have to say, I am stunned at the talent in this community," he said. "You see bits and pieces of it when you travel around, but having these people take you around and explaining the various interactions in the arts community has been really valuable."
Wood ended by telling his tour guides that he was open to suggestions on how his office could support local arts projects in the future. "The arts brings such enrichment to people's lives. Just think how bland our world would be without the arts. So to see the richness of it here in this county is really cool. I'm really appreciative for the opportunity."
After wishing everyone well, Wood was hurried off to his next appointment. Having completed her day's big task, Leslie Castellano — who'd meticulously scheduled the day's stops down to the minute — told the Outpost she was pleased with the effort and explained a bit about why she worked to make the day happen.
"I think the more that leaders at all levels of government understand the relationship between arts and culture and community well-being the better off we all are. There's real power in cultivating spaces where people can express their sense of the world and if we, as a local community and as a state, continue to center that in our work, that will have meaningful and transformative impacts for us."