Uh, There Are 17 Separate Comedy Shows Scheduled in Humboldt Over the Next Three Days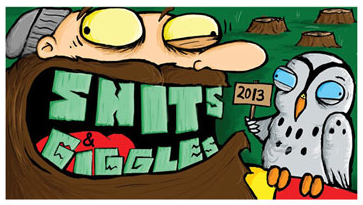 Whoa, whoa, whoa. If we're reading the LoCO Lowdown correctly, over the next three days — Thursday, Friday, Saturday — over 50 comedians will perform in the Arcata area at 17 separate comedy shows. Is that right? How can that be logistically possible?
It's no joke. The crew at Savage Henry Independent Times love the art of standup comedy and as a labor of said love they've planned their second annual S.H.I.T.s and Giggles Comedy Festival. Here's how it works: For $20 comedy fans will be given a wristband that will allow them to float between three consecutive nights of people propelling funny at your face in local venues (roll call!) Jambalaya, Humboldt Brews, Arcata Theatre Lounge, Robert Goodman Winery, Six Rivers Brewery, Blondie's and Mazzotti's. It's a full on yukvasion.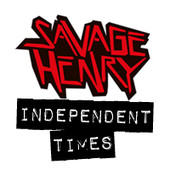 Now, yes, we must mention that in the last week the festival lost a little bit of its luster after headliner Eric Andre (of Adult Swim fame) canceled in favor of a bigger gig elsewhere (hint: George Zimmerman lives there). That's a bummer. But! There'll still funny to spare at this thing. If you're thinking "I don't know who any of these people are and TV and couches exist," let us help you. The Lowdown has included preview clips of each event's headliner for those who don't mind clicking around — Johnny Pemberton, Johnny Taylor, Emmett Montgomery, Keith Lowell Jensen and Alison Stevenson, to name a few. Also be sure to check out returning Humboldt native headliners Josh Argyle and Cornell Reid.
As an added Lowdown bonus, listen to festival organizer Chris Durant and Argyle jaw with KHUM's Mike Dronkers about the event, as well as Durant's tired beef for not receiving millions of dollars in royalty dough after having his elbow featured in M. Night Shyamalan's After Earth. Get over it, you baby!
(AUDIO) Chris Durant and Josh Argyle
See ya out there. For those of you that are looking for Wednesday events, scroll your Lowdown below.
-Andrew Goff
The Lowdown Fun Committee
Larry Likes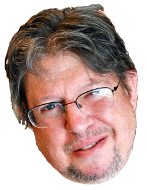 Events
Movie Showtimes
Minor Theatre
ELYSIUM: 3:35, 6:10, 8:45
JOBS: 3:25, 6:15, 9:05
WE RE THE MILLERS: 3:55, 6:35, 9:15