Sunday, Dec. 1, 2013's Chowdown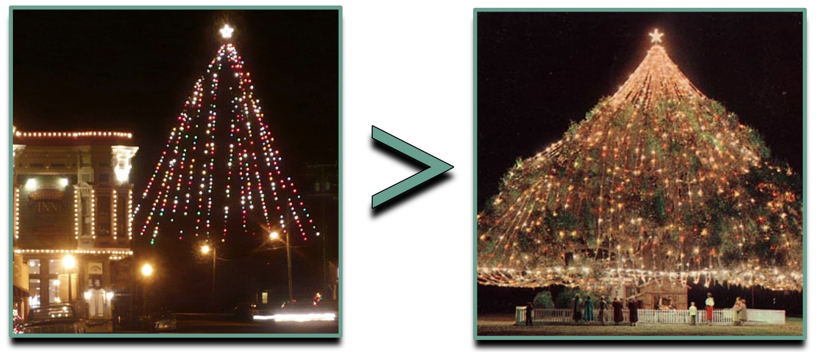 And here we go. With Thanksgiving 2013 now a memory, Humboldt now gears up for a month full of Christmas hype. Are you pumped?
Well, if you are ready to really feel the season, head on down to Ferndale Sunday evening where the cream city will light up what they tout the Tallest Living Christmas Tree on in the cosmos.
If you're invested in the size of Christmas trees, LoCO will note that Wilmington, NC also used to claim that their uncut Xmas tree is the world's "largest" — see above — a claim you are free to allow to impress you. But you should not. First, their tree is an un-Christmas-y oak. But most importantly, the city has given up on Christmas claiming their tree is too old to support the lights anymore.
So lame, Wilmington. We win. Christmas is here, HumCo! Huzzah.
-Andrew Goff
Events
Restaurants
Eureka
Arcata
McKinleyville
Trinidad
Blue Lake
---
Movie Showtimes
Broadway Cinema
DALLAS BUYERS CLUB: 12:40, 3:45, 6:30, 9:15
DELIVERY MAN: 12:50, 3:30, 6:15, 8:55
ENDER S GAME: 3:25, 8:40
FREE BIRDS 2D: 12:10, 2:40, 4:55
FROZEN 2D: 11:55, 12:35, 1:10, 2:35, 5:15, 5:55, 7:50
FROZEN 3D: 3:15, 8:30
GRAVITY 3D: 1:05, 6:20
HOMEFRONT: 1:40, 4:15, 6:50, 9:25
HUNGER GAMES: CATCHING FIRE: 12:20, 1:20, 2:20, 3:40, 4:40, 5:40, 7:00, 8:00, 9:00
JACKASS PRESENTS: BAD GRANDPA: 7:15, 9:35
LAST VEGAS: 3:25, 6:10, 8:45
THOR: THE DARK WORLD 2D: 1:05, 3:50, 6:35, 9:20
Mill Creek Cinema
DELIVERY MAN: 12:40, 3:20, 5:55, 8:30
ENDER S GAME: 4:10, 9:10
FREE BIRDS 2D: 11:50, 2:00
FROZEN 2D: 12:00, 12:30, 2:40, 5:20, 5:50, 8:00
FROZEN 3D: 3:10, 8:25
GRAVITY 3D: 6:50
HOMEFRONT: 1:50, 4:20, 6:50, 9:25
HUNGER GAMES: CATCHING FIRE: 11:40, 12:45, 2:45, 4:10, 6:00, 7:30, 9:10
THOR: THE DARK WORLD 2D: 1:00, 3:40, 6:30, 9:15
Minor Theatre
12 YEARS A SLAVE: 12:00, 3:00, 6:00, 9:00
ALL IS LOST: 12:20, 3:15, 6:15, 9:10
HUNGER GAMES: CATCHING FIRE: 2:05, 5:25, 8:45