Humboldt Funk All-Stars Kidnap Bill Summers and DJ Logic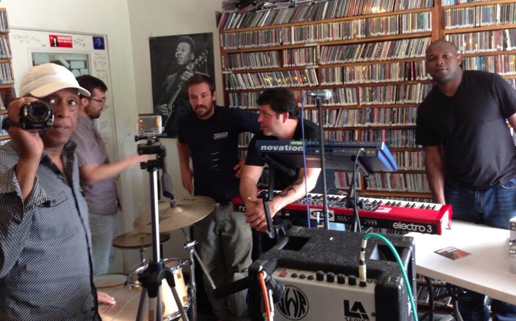 The weekend didn't kick your ass hard enough? Brave Monday night warriors can keep the party going up in Arcata with a special edition of the weekly Getdown funk jams. Why special? Percussionist Bill Summers and DJ Logic, — who jammed with Motherlode at Jambalaya on Friday — apparently just can't get enough of the Humboldt music scene and stuck around for more funkin' good times. Hopefully you heard the makeshift ensemble on KHUM (pictured above)this afternoon that also featured HumCo virtuoso keyboardist Brian Swizlo, bassist Drew Mohr and potentially-the-best-drummer-in-the-county Pete Ciotti. If not, catch 'em at the Jam tonight.
Also Monday night, at The Works in Old Town there's a tasty triple bill headlined by guitar swami William Tyler — sample the aural products of his tactful fingers in the video below. Filling out the night will be the fairly new adventurous local guitar/fiddle duo Electro Saloon, comprised of Strix Vega's Colin Begall and Patronus' Alanna Goldsmith, and Eureka band The Tweeners. Enjoy live music surrounded by shelves of recorded music. It's trippy.
In other news, the countdown to Reggae on the River enters its final week. The Mateel Community Center has announced that it is adding single day tickets, without the camping option. (The single day tickets will be available at the gate only, to those who arrive by the shuttle or by foot, as car parking is reserved for 3 and 4-day ticket holders who are camping.) FYI for those of you who know your reggae limits.
Other Monday goodies in your Lowdown below.
-Andrew Goff
The Lowdown Fun Committee
Larry Likes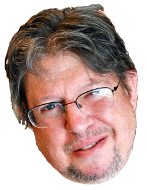 Events
William Tyler
The Works / 9 p.m.
Panache presents a country'ish/freak/folk show featuring Merge Records' artist William Tyler. Guitar/violin duo Electro Saloon and Eureka band The Tweeners open.
442-8121 / Web site / View Comments
Movie Showtimes
Broadway Cinema
CONJURING: 1:15, 4:00, 6:45, 9:30
DESPICABLE ME 2 2D: 12:35, 3:15, 5:50, 8:25
GROWN UPS 2: 12:20, 3:05, 5:40, 8:15
LONE RANGER: 12:40, 4:15, 7:50
PACIFIC RIM 2D: 3:25, 9:00
PACIFIC RIM 3D: 11:50, 5:10
RED 2: 12:30, 3:30, 6:15, 9:05
RIPD IN 2D: 2:30, 7:20, 9:40
RIPD IN 3D: 12:05, 4:55
THE HEAT: 12:50, 3:40, 6:30, 9:20
TURBO 2D: 12:55, 2:45, 6:25
TURBO 3D: 8:10
WOLVERINE 2D: 11:55, 3:00, 6:05, 9:10
WOLVERINE 3D: 1:40, 4:50, 8:00
WORLD WAR Z 2D: 1:00, 3:50, 6:40, 9:25
Mill Creek Cinema
CONJURING: 1:15, 4:00, 6:40, 9:20
DESPICABLE ME 2 2D: 12:20, 2:55, 5:30, 8:00
GROWN UPS 2: 1:05, 3:40, 6:15, 8:50
PACIFIC RIM 2D: 3:00, 6:10, 9:00
PACIFIC RIM 3D: 12:10
RED 2: 12:00, 2:45, 5:40, 8:30
RIPD IN 2D: 3:55, 8:45
RIPD IN 3D: 1:30, 6:20
TURBO 2D: 12:45, 5:50
TURBO 3D: 3:20, 8:20
WOLVERINE 2D: 12:00, 6:00
WOLVERINE 3D: 3:10, 9:10
Minor Theatre
RIPD IN 2D: 4:30, 6:55, 9:20
THE WAY WAY BACK: 4:10, 6:40, 9:10
WOLVERINE 2D: 5:30, 8:30