Sunday, June 23, 2013's Lowdown

Well, that was quick, right? Sunday is your final chance at the 2013 Redwood Acres Best of Humboldt California Regional Airport Fair, people! (Or whatever it's called.) The day's highlights include Exceptional Rodeo at 10 a.m. and a hypnotist show at 2 p.m.
We promise you you'll have more fun than if you were to flick quarters at the flag pole out side Toby and Jacks. That scene's played out. Fair it up, HumCo.
The Lowdown Fun Committee
Larry Likes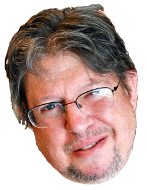 Events
The Comedy of Errors
Dell'Arte / 8 p.m. / $18
Set in a place much like the Arcata Plaza, at an event much like the Farmers Market, Dell'Arte puts an original twist on Shakespeare's outrageous farce.
View Comments
Movie Showtimes
Broadway Cinema
AFTER EARTH: 1:15, 6:30
EPIC 2D: 12:50, 3:30
FAST AND FURIOUS 6: 6:15, 9:15
INTERNSHIP: 3:40, 9:00
MAN OF STEEL 2D: 1:10, 4:30, 7:50, 8:50
MAN OF STEEL 3D: 2:10, 5:30
MONSTERS UNIVERSITY 2D: 11:50, 12:40, 2:35, 5:20, 6:00, 8:00
MONSTERS UNIVERSITY 3D: 3:20, 8:40
NOW YOU SEE ME: 11:55, 2:35, 5:15, 8:10
PURGE: 12:45, 2:55, 5:00, 7:25, 9:40
STAR TREK INTO THE DARKNESS 2D: 12:10, 3:05, 6:05, 9:05
THIS IS THE END: 1:35, 4:10, 6:45, 9:20
WORLD WAR Z 2D: 12:00, 1:00, 3:50, 6:40, 9:30
WORLD WAR Z 3D: 2:50, 5:40, 8:30
Mill Creek Cinema
AFTER EARTH: 7:00, 9:30
EPIC 2D: 2:00, 4:30
MAN OF STEEL 2D: 2:10, 5:30, 8:50
MAN OF STEEL 3D: 1:00, 4:25, 7:50
MONSTERS UNIVERSITY 2D: 12:00, 12:55, 2:45, 5:30, 6:30, 8:10
MONSTERS UNIVERSITY 3D: 3:00, 8:30
NOW YOU SEE ME: 12:40, 3:30, 6:20, 9:05
THIS IS THE END: 1:20, 4:00, 6:40, 9:20
WORLD WAR Z 2D: 3:40, 9:15
WORLD WAR Z 3D: 12:10, 5:45
Minor Theatre
MAN OF STEEL 2D: 2:10, 5:25, 8:40
MONSTERS UNIVERSITY 2D: 1:00, 3:30, 6:00, 8:30
WORLD WAR Z 2D: 1:20, 4:00, 6:45, 9:30