And There Will Be a DUI Checkpoint Tonight
OK, Humboldt, here's the thing. There is way too much stuff going on locally we gotta get to today (see below). So we're phoning in today's Lowdown. Our recommendation? Get out of the house both today and tonight and soak up some art, music, film, community and/or chicken wings. This is not a drill.
However.
At the same time, keep the following in mind. Here's a press release from the Eureka Police Department:
The Eureka Police Department's traffic unit will be conducting a DUI/Drivers License checkpoint at an undisclosed location within city limits from 9 p.m. today to 2:30 a.m. Sunday, as well as roving DUI saturation patrols, the EPD announced this week.

Several additional DUI saturation patrols will also be held this month, according to a press release. Enforcement efforts are funded by a grant from the California Office of Traffic Safety, through the National Highway Traffic Safety Administration, according to the release.

The EPD asks the public to report drunk drivers by dialing 911.
You weren't going to drink and drive anyway, right? Cool.
-AG
The Lowdown Fun Committee
Larry Likes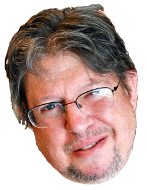 Events
Movie Showtimes
Broadway Cinema
DESPICABLE ME 2 2D: 1:50, 4:20
ELYSIUM: 12:05, 2:40, 5:30, 8:15
GETAWAY: 12:15, 2:35, 4:55, 7:20, 9:40
LEE DANIELS THE BUTLER: 12:00, 3:00, 6:05, 9:05
MORTAL INSTRUMENTS: CITY OF BONES: 11:50, 2:50, 5:50, 8:50
ONE DIRECTION: THIS IS US 2D: 4:00
ONE DIRECTION: THIS IS US 3D: 1:35, 6:20, 8:45
PLANES 2D: 11:55, 2:20, 4:40, 7:00
RIDDICK: 11:55, 2:50, 5:45, 8:40, 9:20
SPECTACULAR NOW: 1:10, 3:35, 6:00, 8:30
THE WORLD S END: 12:45, 3:30, 6:15, 9:00
THIS IS THE END: 1:30, 4:10, 6:50, 9:35
WE RE THE MILLERS: 1:00, 3:45, 6:30, 9:15
YOU RE NEXT: 6:55, 9:25
Mill Creek Cinema
ELYSIUM: 1:10, 3:50, 6:30, 9:05
LEE DANIELS THE BUTLER: 12:00, 3:00, 6:00, 9:00
MORTAL INSTRUMENTS: CITY OF BONES: 12:15, 3:15, 6:20
ONE DIRECTION: THIS IS US 2D: 8:00
ONE DIRECTION: THIS IS US 3D: 1:00, 3:20, 5:40
PLANES 2D: 11:55, 2:20, 4:40
RIDDICK: 12:00, 2:55, 5:50, 8:45, 9:20
THIS IS THE END: 1:55, 4:30, 7:05, 9:40
WE RE THE MILLERS: 1:30, 4:10, 6:50, 9:30
YOU RE NEXT: 6:55, 9:20
Minor Theatre
BLACKFISH: 1:40, 3:55, 6:10, 8:25
BLUE JASMINE: 1:50, 4:15, 6:40, 9:10
CLOSED CIRCUIT: 2:20, 4:40, 7:00, 9:20