Thursday, May 22, 2014's Chowdown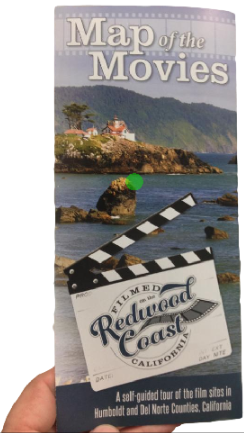 Humboldt is beautiful. This we know. So it is no surprise that, over the years, bunches of film-ish people have wanted to shoot their movies amidst our way-better surroundings, right? Sure.
Well, the folks at the Humboldt-Del Norte Film Commission are sick of you, John/Jane Q. Moviebuff, not having a map laying out all the local spots where scenes from significant films were shot. So they made one.
Thursday at 1 p.m., at the Gazebo in Old Town, the Filmed on the Redwood Coast 'Map of the Movies' will be unveiled. What is that? The map is a hand-held brochure that will lead you to various locations around Humboldt and Del Norte counties where potentially really famous people once had cameras pointed at them. You want to know this.
Have you started seeing markers like the Star Wars-y one below? Yeah, those are out there now. These maps will get you to them and you can get your own copy at your neighborhood chamber of commerce starting today. (OR there's an online version here.) Make a Sunday drive out of it, maybe. —Andrew Goff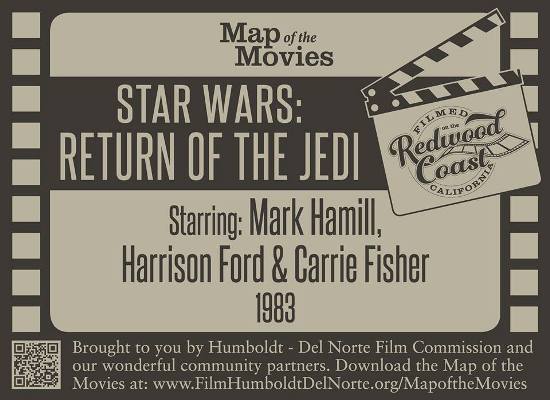 # # #
As far as Thursday night is concerned, you will note that it's opening night for North Coast Repertory Theatre's stab at Les Misérables, which runs through June 21. Or, if you don't like being confined to seats, perhaps set a course for Jambalaya where you'll find a tasteful double bill consisting of Austin-based melodious rockers Adrian and the Sickness (see them in all their YouTube glory below) and local hard rock supergroup Lord Ellis. -AG
Events
Map of the Movies Kick Off Reception
Old Town Eureka / 1 p.m.
Celebrate the completion of the Maps of the Movies, a new project that will allow movie fans find the locations from scenes of their favorite movies filmed in Humboldt and Del Norte County. Cake and champagne or cider will be served.

Les Misérables Opening Night Gala
North Coast Repertory Theatre / 8 p.m. / $18
The North Coast Repertory Theatre continues its 30th Season with the North Coast premiere of the musical Les Misérables, based on the novel by Victor Hugo, with music by Claude-Michel Schonberg, lyrics by Herbert Kretzmer and book by Alain Boublil and Claude-Michel Schonberg.
442-6278 / Web site /
Restaurants
Eureka
Arcata
Eel River Valley
SoHum
Trinidad
Blue Lake
East County
---
Movie Showtimes
Broadway Cinema
AMAZING SPIDER MAN 2 2D: 12:30, 6:20, 9:00
AMAZING SPIDER MAN 2 3D: 3:20
BLENDED: 7:00
CAPTAIN AMERICA: THE WINTER SOLDIER 2D: 2:05, 5:15, 8:25
DIVERGENT: 4:55, 8:00
FADING GIGOLO: 4:30, 9:25
GOD S NOT DEAD: 5:20
GODZILLA 2D: 12:10, 3:15, 6:15, 9:15
GODZILLA 3D: 11:50, 2:45, 5:40, 8:40
GRAND BUDAPEST HOTEL: 1:55
HEAVEN IS FOR REAL: 11:55, 2:30, 5:00, 7:30
LEGENDS OF OZ: DORTHY S RETURN 2D: 12:20, 2:40
MILLION DOLLAR ARM: 12:05, 3:00, 5:55, 8:55
NEIGHBORS: 12:00, 12:55, 2:25, 3:50, 5:30, 6:35, 8:15, 9:40
OTHER WOMAN: 1:30, 4:10, 6:50, 9:30
RIO 2 2D: 12:15, 2:55
X-MEN: DAYS OF FUTURE PAST 3D: 10:00
Mill Creek Cinema
AMAZING SPIDER MAN 2 2D: 5:55
AMAZING SPIDER MAN 2 3D: 2:45, 9:05
BLENDED: 7:00
CAPTAIN AMERICA: THE WINTER SOLDIER 2D: 8:00
GODZILLA 2D: 2:40, 5:40, 8:40
GODZILLA 3D: 3:15, 6:15, 9:15
HEAVEN IS FOR REAL: 3:20
LEGENDS OF OZ: DORTHY S RETURN 2D: 3:05
MILLION DOLLAR ARM: 3:00, 6:00, 8:55
NEIGHBORS: 4:30, 7:00, 9:30
OTHER WOMAN: 4:05, 6:45, 9:25
RIO 2 2D: 5:25
X-MEN: DAYS OF FUTURE PAST 3D: 10:00
Minor Theatre
GODZILLA 2D: 3:15, 6:15, 9:10
GRAND BUDAPEST HOTEL: 3:25, 5:45
MILLION DOLLAR ARM: 3:00, 5:55, 8:55
X-MEN: DAYS OF FUTURE PAST 2D: 10:00