Monday, March 7, 2016's Chowdown
Oh, man. Would you look at that? Sunday's downpour hath given way to glorious Monday sunshine. Do we even deserve this?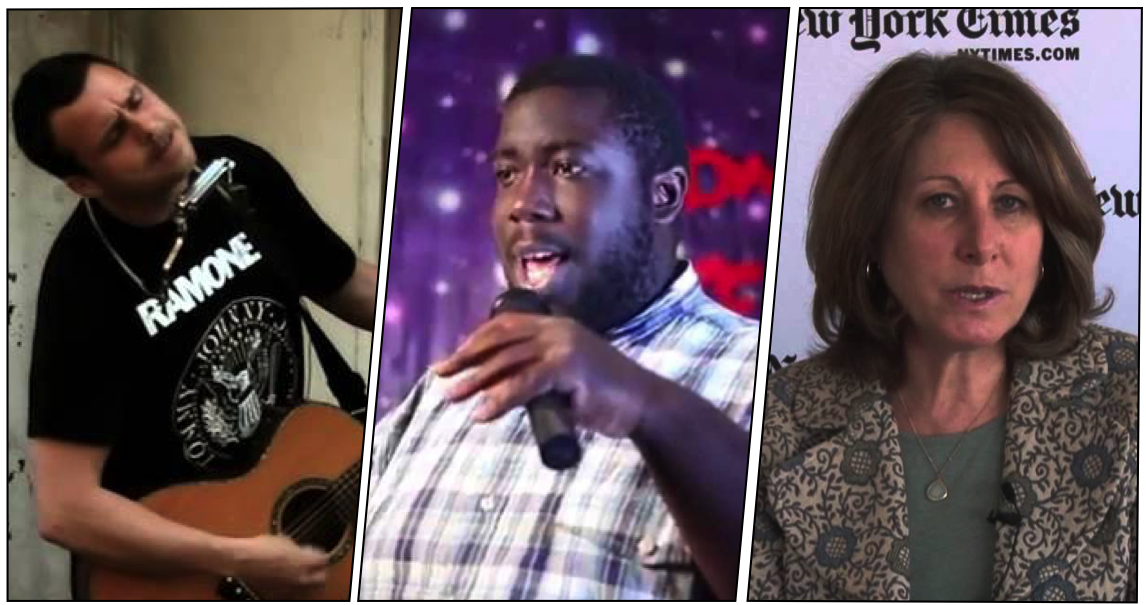 Either way, LoCO is feeling good about life and, hey, maybe we'll just head down to The Siren's Song Tavern to watch Bryan McPherson muster up as much fire as one man and a guitar can reasonably be expected (see video below). Local indie folk band No Pardon is opening that thing. Should be swell.
Or, I dunno, maybe we'll roll up to the Clam Beach Inn where Savage Henry Magazine is hosting a night of standup headlined by David Gborie. As evidenced by previous times he's performed here (and the video below) he's rather humorous. Also swell.
Or who knows?! Maybe we'll head up to the Kate Buchanan Room to watch New York Times religion correspondent Laurie Goodstein who, according to event promo, will be giving a "talk about the challenge of staying neutral as a reporter on such contentious issues." Why try, Laurie?! Tell God what you really think about it! It feels swell!
Anyway, yeah, lots of stuff going on in HumCo this Sun-Monday. Ooo! Even more things in your Lowdown listings below. —Andrew Goff
Events
NYT National Religion Correspondent Laurie Goodstein
Kate Buchanan Room / 5-6:30 p.m. / Free
As the top religion correspondent for the New York Times, Laurie Goodstein has covered the election of two popes, the conflict in the Episcopal church over gay marriage, the rifts in the American Jewish community over Israel, and rising Islamophobia in this country and abroad.
826-4775 / jmc@humboldt.edu / Web site /
Bryan McPherson, No Pardon
The Siren's Song Tavern / 8 p.m. / $5
"Hailing from Boston, he is a socially conscious, richly emotive performer who has been on the road for many a year and comes to share his stories through music here in Eureka! No Pardon kicks off the night at 8 with their energetic bluesy folk tones and fiddle numbers to set your feet to stompin'!"
442-8778 / thesirenssongtavern@gmail.com / Web site /
Restaurants
Eureka
Arcata
McKinleyville
Trinidad
---
Movie Showtimes
Broadway Cinema
45 YEARS: 1:00, 3:30, 5:55, 8:20
DEADPOOL: 1:25, 4:10, 6:50, 8:10, 9:30
EDDIE THE EAGLE: 12:35, 3:10, 5:40, 8:15
GODS OF EGYPT 2D: 3:00, 8:55
GODS OF EGYPT 3D: 12:00, 6:00
KUNG FU PANDA 3 2D: 1:20, 3:40, 6:05
LADY IN THE VAN: 12:25, 3:05, 5:35, 9:00
LONDON HAS FALLEN: 1:10, 3:20, 6:30, 9:05
RISEN: 1:50, 6:45
STAR WARS: THE FORCE AWAKENS 2D: 8:35
TRIPLE 9: 12:45, 3:25, 6:20
WHISKEY TANGO FOXTROT: 1:15, 3:55, 6:35, 9:15
WITCH: 4:25, 9:20
ZOOTOPIA 2D: 11:45, 12:40, 2:30, 5:15, 6:10, 7:55, 8:50
ZOOTOPIA 3D: 3:45
Mill Creek Cinema
DEADPOOL: 4:20, 6:55, 8:25, 9:30
GODS OF EGYPT 2D: 6:05, 9:05
GODS OF EGYPT 3D: 3:05
KUNG FU PANDA 3 2D: 3:35, 6:00
LONDON HAS FALLEN: 4:05, 6:40, 9:15
RACE: 3:15, 8:30
REVENANT: 6:20
WITCH: 4:00, 6:15, 9:40
ZOOTOPIA 2D: 5:25, 6:25, 8:10
ZOOTOPIA 3D: 3:45, 9:00