Band Behind 'No Trump! No KKK! No Fascist USA!' Chant Plays Sunday in Eureka
Without question, one of the more widely heard chants repeated at the countless rallies protesting the ascendence of President Trump over the last month has been "No Trump! No KKK! No fascist USA!" If you have not heard this, I would suggest you likely have not attended a Trump protest and, thus, might just wanna stop reading this now.
The very shout-able slogan's current popularity can almost certainly be traced to Green Day's performance on the American Music Awards a few days after the 2016 November election. During a breakdown in their song, frontman Billie Joe Armstrong broke in to the militant mantra which has deep punk rock roots.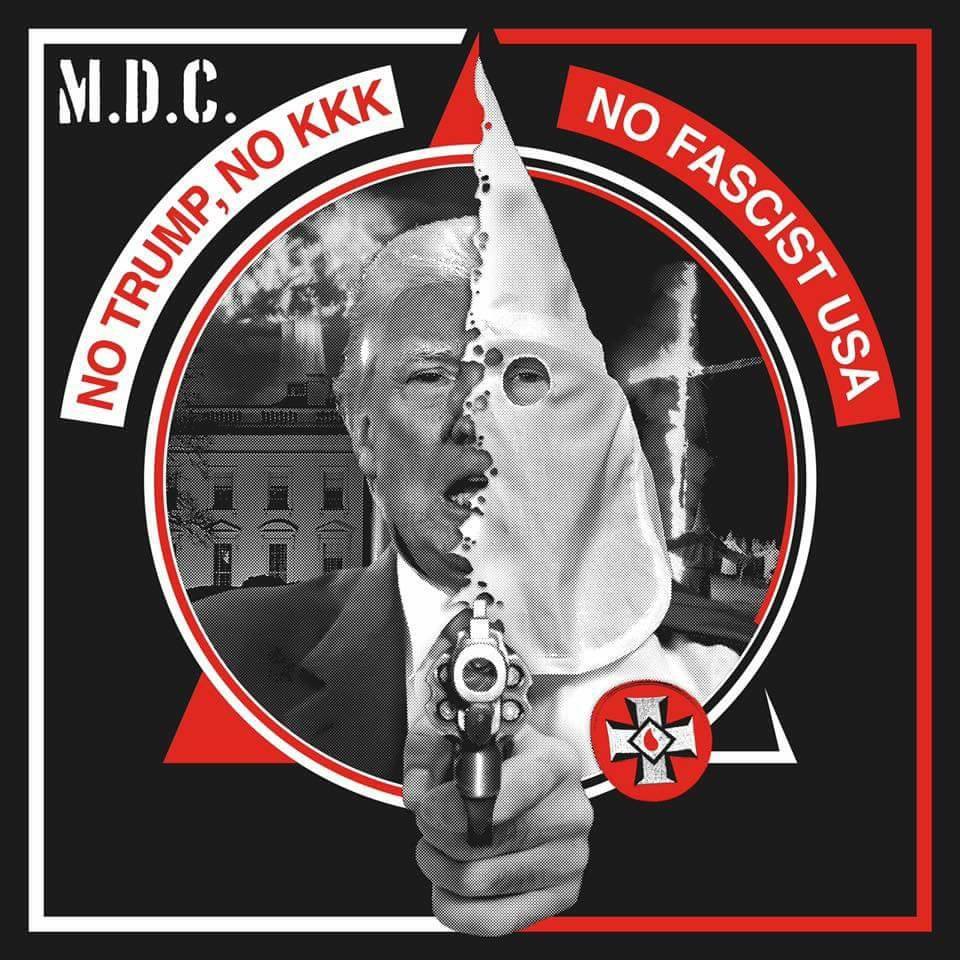 Where does the chant come from? It's an adaptation of a punk chorus originating with a band Green Day first crossed paths with in Berkeley in the 1980s: MDC, an acronym for Millions of Dead Cops. In their song "Born to Die" off their 1982 debut album, MDC singer Dave Dictor chants the line "No war! No KKK! No fascist USA!" (Listen below.) In case you're worried, though, the band seem to be OK with the updated lyric evidenced by the fact that they are currently touring the West Coast as part of the No Trump! No KKK! No Facist USA Tour and feature it prominently in their Facebook page profile picture.
If this is your kinda thing, note that Sunday night MDC roll into Eureka for what's sure to be a packed show at the Siren's Song Tavern. It seems unlikely at this point that you'll get in if you don't already have tickets — the Facebook event page reveals way more people interested in the show then the venue can accommodate — but seasoned show crashers know what perseverance can get you. Details on that rally and less politically fiery fare in your Lowdown listings below. —Andrew Goff
Events
Movie Showtimes
Broadway Cinema
A CURE FOR WELLNESS: 12:05, 2:30, 5:50, 8:05
A DOG'S PURPOSE: 11:55, 2:50, 5:40, 8:35
FIFTY SHADES DARKER: 12:20, 3:10, 5:55, 8:45
FIST FIGHT: 12:10, 3:20, 5:45, 9:05
HIDDEN FIGURES: 11:45, 2:40, 5:35, 8:30
JOHN WICK: CHAPTER 2: 12:40, 3:30, 6:25, 9:15
LA LA LAND: 12:00, 3:00, 6:00, 9:00
LION: 11:55, 5:30
SPLIT: 1:05, 3:45, 6:35, 9:20
THE GODFATHER: 2:30, 8:00
THE GREAT WALL 2D: 1:10, 3:50, 6:30
THE GREAT WALL 3D: 9:10
THE LEGO BATMAN MOVIE 2D: 1:00, 2:25, 3:40, 6:20, 7:40, 8:55
THE LEGO BATMAN MOVIE 3D: 11:50, 5:05
Mill Creek Cinema
A CURE FOR WELLNESS: 12:00, 3:15, 5:30, 8:45
FIFTY SHADES DARKER: 1:00, 3:45, 6:30, 9:15
FIST FIGHT: 12:50, 3:10, 6:25, 8:50
HIDDEN FIGURES: 11:50, 2:45, 5:40, 8:35
JOHN WICK: CHAPTER 2: 12:35, 3:30, 6:15, 9:05
SPLIT: 1:05, 3:50, 6:40, 9:25
THE GREAT WALL 2D: 12:45, 6:10
THE GREAT WALL 3D: 3:25, 9:00
THE LEGO BATMAN MOVIE 2D: 12:25, 3:00, 5:50, 8:25
Minor Theatre
FENCES: 3:45
HIDDEN FIGURES: 2:00, 5:00, 7:30
LA LA LAND: 12:45, 7:00
LION: 4:30
MOONLIGHT: 8:15
THE FOUNDER: 1:15