TODAY: Humboldt County Students March For Their Lives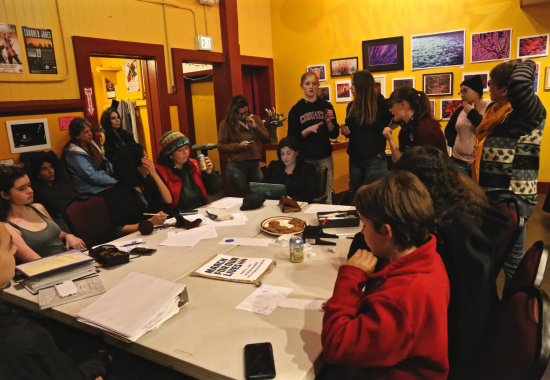 Tens of thousands of teens across the country are expected to participate in rallies this Saturday as part of the March for Our Lives movement which was set into motion by last month's shooting at a high school in Parkland, Florida.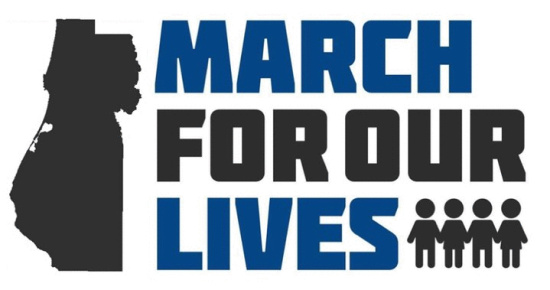 While the most sizable event will be the march on the White House in Washington, D.C., there are more than 800 planned sibling marches scheduled including, of course, one here in Humboldt. According to organizers March for Our Lives Humboldt "is a march against gun violence, and a march for common sense gun control." It begins at noon on Saturday at the Arcata Playhouse and will feature a kickoff rally — speeches and music — and culminate with a march down to the Arcata Plaza.
For the last few weeks high school student organizers from Apprentice Entertainment — a local teenage-run nonprofit which stages arts and culture events — have been planning the event. Two of the organizers, Arcata High students Jazmine Fiedler and Fiona Murphy, told the Outpost they were inspired to get involved with a local march and, after discussing it with other Apprentice members, they scoured social media to see if anyone else was working on one. Finding no trace, they decided to get to work. Both cite as a key motivator the example set by the numerous Marjory Stoneman Douglas students who've kept the issue of gun violence in schools at the forefront of the national conciousness.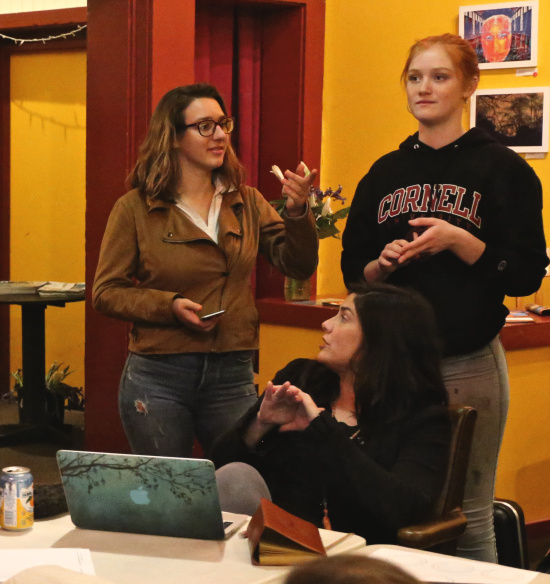 "Everything they're doing is really inspiring," Murphy said. "I know if I went through something like what they went through I probably wouldn't be able to do that so quickly … especially that one speech that went viral by Emma Gonzalez — 'We Call B.S.' — that's what made me start crying."
"I think what's amazing about that speech, too, is that it's so teenager-y," Fiedler chimed in. "It's maybe one of the first times that a teenager speaking about something really important has gone viral and become a national conversation."
Sarah McKinney is the adult director of Apprentice Entertainment and says while she helped her kids get the ball rolling on local march planning, they've done the heavy lifting.
"They are motivated, they are passionate, and they are showing up," McKinney said. "These are some of the most packed meetings we've had."
"It's a really close to home issue," Murphy said. "We are students and we don't want to have to be scared in our schools."
Head over to the Facebook pages of March for Our Lives Humboldt and/or Apprentice Entertainment for more info.
—Andrew Goff
Events
Movie Showtimes
Broadway Cinema
7 DAYS IN ENTEBBE: 3:55, 9:05
ANNIHILATION: 1:10, 6:25
A WRINKLE IN TIME 2D: 12:00, 2:45, 5:30, 8:10
BLACK PANTHER 2D: 11:50, 3:00, 6:10, 9:15
I CAN ONLY IMAGINE: 12:05, 2:45, 5:25, 8:05
LOVE, SIMON: 1:00, 3:40, 6:20, 9:00
MIDNIGHT SUN: 11:45, 2:00, 4:20, 6:35, 8:50
PACIFIC RIM: UPRISING 2D: 12:40, 6:05, 8:45
PACIFIC RIM: UPRISING 3D: 3:20
PAUL, APOSTLE OF CHRIST: 12:10, 2:50, 5:40, 8:15
SHERLOCK GNOMES 2D: 1:20, 3:45, 6:00
SHERLOCK GNOMES 3D: 8:20
TOMB RAIDER 2D: 11:55, 12:55, 2:40, 3:50, 5:35, 6:40, 8:25, 9:30
UNSANE: 1:45, 4:15, 6:45, 9:10
Mill Creek Cinema
A WRINKLE IN TIME 2D: 12:30, 3:15, 5:55, 8:35
BLACK PANTHER 2D: 12:00, 3:05, 6:10, 9:15
LOVE, SIMON: 1:00, 3:40, 6:15, 9:00
MIDNIGHT SUN: 11:45, 2:00, 4:20, 6:35, 8:50
PACIFIC RIM: UPRISING 2D: 12:40, 6:05, 8:45
PACIFIC RIM: UPRISING 3D: 3:20
SHERLOCK GNOMES 2D: 1:20, 3:45, 6:00
SHERLOCK GNOMES 3D: 8:20
TOMB RAIDER 2D: 12:35, 3:30, 6:20, 9:10
UNSANE: 1:45, 4:15, 6:45, 9:05
Minor Theatre
A FANTASTIC WOMAN: 2:00, 4:45, 7:45
A WRINKLE IN TIME: 2:15, 5:15, 8:00
TOMB RAIDER: 2:45, 5:45, 8:45