Lowdown! for Sunday, May 29
SPONSORED BY

---
SUNDAY LOWDOWN: Weird Things on the Water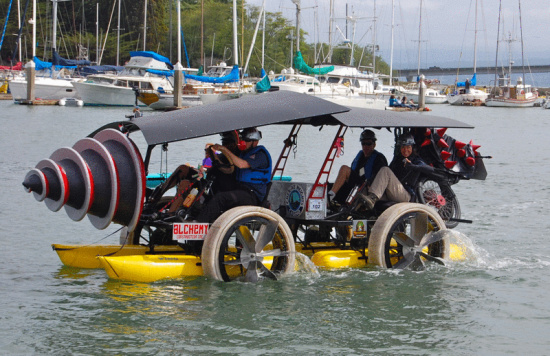 Your 2022 Kinetic Grand Championship racers made it through Day One mostly unscathed, but the danger levels raise on Day Two. For it is Sunday morning when the machines make their way into Humboldt Bay for a wet slog along Eureka's waterfront. Will their flotation devices stay secured? Make your way down anytime from mid- to late-morning to find out.
If they manage to emerge from the drink, the kompetitors will make their way south on Highway 101, up Table Bluff and down into Loleta before turning on Cannibal Island Road on their way to their final destination, Crab Park. Once there, racers will immediately fall asleep and dream of Day Three glory.
---
Top Events!
Kinetic Grand Championship Day Two
Crab Park / 9 a.m.
Day 2 starts in Eureka at the waterfront on the Humboldt Bay, where brave Kinetic Pilots race their crafts through the water (most float). Then back on land where kinetic sculptures go up Hookton Hill, a 1 mile-7% incline and decline. Day 2 ends with a private campout for racers and volunteers only.
Web site /
(CANCELED) The Rocky Horror Show
Ferndale Repertory Theatre / 2-4 p.m. / $18
(NOTE: 6/17-6/19 performances are canceled due to castmember illnesses.) for the wCome experience the cult classic rock musical! On a dark and stormy night, Brad and Janet find themselves seeking shelter at a mysterious old castle.
786-5483 / info@ferndalerep.org / Web site /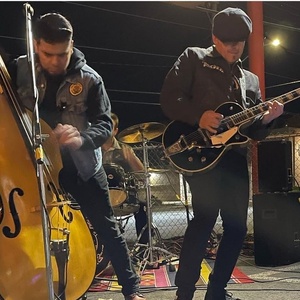 Rocketz, Motel Drive
The Siren's Song Tavern / 8-11:59 p.m. / $8
Bad Kitty Presents: The psychobilly party known as the Rocketz rolls back into town Memorial Day weekend. This tour is in support of their latest recording, Lovesick & Heartbroke.
798-1030 / twang4strings@yahoo.com / Web site /
All Events!
Movie Showtimes
Broadway Cinema
A PRIVATE MOVIE SCREENING: 12:00, 3:45, 7:30
DOCTOR STRANGE IN THE MULTIVERSE 2D: 1:20, 4:20, 7:20
DOWNTON ABBEY: A NEW ERA: 12:50, 3:50, 6:50
MEN: 6:40, 9:40
SONIC THE HEDGEHOG 2: 12:40, 3:40
THE BAD GUYS: 11:40, 2:10, 4:40, 7:10
THE BOB'S BURGERS MOVIE: 12:10, 2:40, 5:10, 7:40
THE LOST CITY: 9:10
TOP GUN: MAVERICK: 11:30, 12:00, 12:30, 1:00, 1:30, 2:00, 2:30, 3:00, 3:30, 4:00, 4:30, 5:00, 5:30, 6:00, 6:30, 7:00, 7:30, 8:00, 8:30, 9:00, 9:30
Mill Creek Cinema
DOCTOR STRANGE IN THE MULTIVERSE 2D: 1:20, 4:20, 7:20
DOWNTON ABBEY: A NEW ERA: 12:50, 3:50, 6:50
EVERYTHING EVERYWHERE ALL AT ONCE: 8:30
SONIC THE HEDGEHOG 2: 1:30, 4:30
THE BAD GUYS: 12:40, 3:30, 6:10
THE BOB'S BURGERS MOVIE: 12:10, 2:40, 5:10, 7:40
TOP GUN: MAVERICK: 12:00, 1:00, 2:00, 3:00, 4:00, 5:00, 6:00, 7:00, 7:30, 8:00, 9:00
Minor Theatre
DOCTOR STRANGE IN THE MULTIVERSE OF MADNESS: 1:30, 4:30, 8:00
DOWNTON ABBEY: A NEW ERA: 1:00, 4:00, 7:15
TOP GUN: MAVERICK: 2:00, 5:15, 8:45