Lowdown! for Saturday, May 27
SPONSORED BY
Top Events!
Kinetic Grand Championship Day One
Arcata Plaza / 10 a.m.
Day 1 of the Kinetic Grand Championship starts on the Plaza in Arcata, California at the noon whistle every Memorial Day weekend. The racers take off to the Manila dunes, where they race through miles of sand to the great and inevitable "Deadman's Drop". Then on to Eureka's downtown gazebo.
Web site /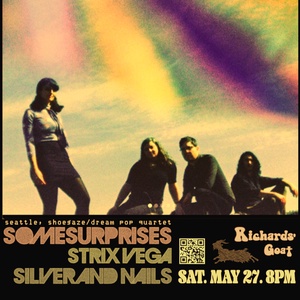 Somesurprises, Strix Vega, Silver & Nails
The Miniplex at Richards' Goat Tavern / 8 p.m. / $10 / 21+
SOMESURPRISES is the brainchild of Seattle-based songwriter and guitarist Natasha El-Sergany. Once a bedroom project focused on spectral balladry and late-night exploration, somesurprises is now a dynamic four-piece live band.
Web site /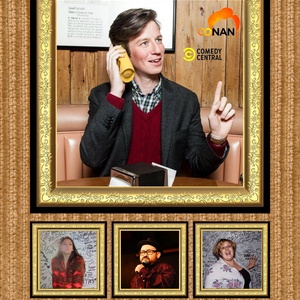 Allen Strickland Williams
Savage Henry Comedy Club / 9-11 p.m. / $20 / 18+
"I live in Los Angeles writing and telling jokes. I've done a half-hour for Comedy Central Stand-Up Presents and was named one of their Comedy Central's Comics to Watch. I've performed stand-up comedy twice on CONAN."
Web site /
All Events!
Movie Showtimes
Broadway Cinema
ABOUT MY FATHER: 11:50, 2:10, 4:50, 7:20
BOOK CLUB: THE NEXT CHAPTER: 11:10, 5:10
FAST X: 12:00, 3:30, 5:30, 7:00, 8:30
GUARDIANS OF THE GALAXY VOL. 3 2D: 12:20, 4:00, 7:10
GUARDIANS OF THE GALAXY VOL. 3 3D: 1:40, 8:20
KANDAHAR: 11:40, 2:40, 5:20, 8:10
THE LITTLE MERMAID 2D: 11:00, 12:50, 1:30, 2:00, 2:30, 3:50, 4:30, 5:00, 6:50, 7:30, 8:00, 11:30
THE LITTLE MERMAID 3D: 12:10, 3:10, 6:10
THE MACHINE: 12:30, 4:10, 7:40
THE SUPER MARIO BROS. MOVIE 2D: 11:20, 1:50, 4:20, 6:40
Mill Creek Cinema
ABOUT MY FATHER: 12:30, 2:50, 5:10, 7:30
FAST X: 12:20, 3:50, 7:20
GUARDIANS OF THE GALAXY VOL. 3 2D: 11:50, 3:30, 7:10
KANDAHAR: 11:30, 2:10, 4:50, 7:45
THE LITTLE MERMAID 2D: 11:00, 1:00, 2:00, 4:00, 5:00, 7:00, 8:00
THE LITTLE MERMAID 3D: 12:00, 3:00, 6:00
THE SUPER MARIO BROS. MOVIE 2D: 11:20, 1:50, 4:20, 6:50