Tuesday, Nov. 7

---
TUESDAY LOWDOWN: Jonathon Scales Fourchestra in Arcata
Steel pan-led jazz group Jonathon Scales Fourchestra peddle their unique sound at Humbrews Tuesday night.
---
Top Events!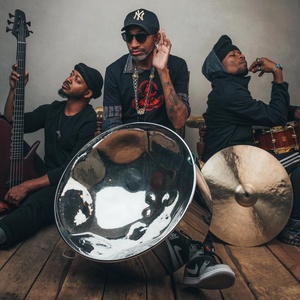 Jonathon Scales Fourchestra
Humboldt Brews / 8 p.m. / $15 / 21+
Power trio of electric bass (E'Lon JD), drums (Maison Guidry), and steel pans (Jonathan Scales) combines elements of jazz, classical, and progressive rock, peppered with Latin rhythms and soulful outbursts of funk.
1 / Web site
All Events!
Movie Showtimes
Broadway Cinema
AFTER DEATH: 12:20, 5:40
FIVE NIGHTS AT FREDDY'S: 11:40, 12:30, 1:00, 1:30, 2:10, 3:00, 3:30, 4:00, 4:40, 5:30, 6:00, 7:10, 8:00, 8:30, 9:00
FREELANCE: 3:10, 8:20
KILLERS OF THE FLOWER MOON: 11:30, 2:50, 5:50, 7:00
K-LOVE LIVE AT RED ROCKS: 7:00
LONESOME SOLDIER: 12:40, 4:10, 7:30
PAW PATROL: THE MIGHTY MOVIE: 11:55, 1:10, 3:25
THE CREATOR: 2:30, 5:25, 8:30
THE EXORCIST: BELIEVER: 12:05, 3:40, 6:15, 8:50
THE MARSH KING'S DAUGHTER: 12:10, 2:40, 5:10, 7:40
THE NIGHTMARE BEFORE CHRISTMAS 30TH ANNIVERSARY 2D: 11:50, 4:00, 6:00
THE NIGHTMARE BEFORE CHRISTMAS 30TH ANNIVERSARY 3D: 1:50, 8:10
Mill Creek Cinema
AFTER DEATH: 5:20
FIVE NIGHTS AT FREDDY'S: 3:50, 4:25, 5:10, 6:40, 8:00
FREELANCE: 7:50
KILLERS OF THE FLOWER MOON: 3:00, 7:10
K-LOVE LIVE AT RED ROCKS: 7:00
LONESOME SOLDIER: 4:00, 7:20
THE MARSH KING'S DAUGHTER: 4:50, 7:30
THE NIGHTMARE BEFORE CHRISTMAS 30TH ANNIVERSARY 2D: 3:40, 7:40
THE NIGHTMARE BEFORE CHRISTMAS 30TH ANNIVERSARY 3D: 5:40