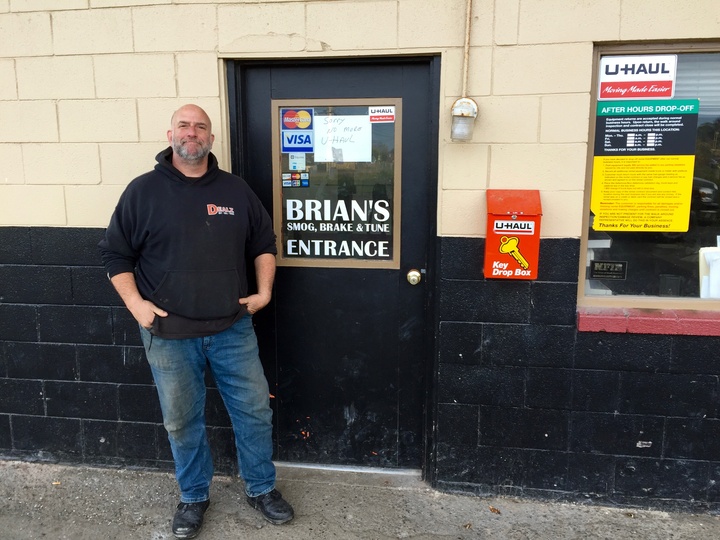 Earlier this week, Brian Murrell Sr. stood in the nearly empty lobby of his automotive business, Brian's Smog, Brake & Tune in McKinleyville. The shop occupies the bottom floor of a cavernous warehouse located on a mostly residential stretch of McKinleyville Ave. The carpet Murrell stood on was stained with dark patches of motor oil deposited by the race cars that, until recently, had been parked on the dark green nap. Those cars, along with all the furniture, a TV, car magazines and pretty much everything else had been hauled away.
"Takes a lot to move," Murrell said. "We've been here almost 16 years and you wouldn't believe all of the stuff we had."
Murrell now has just over two weeks — until New Year's Day — to clear out of the warehouse where he's run his business for the past decade and a half. His landlord, McKinleyville real estate developer Jim Furtado, gave him the bad news a few months back.
"He called me up on a Monday or Tuesday morning and said, 'We have to talk,'" Murrell recalled. "I said, 'OK, what's up?'" But Furtado asked him to come to his office so he could discuss the matter in person. Brian was joined in his landlord's office by a neighboring tenant, whose furniture business occupied an adjacent warehouse on the same property.
"That's when Jim told us. He says, 'I've sold the property to a bunch of investors that want to grow marijuana there. You guys have to be out in 90 days. You'll get your official eviction notice in the mail soon.'"
This McKinleyville auto shop isn't the only local business to be displaced by Humboldt County's burgeoning, quasi-legal marijuana industry. Local real estate agents say weed entrepreneurs have been snatching up much of the region's limited stock of warehouse space. And with full legalization approved by California voters last month, demand is now skyrocketing, taking rents along for the ride. The value of light-industrial real estate has exploded in Humboldt County, squeezing out some traditional blue collar businesses — like Brian's Smog, Brake & Tune.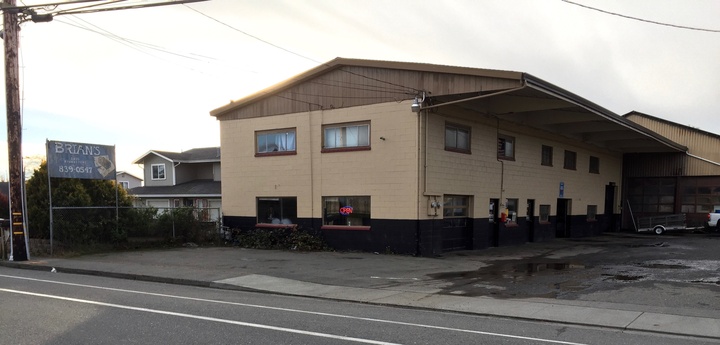 Murrell was on a month-to-month lease, and he knew that Furtado wasn't a big fan of his business or the property, which was always occupied with vehicles in various states of disrepair. Sometimes as many as 100 cars and trucks filled the parking lot and lined the curb out front. Still, Murrell was crestfallen to be evicted. "This was a thriving business," he said. "We did really well here."
His son, Brian Murrell Jr., who'd been working in the shop and living in an apartment on the second floor, was even angrier. "We're being pushed out by the pot industry," he said bitterly. "A 16-year business ousted just because people want to have their marijuana." It's not just his dad's livelihood at stake, he noted. "It's my job. The [two mechanics] who work here are being ousted from their jobs."
His dad is devastated. "He's got three grandkids at home and a stepson," Murrell Jr. said. "And it's not just him losing out; it's everybody — 16 years of clientele. It's a real shitty deal."
Murrell Sr. is not going out of business entirely. He has arranged to rent a mechanic's bay at Specialty Foreign Auto on Central Ave. But he'll no longer have his own shop or his own employees.
The property is being purchased by a consortium of investors who have incorporated as The Humboldt Group, LLC. One of the group's members, Craig Nejedly, has been renting one of the other warehouses on the premises to manufacture clothing for his retail business, Satori Movement.
Reached on his cell phone on the drive back from last weekend's Emerald Cup in Sonoma County, Nejedly confirmed that his group is purchasing the property, which includes five separate parcels. He didn't want to go into detail about his group's plans.
"We're not trying to hide anything, but we're [also] not trying to let everybody know what we're doing," he said. "Because discreet is the best way to be in this business." Speaking generally he said The Humboldt Group aims to set up some cannabis businesses in the warehouses, though none of them will be open to the public. He pointed out that a cabinetmaker renting one of the warehouses has been allowed to stay.
Nejedly is also pursuing a permit and the necessary approvals to set up a medical marijuana dispensary elsewhere in McKinleyville, something he's been working on for years.
Furtado, for his part, said that he's been wanting to sell that property for a while now. "I just wanted out," he said. "It needs a lot of maintenance, time and energy. It's a headache-type property." It also doesn't fit with the rest of his real estate holdings, which are primarily residential, he said, adding that he'd been warning Murrell for about a year that he wanted to unload it.
Earlier this year Furtado, like several other prominent local businesspeople, signed up with the Humboldt County Building and Planning Department's medical marijuana registration program. He did so, he said, to allow marijuana activity in one of the warehouses on McKinleyville Ave. But he told the Outpost he wasn't necessarily looking to sell the property to someone in the weed industry.
"Anybody could have bought it," Furtado said. "And I didn't make a killing on it."
Neither he nor Nejedtly disclosed the purchase price, but there's reason to believe the value was inflated by the marijuana industry. Scott Pesch, a commercial real estate broker with Coldwell Banker Cutten Realty, said that type of property is exactly what people are currently looking for.
"As I sit here as a commercial real estate broker, half our calls are for warehouse space, and many of those are for cannabis [businesses]," Pesch said. "Agents are seeing an immediate increase in demand following the passage of Proposition 64, legalizing recreational marijuana across the state. "Demand has gone through the roof and we don't have the supply," he said. "Landlords can now receive two or three times the rent that they used to get before it was legalized."
Back in January, Humboldt County supervisors passed the Commercial Medical Marijuana Land Use Ordinance, which spells out exactly where marijuana can be cultivated and where it can't. In areas zoned for marijuana production, Pesch explained, a 2,000-square-foot warehouse that used to rent for 65 cents a square foot can now command prices as high $2 to $2.50 per square foot.
Pesch said he's heard of other local businesses being evicted from warehouse space or not having their leases renewed so landlords can jack up the rent. Even warehouses that aren't in zones permitting marijuana production have seen rents jump as demand increases across the board. "Unfortunately, not everybody can afford that," Pesch said. "And you can't fault landlords, per se, because it's legal."
There are still barriers and risks facing marijuana businesses. Any loans taken out to finance a property, for example, must come from federally insured banking institutions, which are prohibited from financing weed-related endeavors as long as marijuana remains a Schedule I narcotic. If a bank finds out that a loan recipient is operating a marijuana grow it would likely recall the loan, Pesch said.
But these restrictions don't seem to be slowing demand for warehouse space. The only way to relieve this built-up pressure, according to Pesch, would be to build more warehouses — a challenge given the limited supply of appropriately zoned properties — or to convert former mill sites, as the Humboldt County Harbor, Recreation and Conservation District has done with the Redwood Marine Terminal II, a former pulp mill that has been converted into a National Marine Research and Innovation Park.
If the costs do eventually come back down, it will be a relief to blue collar businesspeople like Murrell. He'd like to have his own shop again someday, he said. He's skeptical that the new owners of the warehouse on McKinleyville Ave. will have the kind of positive community impact he's provided.
"In 16 years I have produced and spread out among the community at least $4 million," he said, adding that the wealth was passed down "to employees, taxes, my home, the grocery store, the parts store … . Hell, Jim Furtado made almost $25,000 a year in just my rent on this place."
Murrell Jr. said his dad has contributed generously to the Lion's Club and other organizations. He sponsors race cars at Redwood Acres. "Any kid that comes in, like with girl scout cookies? My dad is the first one to jump all over it," Murrell Jr. said. "Pretty much ask anybody. My dad takes his shirt off to help you."
"I don't understand how the pot industry will spread money like that legally," Murrell Sr. said. He pointed out that it's still illegal to transport marijuana and said there's simply no way that there's enough demand here in Humboldt County to justify grow operations on the warehouse scale. "So it's still gonna have to be an illegal process," he said. "It's just sad. It's sad."
Nejedly disputes that. The Humboldt Group, LLC, he said, is "all about supporting the community." In fact, he suggested that his company might actually be more financially capable of philanthropy.
Medical marijuana alone generated $2.7 billion in sales in California last year. And here in world's most famous pot-producing county, the weed industry has grown from a small-scale underground endeavor into, arguably, the industrial-scale underpinning of our entire economy, with an estimated 10,000-12,000 grow operations countywide.
As that industry expands it may be displacing other businesses, but such is capitalism. "Your commercial property is only worth what you can get for rent," Pesch said. For better or worse, marijuana entrepreneurs now appear to be the highest bidders.