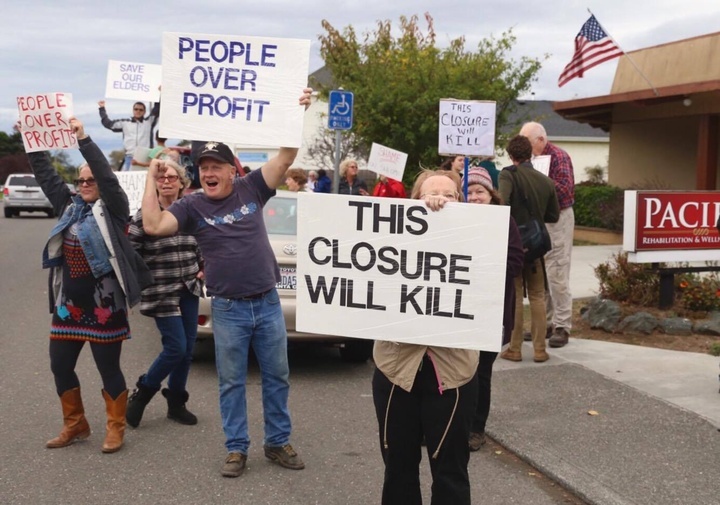 There's just no telling what Rockport Healthcare Services will do next. After fighting for months to get regulatory approval to close three of its five skilled nursing facilities in Eureka — and succeeding — company CEO Shlomo Rechnitz announced that he'd had a change of heart and would only close one of the local facilities, thus allowing all local patients to stay in the area.
But at virtually the same time Rechnitz signaled that his company would be canceling the Medi-Cal health care contracts at the two remaining facilities, forcing patients in those homes to negotiate their care individually.
The latest? Another change of course. According to an announcement from State Senator Mike McGuire's office, Rockport has rescinded its plan to cancel the Medi-Cal contracts, without giving a reason. "[I]t just doesn't make any sense," McGuire said in a press release, adding that he hopes the company will "stop acting like a school yard bully."
Here's that press release:
Sacramento, CA – Last week, Rockport Healthcare Services announced they were going to keep two of three skilled nursing facilities open – despite three months of dangerous rhetoric that they were going to close Eureka and Seaview Rehabilitation and Wellness Centers.

At the same time, Rockport also announced they were going to cancel Medi-Cal contracts with the two facilities that will remain open forcing individual patients to negotiate health care terms on an individual basis.

Now, with a confusing turn of events, Rockport has changed course and rescinded their notice to negotiate terms on an individual patient basis and go back to its contract with Partnership Health Plan that would cover the facilities as a whole.

"From the beginning, Rockport's plans have not been well thought out and they've been playing games with people's lives for months," Senator Mike McGuire said. "First, Rockport threatened to close three facilities and move 150 patients hundreds of miles away, then they threatened to rescind their contracts – it just doesn't make any sense. I hope this puts an end to this made up crisis initiated by a billion dollar corporation that has jeopardized the safety net of the greater Humboldt County health system."

Senator McGuire will continue to closely monitor the situation and convene the working group that he established when the original closure plans were released.

"We continue to encourage Rockport to work with the community and the State in a collaborative manner and stop acting like a school yard bully," Senator McGuire said.
PREVIOUSLY: