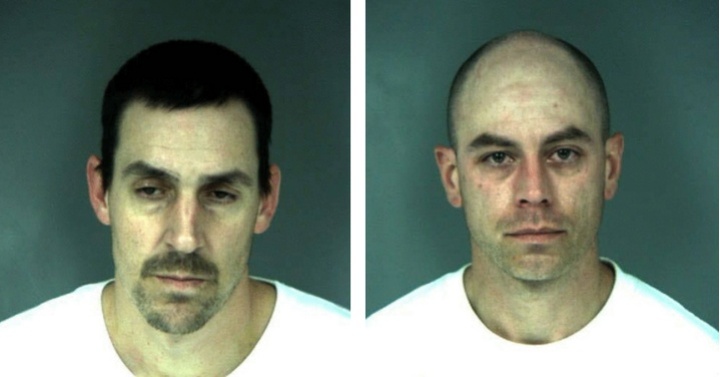 ###

PREVIOUSLY:
###
Less than a minute after he arrived at the Arcata home of marijuana dealer Kay Haug, Billy Joe Giddings pulled a gun from his coat pocket and shot Haug's son, an eyewitness testified today.

Demian Clearwater Starlight, who has been Haug's live-in caregiver for 18 years, said Giddings was listening to a discussion between Haug and marijuana broker Kim Steele when he said "Fuck this" and produced a gun.
"He aimed it and a second later he fired," Starlight testified during the murder trial of Giddings and Robert Louis Huntzinger. "I saw him fire once and then I looked away."
Haug's son, 38-year-old Trevor Mark Harrison, "backed up to the stove, holding his left shoulder," Starlight said under questioning by Deputy District Attorney Roger Rees. "He just put his head down, and slumped over and fell to his left."
Afterward, Starlight said, Giddings pointed the gun at everyone in the room.
"We were sort of questioning him," Starlight said. I asked him 'Why can't you be civil?' "
Giddings responded that Harrison would be all right because he was only shot in the shoulder, and the gun was just a .22-caliber. But it didn't turn out that way. Harrison was dead when police arrived minutes after receiving a 911 call.
About 15 seconds after the fatal shot was fired, Giddings reportedly said "You can come in now," and Huntzinger walked in. A previous witness testified that Harrison had been struggling to keep Huntzinger out, and that's when Giddings shot him. But Starlight said he didn't witness any struggle because, from his vantage point, he couldn't see the door.
Starlight said Huntzinger was carrying a duffel bag and immediately went to the back of the house. He could hear drawers opening and closing. Then a few minutes later Huntzinger was back in the living room, carrying the bag "like there was something in it."
Then Huntzinger and Giddings left, and Haug and Starlight headed straight to Haug's bedroom, where nearly 20 pounds of fresh marijuana bud was stored. Meanwhile Harrison was dying on the kitchen floor.
"Your first thought was about the marijuana?" Rees asked Starlight.
"Right," Starlight said.
Haug and Starlight apparently had a pre-arranged plan about what do do if law enforcement was on the way.
"I jumped out the window," Starlight said. "We knew the police would be coming."
Haug handed him bags and a basket of marijuana through the window, and he stashed the weed in a shed on adjoining property.

"Since it was not on our property we thought it was possible it would be overlooked," Starlight testified.
Haug also handed him a gun, a loaded, snub-nosed revolver that had been stored in a stuffed-animal collection "and the one it was behind was Tigger." They got the gun from Starlight's mother after Starlight was attacked and "nearly killed" by a masked man who knocked on their door at 5:30 a.m. on Thanksgiving Day 2014.
Starlight said he had to get medical treatment, but the incident was never reported to police because he didn't want to draw attention to Haug.
After that attack, Haug and Starlight got not only a gun but a machete, baseball bats and pepper spray.
Starlight said he didn't have a permit for the gun, so he hid it in a nearby ditch. Then he fled to his mother's house, where he stayed for a couple of days.
Asked why he didn't stick around to give a statement to police, Starlight said it was because "I was hiding things."
Defense attorney Russ Clanton, representing Huntzinger, is seeking to minimize Huntzinger's role in the fatal shooting. During cross-examination he pointed out that Huntzinger was outside when the shot was fired. And Haug and Starlight found nothing missing after the men left.
All the marijuana was apparently still in Haug's bedroom. Clanton noted, and Starlight agreed, that fresh marijuana bud smells strong and pungent and would be hard to miss because of the odor.
During cross-examination by Giddings' attorney Deputy Public Defender Luke Brownfield, Starlight said his mother got the hidden gun out of the ditch a couple of days after the shooting. She still has it. It was never turned over to police.
The gun is a serious issue in Giddings' defense, because Brownfield says Giddings shot Harrison only because he first pointed a gun at him. Eyewitnesses so far have said there was nothing in Harrison's hands before or after the shooting.
Brownfield has said Harrison was high on meth when he was shot. So far there has been no testimony confirming that.
Brownfield also questioned Starlight about his priorities, noting that during the preliminary hearing he testified that "We (he and Haug) believed the marijuana needed to be concealed before we could call 911."
Starlight denied that, saying it didn't make sense. So Brownfield showed him a transcript of his testimony at the hearing.
"That's not what I said," Starlight said.
"So the court reporter got it wrong?"
"Yes."
Testimony was expected to continue this morning before Judge Dale Reinholtsen.
###