Manslaughter suspect Marcia "Marci" Kitchen was ordered today to surrender her passport within 48 hours.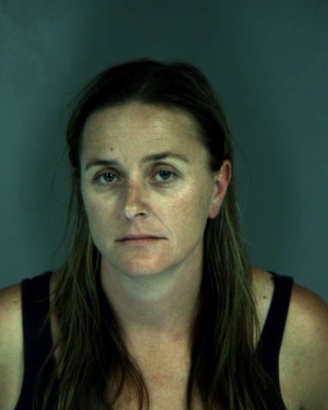 During a hearing this morning, Judge Christopher Wilson granted Deputy District Attorney Stacey Eads' motion to force Kitchen to turn over her passport. She also will have to request permission from the court if she wants to leave the state.
In the eight months since she allegedly ran over and killed her own daughter and another teen-age girl on Eel River Drive, Kitchen has gone once to Mexico and once to Colombia. Eads said she is concerned that given the seriousness of her crimes and the possibility of a harsh punishment, Kitchen may not return to court.
Kitchen attended the hearing this morning, standing between her defense attorneys Patrik Griego and Benjamin Okin.
"We do recognize that she is here in court," Eads told the judge, but she said that as the preliminary hearing gets closer and evidence is about to be presented, there is a concern about 'the likelihood of her future return if she were to retain her passport.'"
Eads said that is especially worrisome because Kitchen is charged with fleeing the scene after her car struck the two girls.
Eads had also requested that Kitchen not be allowed to leave Humboldt County, which Wilson apparently thought was going too far.
"I'm not going to do that," he said. But he told Kitchen that if she wants to leave California she must ask for permission from the court.
Kitchen, 36, is free on $750,000 bail. Okin argued that she has complied with all conditions of bail, and the bail bondsman was aware of her international travel and was confident she would return. He said Kitchen also notified her attorneys of her travel plans, even though she was not required to do so.
As to her possible punishment, Okin pointed out that Kitchen could be placed on probation even if convicted of all charges.
"These are probation-eligible offenses and she has no prior record," he said. And Griego reminded the judge that there are numerous similar cases in the courts, with those defendants allowed to travel freely.
In the end, Wilson decided it was appropriate for Kitchen to surrender the passport.
Kitchen allegedly was driving under the influence the night of July 12 when her Jeep Wrangler hit two 14-year-old girls skateboarding in the road. One was her daughter Kiya Kitchen, and the other Kiya's friend Faith Tsarnas. Witnesses said the driver stopped briefly and then left. Marci Kitchen reportedly returned (apparently not driving) about 10 minutes later. Police officers say she appeared very intoxicated.
Tsarnas died at the scene, and Kiya Kitchen died the next morning at Oakland Children's Hospital.
Kitchen's preliminary hearing has been postponed twice over the objection of the prosecution, with defense attorneys saying they have not completed their own investigation. The hearing is now set for May 8 and is expected to last five days and include testimony from 11 witnesses.
At a recent hearing Eads said the defense has requested some funding from the county, which she said seemed inappropriate given that Kitchen has been able to hire two lawyers, post $750,000 bail and travel out of the country.
Okin told the judge today that both of Kitchen's plane tickets were free because she can travel free on stand-by.
PREVIOUSLY