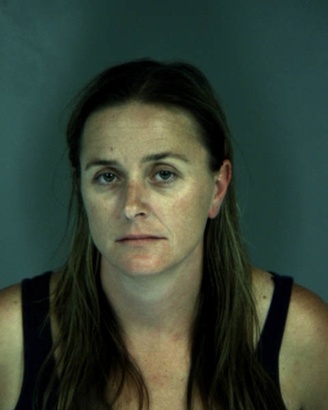 The preliminary hearing for double-manslaughter suspect Marcia "Marci" Kitchen has been postponed a third time, this time until May.

This morning Judge Christopher Wilson reluctantly granted a defense motion to continue the hearing, which had been set for March 20. The new date is May 8.

Kitchen, 39, of Fortuna allegedly was driving drunk on Eel River Drive the night of July 12 when her Jeep Wrangler struck and killed two 14-year-old girls skateboarding on the road. One was her own daughter, Kiya Kitchen, and the other her daughter's friend Faith Tsarnas. Marci Kitchen reportedly stopped briefly and then fled, returning about 10 minutes later. Tsarnas was already dead, and Kitchen's daughter died the next morning.

Today Deputy District Attorney Stacey Eads strongly objected to another delay in the case, saying relatives of the victims have waited too long for justice.

"We have family members who very much want a resolution in this case," Eads told the judge. She noted the deaths occurred in July, Kitchen was arraigned in September, and the original preliminary hearing date was Oct. 6. It was continued until December at the request of the defense, then until March.

Eads also indicated the defense has requested some funding from the county, which she said is not appropriate given what Kitchen can afford.

"Ms. Kitchen has retained two private counsel, posted $750,000 bail and traveled to Mexico multiple times," Eads said.

Defense attorney Patrik Griego objected, saying outside the courtroom later that any funding requests are "before the court" and not public.

Griego and co-counsel Ben Okin told Wilson they need time to complete their own investigation. They said they recently received more evidence from the District Attorney's Office, and they have subpoenaed records from third parties that have not been received.

Wilson acknowledged this is a complex case, and the prosecution has an advantage because they were able to complete their investigation before charges were filed. But he warned Okin and Griego that this is the final delay.

"I want a realistic date when this can proceed," Wilson said. "This is the second (postponement) over an objection. I do want to see counsel prepared for a hearing. "

After speaking for a few minutes outside the courtroom, Eads and the defense attorneys agreed on a date of May 8. A confirmation hearing was scheduled for April 20.

The California Highway Patrol investigated the fatal crash for two months before turning their findings over to the District Attorney's Office. Kitchen and her boyfriend Josh Pearlston were both in the Jeep when it struck the teens, and the identity of the driver was in question. [CORRECTION: See below.]

Investigators eventually concluded Kitchen was driving, because of both physical evidence and her own statements to friends and relatives. The Jeep Wrangler involved in the wreck was found the next day in Kitchen's yard about two miles away.
Charges include vehicular manslaughter, felony drunken driving and hit-and-run. Kitchen remains free on bail and did not attend the hearing this morning.
The preliminary hearing, held to determine whether there is enough evidence to warrant a trial, is expected to last five days and include 11 witnesses.
###
PREVIOUSLY
###
CORRECTION (see above): There is no evidence, so far as we are aware, that Pearlston was in the Jeep when it struck the girls. Today (Thusday, March 9), the California Highway Patrol and the District Attorney's Office each declined comment when we asked them about it.
The Outpost regrets the error.