ZOELLNER HEARING COVERAGE:

# # #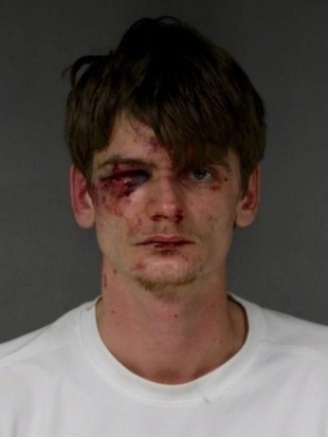 Judge Dale Reinholtsen dismissed charges today against murder suspect Kyle Zoellner, saying evidence presented during a five-day preliminary hearing was not enough to hold him to answer.

Zoellner will likely be released today from Humboldt County Correctional Facility. The District Attorney's Office can refile the case if more evidence is found that implicates Zoellner in the death of 19-year-old David Josiah Lawson, the African American Humboldt State University student stabbed to death outside a house party in Arcata.
Zoellner, a 23-year-old McKinleyvllle resident, is white.
Reinholtsen issued the ruling after spending nearly three hours reviewing notes he took during many hours of often-conflicting and confusing testimony. He noted that no-one saw Zoellner with a knife or witnessed the stabbing, and there is no physical evidence linking him to the crime.
The judge pointed out that the case went to preliminary hearing just 16 days after the killing, and not all of the evidence has been analyzed.
"We don't even know if the knife (found at the crime scene) was the knife that was used," he said. It's also unknown whether blood on Zoellner's clothing was Lawson's. It is known, however, that a fingerprint on the knife was not Zoellner's, and fibers found on the weapon did not match those from his sweatshirt.
In addition, Reinholtsen said, there was no testimony from the autopsy surgeon indicating "what type of instrument was used," and whether the knife found at the scene could have inflicted the wounds Lawson suffered.
A large pool of blood was found in the driveway, but no blood at all was found in the grass where Lawson and Zoellner reportedly were fighting. And the judge pointed out that while about 100 people were at the party, "only a handful of witnesses have been interviewed."
To hold a defendant to answer on charges at a preliminary hearing, the standard is that an ordinary person hearing the evidence would have a "strong suspicion" of the person's guilt. Reinholtsen said he didn't think that standard had been met.
It is extremely rare for a preliminary hearing in a major case to be held this soon. They are generally held many months after the crime, when all the evidence has been compiled. But in this case the defense declined to give up Zoellner's right to a speedy preliminary hearing.
Most of Lawson's friends and supporters left immediately after the ruling, though a few stayed at the courthouse to express their anger and dismay.
"There was no justice for Josiah today," said Michael Fennell, blaming the outcome on poor police work and a judge "with no imagination."
And Tina Sampay, another Lawson supporter, said the ruling was unjust and "David Josiah Lawson was a man killed by a group of tweakers." She insisted it was either Zoellner or his girlfriend (Lila Ortega) who killed Lawson.
"It was not easy for the judge to decipher what happened," Sampay said.
Barbara Singleton, an HSU freshman, said HSU needs to hire a private lawyer to represent Lawson's interests. She said the university lures students of color here "to meet a quota," not telling them this is a racist community. Instead, she said, Humboldt is portrayed as a "beautiful, welcoming, heart-warming" place.
The women angrily rebuffed HSU president Lisa Rossbacher and Arcata City Manager Karen Diemer when they tried to thank them for being there.
Both Rossbacher and Diemer were in the courtroom for the ruling and spoke briefly about it afterward.
"We all tend to be impatient for resolution," Rossbacher said, "but we have to be patient in the pursuit of justice."
And Diemer pledged that the Arcata Police Department remains "committed to solving this crime," which has traumatized the community.
During attorneys' arguments before the judge issued his ruling, Deputy District Attorney Roger Rees said the only reasonable interpretation of the evidence was that Zoellner stabbed Lawson. And Deputy Public Defender Luke Brownfield argued that the only reasonable conclusion was that someone else stabbed Lawson, and that person needs to be found.
Rees based most of his argument on the testimony of two witnesses: Paris Wright, a friend of Lawson's who said he saw Lawson and Zoellner lying in the grass with Zoellner in a headlock. The other was Casey Gleaton, a friend of Zoellner's girlfriend who said she watched Lawson and Zoellner "squaring off" in the grass.
Wright testified he saw Zoellner and Lawson on their backs with Zoellner lying face-up on top of Lawson. They were near a red Ford Mustang parked at the curb. He said Lawson had one arm around Zoellner's neck, choking him. His other arm was pinning Zoellner's hands and arms.
With difficulty he managed to pry Lawson's arms off the other man, who rolled off Lawson's body. Then Wright saw something dark on his friend's clothing and realized he was bleeding. He says he asked Zoellner "Did you stab my friend?" and punched him twice in the face.
Rees argued that unlike other witnesses, Wright seemed to have "no bias or agenda" against Zoellner, which he said "lends credence to his statement."
"He could have said 'I saw a knife, I saw a stabbing, I saw the defendant do it,' " but he doesn't," Rees said. The prosecutor indicated he believes Lawson was stabbed before he got Zoellner in a headlock.
Rees said no-one else was around when Zoellner and Lawson were fighting in the grass. And the 10-inch knife found under the red Mustang was close to where Lawson and Zoellner were reportedly lying.
Zoellner, a professional chef at Uniquely Yours catering company, had his own knives that he kept in a bag. His boss, Alex Begovic, testified today that he was very familiar with Zoellner's knives and the one found at the scene was not one of Zoellner's and not one he would ever use in his business.
"No one uses knives like that in a kitchen," Begovic testified brusquely. "I don't know what you would use a knife like that for."
A major issue in the case was whether a knife was missing from Zoellner's bag. Arcata police found the bag in Zoellner's apartment. It contained two kitchen knives. Officers showed the bag to Begovic, and he told them there also should have been a paring knife. Last night, at the request of defense attorney Brownfield, APD Detective Sgt. Todd Dokweiler examined the bag again. The missing paring knife had been there all along.
"How did APD miss a knife in a knife bag?" Brownfield asked the detective.
"The compartment that the knife was in was a compartment that looked like part of the bag," Dokweiler explained.
Rees argued later that one knife is still missing from the bag. He noted that Gleaton, a friend of Zoellner's girlfriend Lila Ortega, said Ortega looked in the bag later that day and was upset because there should have been four knives in it but there were just three.
Rees said there's no dispute that Zoellner was "polite and courteous" when he asked Lawson and his friends whether they had seen Ortega's missing cellphone. She had lost it at some point during the party. There is also no dispute that Lawson's girlfriend got into a physical fight with Ortega and another woman.
At issue, though, is how many people attacked Zoellner, and whether he was even conscious afterward.
Kyle and Kristoff Castillo, friends of Lawson's, both thought Zoellner was knocked out when they, Lawson and his girlfriend left the party after being pepper-sprayed. Yet within two minutes, Lawson and his girlfriend had returned to the party and Lawson had been fatally stabbed.
Rees said two minutes was enough for Zoellner to go to his car, get a knife and stab Lawson.
Brownfield argued that Zoellner's arrest and prosecution were based on a series of wrong assumptions, and there are many.
"There's not a single bit of evidence that Mr. Zoellner ever had a knife or ever stabbed anyone," Brownfield argued. He said testimony was "wildly inconsistent," and made up of a lot of fractured stories "that don't really match."
He said Rees presented a series of events based on the testimony of Paris Wright and Casey Gleaton "and leaves out the testimony of almost everyone else."
For example, he said not one single witness saw Zoellner on the pavement, yet that's where the pool of Lawson's blood was found.
Brownfield questioned Paris Wright's testimony, saying he was contradicted by other witnesses. And he noted that Wright never saw a weapon.
"He doesn't see a knife that's 10 inches long?" Brownfield asked.
He said it was implausible that Zoellner, undeniably sober, arrived to pick up his girlfriend "and walked up to that party with a 10-inch knife hidden on him somewhere."
"All the witnesses indicate Mr. Zoellner is polite, he looks like he's not wanting to fight. Not a single witness says Mr. Zoellner is aggressive at all."
He also questioned how someone carrying a 10-inch knife could be knocked to the ground and not be injured.
"I don't know who stabbed Josiah," Brownfield told the judge, "and I hope we're able to find out. But the court should not hold Kyle. The court should direct the DA to continue the investigation, find out who the fingerprint and fibers belong to, and talk to all the witnesses who haven't been talked to."
Two other prosecution witnesses, Jason Martinez and Elijah Chandler, both claimed to witness Lawson being stabbed, or something close to it.
Martinez said he saw two men standing together and one of them made two "quick jabbing motions" at the other. Chandler said he saw Lawson and Zoellner together and watched Zoellner drop something shiny.
Prosecutor Rees said he couldn't explain Martinez's testimony, and he discounted it. He didn't even refer to Chandler's statements.
PREVIOUSLY: