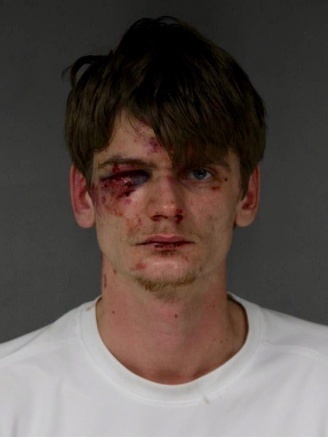 When Paris Wright saw his friend David Josiah Lawson on the ground with another man in a headlock, at first he thought it was kind of funny.

"Where I come from we fight standing up," Wright testified today. He said Lawson was lying face-up in the grass, with Kyle Zoellner lying face-up on top of him. One of Lawson's arms was around Zoellner's neck, the other was pinning his arms. He became worried that Lawson was going to hurt or even kill Zoellner, so he went to intervene.
Lawson was looking at him with a "blank stare," he said, but he wouldn't let go of Zoellner. He had to pry his arm away from the other man. He said Zoellner rolled away, and he reached out to help his friend Lawson up. He didn't reach back.
"That's when I saw blood," Wright testified today during the second day of Zoellner's preliminary hearing.
He looked at Zoellner and said "Did you stab my friend?"
Wright testified that Zoellner never got a chance to answer, because he punched him twice in the face as hard as he could.
Lawson and Zoellner had been lying next to a red Ford Mustang parked at the curb. An Arcata police officer later found a knife under the Mustang.
Wright testified that he never actually saw Lawson being stabbed. And attorneys agreed to stipulate today that the one distinguishable fingerprint on the knife was not Zoellner's. Fibers found on the knife did not match fibers from Zoellner's clothing. The knife itself has not been described.

Zoellner, 23, is charged with murder and personal use of a knife in the death of the 19-year-old Lawson. Lawson and Wright, both Humboldt State University students, were members of Brothers United, a club primarily consisting of African American men. Lawson was the president.
The fatal stabbing occurred in the early morning hours of April 15 at a house party in a cul-de-sac off Spear Avenue in Arcata.
Wright's testimony dramatically contradicts statements from Zoellner's girlfriend and two of her friends. According to them, Zoellner had been brutally beaten by a group of black men and was unconscious when Lawson was stabbed.
The trouble began that morning when Zoellner's girlfriend, Lila Ortega, realized at some point during the party that her new cellphone was missing. She called Zoellner, the designated driver, to come and get her and her three friends.
When Zoellner arrived, he said he was going to go in the house and ask people about the phone. He never made it. According to the women's testimony yesterday, three men, one of them reportedly Lawson, were standing on the front porch. They were offended when Zoellner and Ortega asked about the missing phone, the women said, and punched both of them in the face.
Zoellner was then beaten unconscious, Ortega and her friends said, and remained that way. Two of Ortega's friends pepper-sprayed the men, and the men left. But soon Lawson's girlfriend Renalynn (Ren) appeared and asked angrily about the pepper spray. She, Ortega and Ortega's friend Naiya Wilkins ended up in a physical fight.
Wright, testifying today, made it clear he has a low opinion of Ren. He said he saw her confronting the women, but that's something he has seen on several occasions.
"She was arguing, and that's typically what she does," Wright said. "… She does this often so to me it was just another situation."
Wright said the two other women and Zoellner were standing there, and he assumed by their body language they had no interest in fighting. (The women say Zoellner was unconscious at this point.)
"Renalynn looked like she wanted to fight and the two girls and Kyle looked like they didn't," he said. "… Renalynn was way more aggressive than anyone else."
By then it was nearly 3 a.m. and Wright was ready to leave. He started walking toward the car where his roommate was waiting. He encountered Lawson on the sidewalk and told him "Renalynn is over there doing what she always does."
Lawson replied he was going to check on "my girl" and walked back toward the house. Wright then heard girls screaming, looked over and saw Ren and the other women fighting. He started back toward the house. That's when he saw Lawson with Zoellner in a headlock.
One of the first officers on the scene was Arcata police Officer Krystle Arminio. She testified that when she arrived, she saw another officer with a man in handcuffs. She was surprised someone had been detained already, and asked her fellow officer about it.
"He said, 'The group handed him to me, so I guess he's the suspect,'" Arminio testified.
She described her time at the crime scene as an ordeal, with a hostile, abusive crowd screaming "Fuck the police" and "You stupid bitch."
Another officer was already using a T-shirt to apply pressure to Lawson's wounds. She began doing chest compressions. It was difficult, she testified, as a crowd of people were literally breathing down her neck, refusing to back up and telling her she was a "stupid bitch" who didn't know what she was doing.
It reportedly took the ambulance up to 15 minutes to arrive, even though Mad River Community Hospital is a short distance away.
Lawson was pronounced dead at the hospital. His girlfriend Ren, who was there in the emergency room, had been bitten on the breast, had a small puncture wound on her forearm and suffered other injuries during the fight. Arminio photographed the injuries.
Ortega and Wilkins have said they also were hurt, with Ortega getting a black eye from being punched in the face. Both have testified their injuries were not only from the fight with Lawson's girlfriend but from being kicked and hit while they were lying on top of Zoellner trying to protect him.
Testimony was expected to continue tomorrow before Judge Dale Reinholtsen. The case is being prosecuted by Deputy District Attorneys Roger Rees and Jessica Watson. Zoellner is represented by Deputy Public Defenders Luke Brownfield and Kelly Neel.
###
CORRECTION: The original version of this story misspelled Officer Arminio's name. It has been corrected.
###
PREVIOUSLY