Based on testimony presented today, murder suspect Kyle Zoellner was out cold on the ground when Josiah David Lawson was stabbed to death at a house party April 15 in Arcata.

All three witnesses testified that Zoellner, 23, was unconscious after being beaten by a group of angry men. One of those witnesses was a woman who watched the 19-year-old Lawson dying, while at the same time she saw Zoellner lying unconscious on the grass.
There were five to 15 attackers, depending on whose testimony is accurate.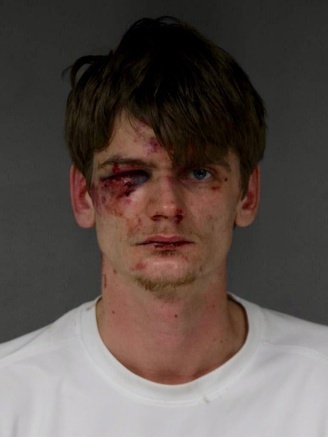 Casey Gleaton, a now-estranged friend of Zoellner's girlfriend Lila Ortega, said she saw a man fall down on his back, flip himself over and struggle to get up on all fours. Another man said to him

"You're leaking, bro."
She didn't know then that the man bleeding to death was Lawson, a student at Humboldt State University. He died shortly afterward.
Gleaton said she had previously seen Lawson with a small group of people, and "there might have been some kind of struggle."
At the same time, Gleaton could see Zoellner on the grass under a tree. He had dropped to the ground after taking a particularly hard blow to the head.
"He kind of looked like he got knocked the fuck out," Gleaton testified during the first day of Zoellner's preliminary hearing. The hearing, held to determine whether there is enough evidence for the 23-year-old McKInleyville man to stand trial, is expected to last two more days.
Gleaton said several times that she was very intoxicated that morning. She drank heavily and used cocaine. She said she didn't remember much after seeing the guy bleeding to death.
But Gleaton also provided the most incriminating testimony of the day. She was at Zoellner and Ortega's apartment when Ortega arrived home later that morning. She said Ortega went out to Zoellner's car and brought in a bag, the bag containing the chef's knives he used for his job at a catering company. She opened the bag and said "There are supposed to be four, but there's only three."
And she cried a little.
Ortega had testified the bag was in its usual place in the kitchen when she came home. She remembered that because she accidentally bumped into it.
Arcata police have said a knife was recovered at the crime scene. Was it a chef's knife? Ortega says Zoellner didn't carry a pocket knife. He had one, but it was a sentimental souvenir that belonged to a friend who died, and he always kept it in a drawer at home.
Also, Gleaton testified that Ortega said more than once "I hope he dies," after Lawson was stabbed.
She said she doesn't remember whether Ortega used any racial terms, but said it was possible. One friend of Lawson's has said a woman or women said "I hope that n***er dies."
Ortega denied saying she hoped the man died.
Zoellner, a smallish man wearing glasses, looks more like 18 than 23. During most of the testimony today he stared down at his lap. He has been in Humboldt County Correctional Facility since the day of the killing.
Much more testimony will be heard, apparently including statements from Arcata police officers about why they believe Zoellner is the killer. But judging only by testimony today, it was hard to figure out when he had the chance to stab someone. It seemed he was being beaten up within minutes of arriving at the party, and was in a fetal position on the ground when Lawson was stabbed.
The whole episode stemmed from Ortega, who has lived with Zoellner for more than three years, losing her cellphone while at the party with three female friends. Zoellner drove them to the gathering and picked them up afterward.
"He doesn't drink or go out much," Ortega testified.
Today Ortega downplayed losing the cellphone, saying she'd lost several before and this latest was not a big deal. She said Zoellner laughed it off when she called from the party and told him, saying they would just buy her another phone.
But two of her friends testified that she was distraught, even hysterical, about the missing phone. And when Zoellner arrived, he said he was going to go in the house and ask people about it.
So Zoellner, Ortega, Gleaton, Naiya Wilkins and another woman friend walked up to the house.
Depending on who is correct, there were either two or three black men standing on the front porch. One of them was apparently Lawson.
Both Ortega and Wilkins testified that Zoellner and Ortega asked the men politely if they had seen the phone. But Gleaton said Zoellner asked if they had "seen or taken" a phone.
At any rate, the men were not pleased with the question. Both Ortega and Zoellner were punched in the face, according to testimony. Ortega was left with a black eye. Zoellner was knocked back against a car parked in the driveway. At that point he was apparently ready to leave, but the beating continued.
Naiya Wilkins testified that she and another woman, identified as Angelika McFarlan, used pepper spray on the men beating Zoellner. Things calmed down. But then a woman showed up, asked if someone had pepper-sprayed them, and started assaulting Ortega.
Ortega says she believes that woman was Lawson's girlfriend.
At the same time, Zoellner reportedly was being beaten to a pulp. Ortega said he was unconscious until an Arcata police officer showed up, yanked him to his feet and put him in a police car. He spent a couple of hours at St. Joseph Hospital before being arrested.
Testimony is expected to continue tomorrow morning before Judge Dale Reinholtsen. The case is being prosecuted by Deputy District Attorney Roger Rees, and Zoellner is represented by Deputy Public Defender Luke Brownfield.
###
PREVIOUSLY