###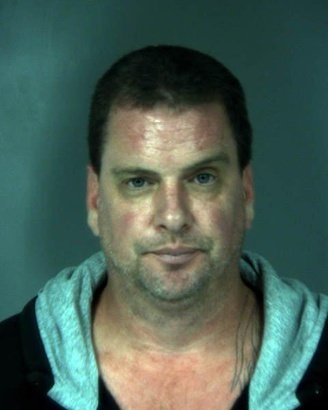 Applause rang out in Courtroom Four this morning when Eric Jason Lively was held to answer on a charge of murdering Jesse Simpson on May 3 in Shelter Cove.

Judge Timothy Cissna ruled enough evidence was presented during Lively's preliminary hearing to order him to stand trial. Lively, 45, seemed prepared for the judge's decision and did not react. But Simpson's friends and family members clapped and cheered until being admonished.
Simpson, 42, died shortly after Lively's Toyota Tacoma pickup struck him near the intersection of Debbie Lane and Eileen Road in Shelter Cove.
During attorneys' arguments this morning, Deputy District Attorney Adrian Kamada cited witnesses who described Lively's hatred and suspicion of Simpson and others who lived near him. A co-worker of Lively's told law enforcement that Lively spoke repeatedly of wanting to kill his neighbors.
About two weeks before the fatal incident, Shelter Cove resident David Reddy saw Lively walking and carrying a baseball bat. He was slapping the bat into his palm. When Reddy asked Lively where the game was, he replied "At Jesse's. I'm going to straighten him out."
Kamada said Lively was obviously driving at a high rate of speed when his truck struck Simpson. He was hit with such impact that neighbors thought two cars had collided or "a logging truck had dumped its load."
After leaving work on May 3, Lively went home and ranted to his 16-year-old daughter about Jesse Simpson robbing him. Then he left in his pickup truck and drove to where Simpson was using a weed-eater on a lawn.
"There's no reason for him to be driving around that neighborhood," Kamada said. Lively stopped in the roadway about 50 feet from Simpson, he said, then peeled out and hit him. He ran a stop sign and never applied his brakes.
But defense attorney Russ Clanton argued that the only reasonable explanation for the collision was that Simpson, carrying the weed-eater, jumped into the road in front of his long-time enemy.
Clanton was briefly interrupted by a female voice from the audience: "Are you kidding me?"
Clanton continued, questioning how Simpson, who had been weed-eating, somehow "magically appears" in the road. Law enforcement determined the point of impact was the middle of Eileen Road.
Clanton said Simpson obviously felt animosity toward Lively, that the relationship "went both ways." He said that animosity culminated in Simpson jumping in front of Lively.
After the fatal collision, Clanton pointed out, Lively could have fled but stayed to help.
"If he's such a cold-hearted murderer, he would have simply run off in his truck," he argued.
Lively was arrested in 2013 after hitting a man with his truck, but charges were never filed. The prosecution wanted to use that arrest as evidence, but has decided against pursuing that.
This morning outside the courtroom, Simpson's brother Thomas Simpson said he was happy with the prosecution and looking forward to seeing Lively brought to justice.
"I feel the Humboldt County district attorney has done a great job representing Jesse," he said.
Thomas Simpson said Lively "is trying to lie his way out of it, but we know he's guilty."
Lively's arraignment is set for June 8 before Judge Marilyn Miles. He remains in custody.
###
PREVIOUSLY: